Rutgers-Newark's radio station's newly-elected president Nick Keleshian and vice president Nick Duran paid a visit to WMSC's studio during station manager Jose Cortez's "Nuestra Voz" show. The two have since been planning a simulcast that's in the works.
Keleshian and Duran were welcomed by Milton DeLeon, a friend of the station, who then introduced both Nicks to Cortez. "I made it a goal of mine to bring the local university radio stations a little bit closer," Keleshian said. "Since I'm looking to improve the physical station of WRNU, I wanted to visit different universities to get ideas on how we can get better."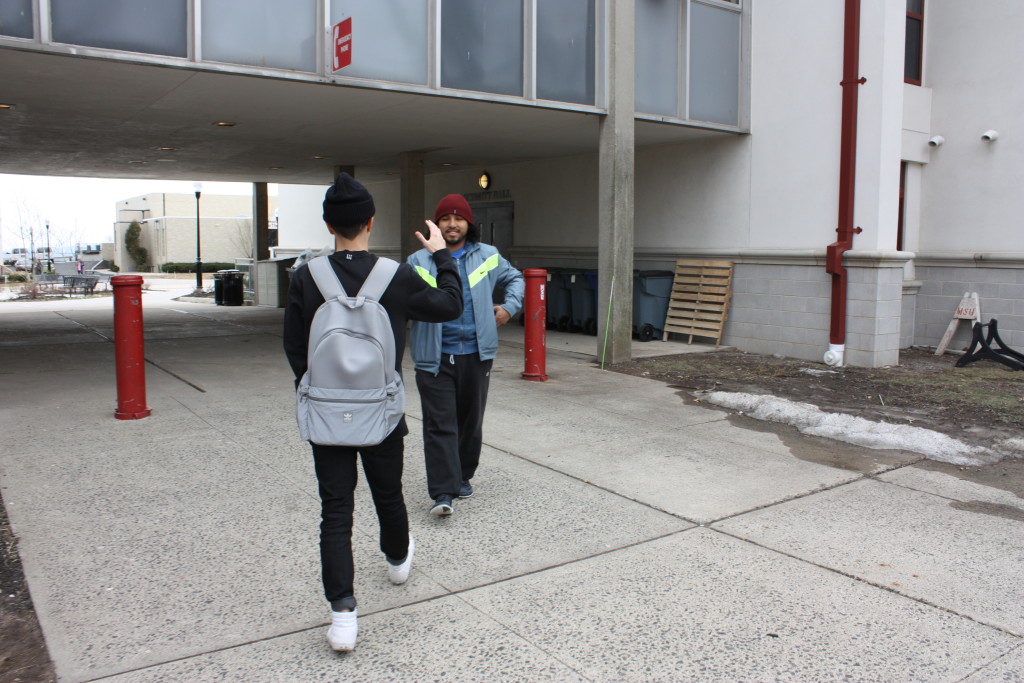 Keleshian's plan to visit the station was driven by his new ideas for the Rutgers radio station. "The biggest [plan] would be to expand WRNU from just Rutgers to the entire city of Newark and make WRNU into a multi-media platform," stated Keleshian. "We want to expand our listenership as well and provide job opportunities at stations like Z100 and Hot97 for our members. We've already started some of these plans and we've already had tremendous improvement since last semester."
Seeing as WMSC's facility, although temporary before the construction of the new Broadcast Media Operations building is complete, consists of four studios as opposed Rutgers' one studio, Keleshian needed some advice. WMSC's vast history, having been around for 50 years this year, was proven helpful for both Keleshian and Duran when learning how to make do with the limited resources.
This all wouldn't be possible without Wilfredo Betance, a 2015 MSU graduate who helped Keleshian arrange this meeting through his visit to Rutgers' campus. Betance visited Rutgers with his organization Inspimind to recruit more campus leaders. Created by Betance, Inspimind is an extension of LASO, the Latin American Student Organization at MSU, that gathers student leaders from different colleges to provide motivational programs for urban middle schools and high schools. Betance simply walked into the WRNU studio when recruiting new campus leaders for Inspimind and that's how he and Keleshian met. Since meeting, the two made a plan to have the meeting with Jose, which became a success.
"The management is going to be sharpened [at WRNU after this meeting] because they are learning techniques one school does and the management is going to be better," says Betance, who was "honored" to play a role in Keleshian's meeting with Cortez.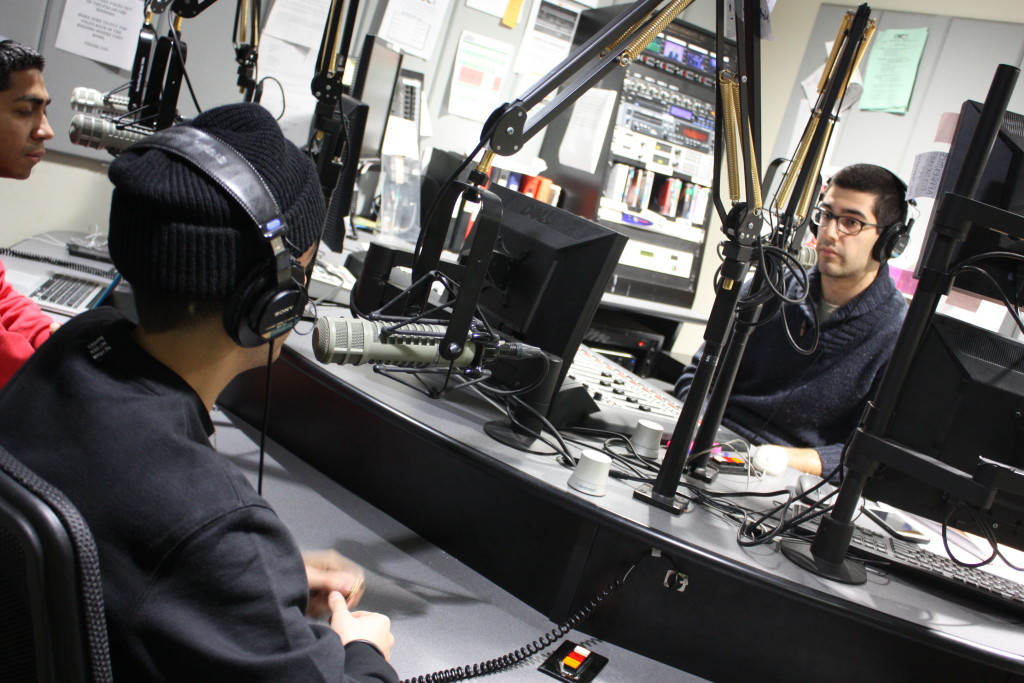 After DeLeon showed them around the Schmitt facility, Keleshian and Duran were greeted by Cortez, who was broadcasting "Nuestra Voz." Shortly after discussing WRNU's future plans and current shows, Keleshian sat in front of the mic and was interviewed by Cortez on air. From managing budgets, to what music belongs on air, the two discussed all things college radio. "Our radio station used to be a dumping ground of music, people would play death metal, hip hop, then Adam Levine" Keleshian described. "We wiped a whole hard drive with one terabyte of music and knew we had to start off new."
WMSC also went through a transition in its branding and music. Cortez discussed that for years WMSC was considered 'MSU's underground radio,' which is something the current staff wants to transition out of. According to Cortez, the station is transitioning into a "freeform station," rather than underground.
As WRNU's new president as of spring 2016, Keleshian has many plans for what is to come at Rutgers. "In the past, WRNU has had presidents who were not only unexpectedly placed into the position but also did not have the passion that they should have had for radio" he says. "I know where WRNU needs to be and I hear what my members are saying about what needs to be improved, so I will use my position to represent all WRNU members as well as do what I know needs to be fixed within the station. I have many goals and ideas and once they are all met, my ultimate objective is to make sure future e-board members don't need to work as hard as we are currently."
After the interview, Cortez took Keleshian and Duran to the station office to hear more about what WMSC is currently doing and its future plans. Currently, WMSC's goal is to be a part of iHeart Radio, which will mean a lot to the station and its listeners. It is an honor for a college radio station to be a part of iHeart Radio, but there are several qualifications and it is by invitation only, which makes it more competitive.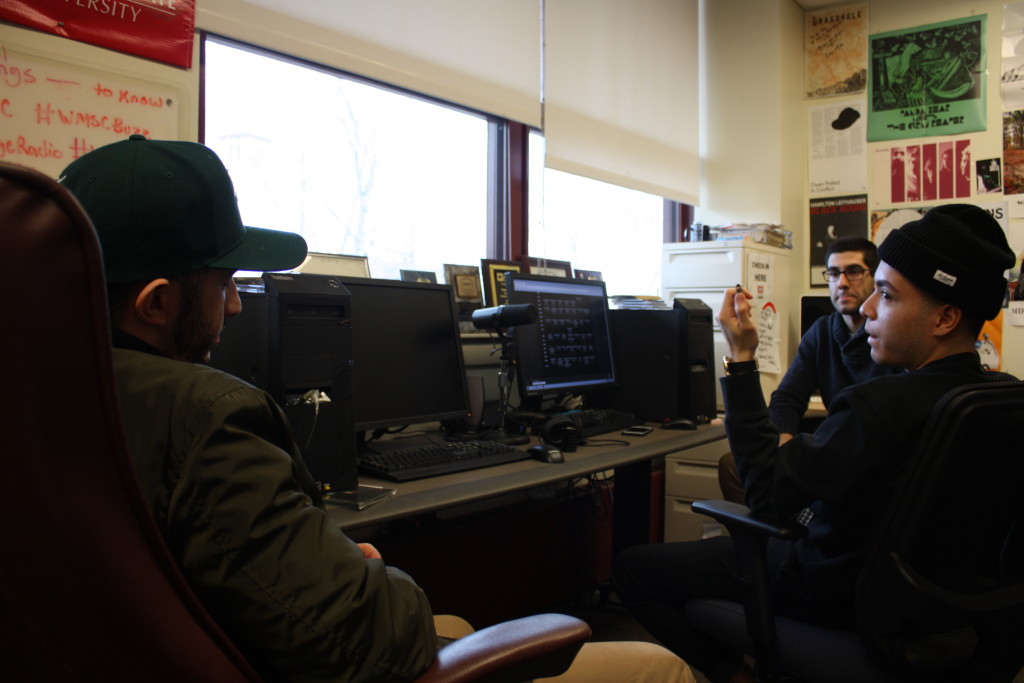 Both Keleshian and Cortez made it clear that they have a lot in store for their radio stations. Keleshian and Duran both saw how WMSC has four studios, unlike their one studio. Their discussion prompted them to try getting more creative with the resources they have.
"We already had changes we wanted to implement into WRNU before visiting the MSU radio station," explains Keleshian, "so the visit was really just a way for us to justify the changes we have been thinking about. But the visit did motivate us to push the Rutgers administration towards updating the station to get to the physical level that MSU is on."
WRNU broadcasts out of Paul Robeson campus center in Rutgers-Newark, a building shared by several other club and administrative offices and ballrooms, not leaving much room for the station to expand. WMSC used to be based out of the student center annex until it made the move to Schmitt hall about four years ago. Since moving to this new location, WMSC has been focused on the re-brand from undergound radio to free-form radio.
"I took away some points about how they maintain their equipment and how their website is laid out," Keleshian pointed out. "WRNU is an entirely different station from MSU's, so while we did take away some pointers we're only using them to gear us towards the right direction."

Jose got to show Keleshian and Duran around the other studios where the station holds other shows and events, like the Valentine's Day match making game show, where contestants sat in a different studio with all the windows covered. Audio production and sound design classes also take place in one of the larger studios, which impressed Duran and Keleshian.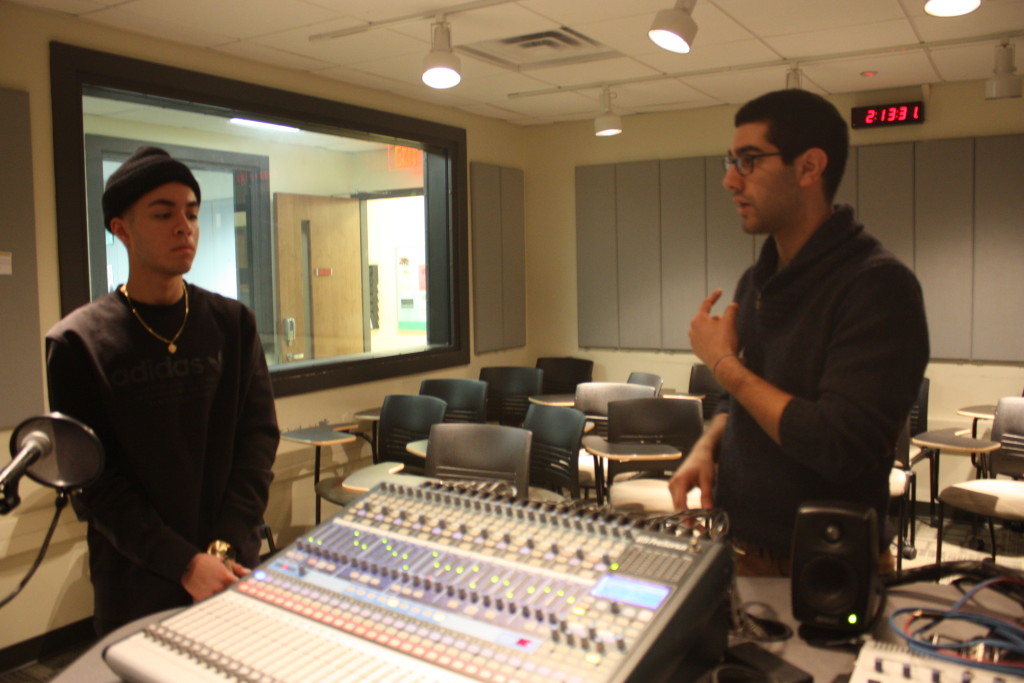 The three soon began discussing plans of having a simulcast together in the near future. WMSC had already done a simulcast with a college radio station in Boston where the stations even had the chance to video chat at the same time. While that was proven to be a success, Jose has high hopes for this simulcast coming together as well.  Although both Nicks were a part of their own radio show on campus at WRNU, Heat from the Street, their current responsibilities for the station and busy schedules make it more difficult to commit to a show while having to be responsible for all the station's shows. However, they hope to get on air during this simulcast with WMSC soon. Keleshian started out as a radio show host in fall 2014 in Heat from the Street with Duran and after spending much more time with the station, he became promoted as the music manager of the station. After two semesters as the music manager, Keleshian then became president as of spring 2016. As not only experienced radio DJs, bot Nicks are party DJs who have worked a host of different events at the school, both for the station and for various other clubs at Rutgers-Newark's campus.  The station also works very closely with Program Board at Rutgers, which is in charge of holding and booking events for the school along with the Student Government Association. Not only are Keleshian and Duran campus leaders as the president and vice president of WRNU, they work with different important organizations on campus that will also aid in getting the station to achieve its goals.
"First of all, Jose was a great host with showing us around WMSC and letting me be on his show for a few minutes," stated Keleshian. "Jose helped me to put things into perspective when it came to how a radio station is run and operated. We both made it an objective to keep in touch and work towards bringing our radio stations together. We're working on some events coming up very soon." Not only have they planned to arrange a simulcast soon, but Jose is also very interested paying a visit to Rutgers WRNU studio in the Paul Robeson campus center.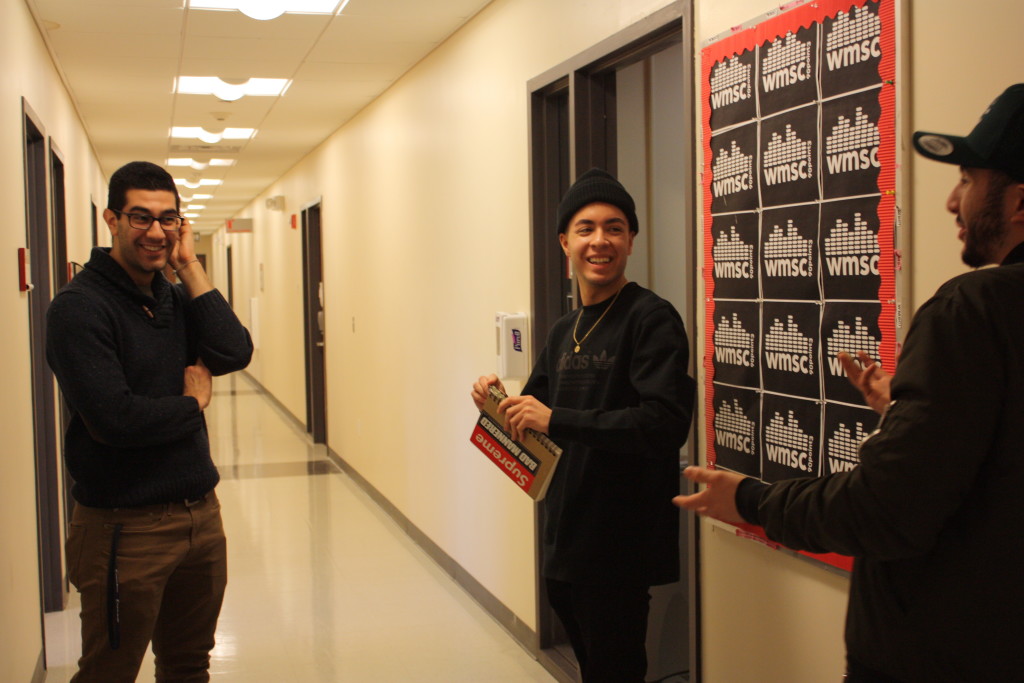 Wilfredo was also impressed to see the meeting come together, having been a part of the planning. Keleshian and Duran were both thankful for Betance's help in having this meeting come together. "For the station, I see that promotion will rise, it's going to have more ears," says Betance. "When I saw that [meeting] it made my day. This is what Inspimind is all about."
"My initial expectations were pretty high because of what I've already seen and heard about WMSC," Keleshian says. "After meeting with Jose and hearing the passion behind most of the work that is going on in the station, my expectations were definitely met."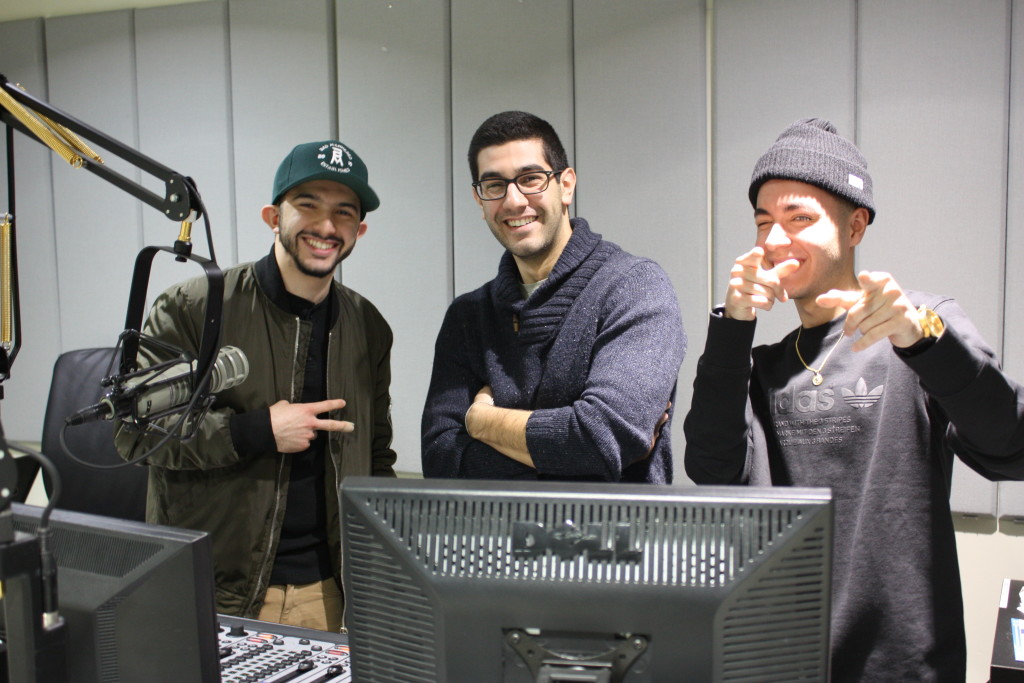 ---
---
Montclair State | Montclair State
02.28.2016