Sitting on the floor of a crowded bus, you're leaving one hostel in search of another. Outside the window the scorching sun of the Middle East beats down relentlessly on the dry baron landscape. Armed with a backpack filled with a fresh change of clothes, a bottle of water, and some sunscreen, you're not sure what to call home. It becomes clear; the meaning of home is each hand you've shaken and step you've taken. Israel isn't like any other place, mixing new age with old world, it welcomes anyone and everyone to take part in the simple pleasures of life. Make sure to leave your assumptions of the Middle East behind and with them your inhibitions. Get ready for Israel to welcome you, over feed you, and tease you with what you thought you knew.
Table of Contents:
Must See Pit Stops:
Tzfat: Artist Colony of North Israel, four-hour bus ride from Jerusalem
Golan Heights: Golan Heights Winery, Hiking destinations, outlook Syrian border
Tiberias: Located on lake Kinneret, vacation spot for many, beautiful beaches
Eilat: Israel's southern most city, great destination for snorkel enthusiasts
Tel Aviv, Israel
[pictured: Tel Aviv Beach]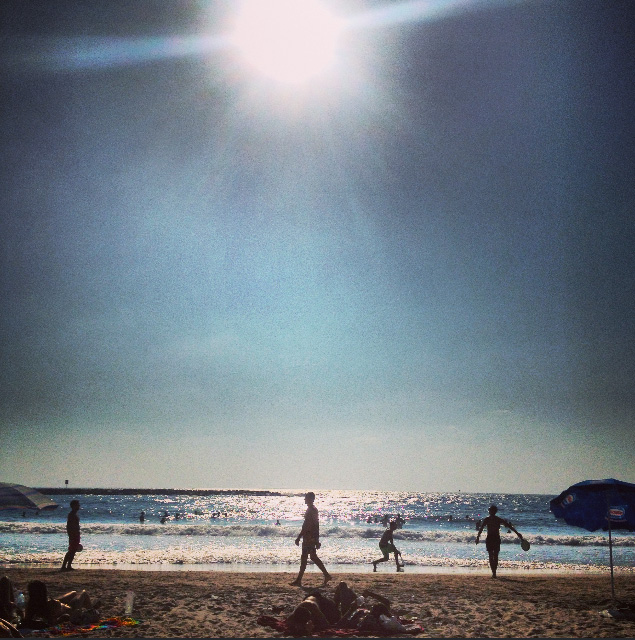 Israel is a country young of body and soul. The state of Israel was only officially declared in 1948, but don't let that fool you, it's a country dependent on its youth. Tel Aviv embodies this, a city where twenty-something's flourish.
Tel Aviv's central bus station (HaTachana HaMerkazit HaChadasha) is one of the largest in the world; its size will easily overwhelm you, if the smell of Israeli pastries after a long bus ride doesn't consume you first. Flaky phyllo dough filled with cheese or potato filling, grab yourself a Boreka and head to the cities streets. The city of Tel Aviv is young and thriving; during the day the Shuk Ha'Carmel is a great place to put your haggling to the test, for a day of shopping and deals galore. There is a great amount of fresh fruit, juices, and spices. Nestled in you can find shoes and clothes. While the shuk is a popular destination make sure to get there early so you can spend the rest of your day on the beach. The west side of Tel Aviv is one long beach boarded by none other than the beautiful Mediterranean Sea. Pulling up a chair and renting an umbrella will cost 20-60 shekels if your not careful. However if you can take the heat, head to the north end away from the tourist traps where you can easily lay down a towel, catch some rays, and relax free of charge.
[pictured: Clara Nightclub]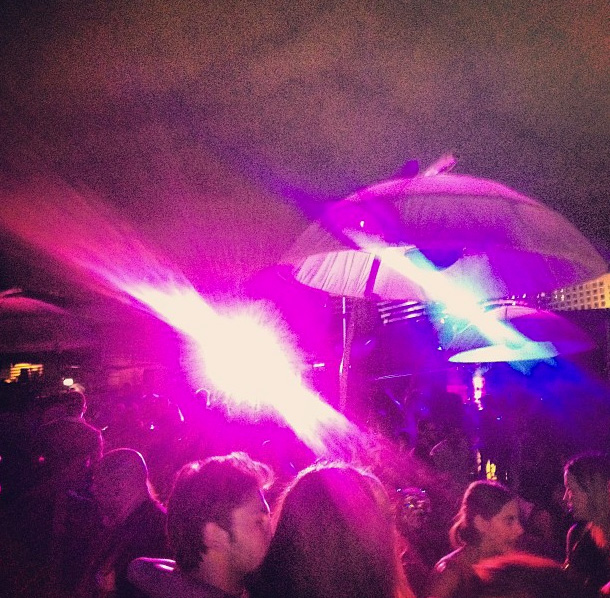 After a day in the sun its time to head back and get ready for Tel Aviv's nightlife. A hotel will easily cost you $250 USD a night. Hayarkon 48 a hostel located in the center of Tel Aviv and a minute walk from the beach is a friendly alternative to an expensive and secluded hotel. A night's stay in a dorm set-up, rooming 4-6 people, will cost you 113 shekels or $32 USD. Staying in the dorms is a great way to meet fellow travelers, swap stories, and create new ones. Private rooms are available but will cost you more.
Tel Aviv comes alive at night; the nightlife is infamous, a feeling only comparable to the likes of something in-between New York and Miami. Bar, pubs and even hipster dive bars are hidden gems. For those into the clubbing scene Clara is right on the sea, drinks are pricey and it's mostly loud American house music but the sight of the waves crashing on the rocks while you dance is worth it. Hitting the beach for a late night hookah and a beer is always an option, and wont make as much of a dent in your wallet, plus there's always the option for a late night swim. After a night of partying the place to grab grub is Benedict's, not to mention it's probably the only place in all of Israel where you can find bacon, but you didn't hear that here.
Jerusalem
[pictured: The Western Wall & the Dome of the Rock]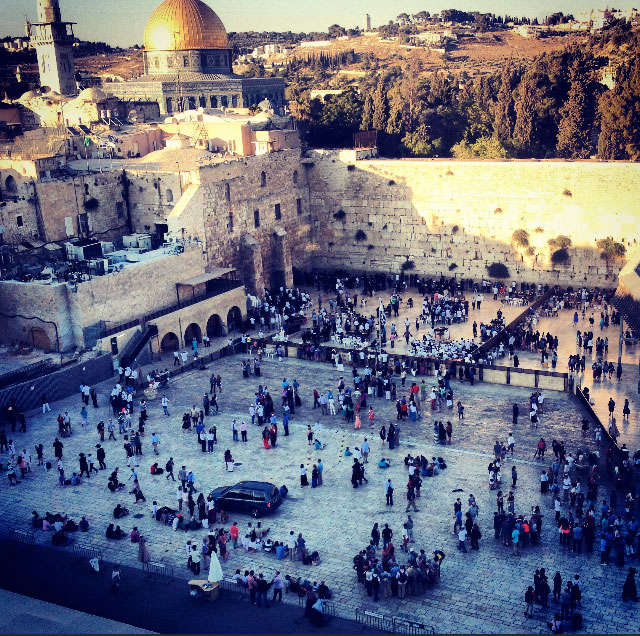 The drive from Tel Aviv to Jerusalem is mostly a dry dessert landscape, what most are accustom to the Middle East. However when you reach the walls of Jerusalem, prepare to leave the rest of the world behind. Jerusalem is a diverse city. What one may assume is accurately represented in the quarters of the old city, located in western Jerusalem. Jews, Muslims, and Christians, Jerusalem is the holy city, but don't let that deceive you, it's a city that knows how to enjoy life and more so, how to party.
"Jerusalem will open up its walls to you but only if your willing to put down your own."
Israel follows a religious calendar. Sunday morning is the beginning of the workweek, if your planning on traveling make sure to plan ahead, buses leave as soon as they are filled, meaning, you will be sitting on the floor of the bus if you're lucky enough to make it on. Traveling from the central bus station in Tel Aviv to the Jerusalem central bus station (HaTahanah HaMerkazit Shel Yerushalayim) is about a 45-50 minute ride without traffic and will cost you around 30 shekels one way, about $10 USD. Public transportation in Israel is comparable to New York, effective and easy to navigate at more than half the price a private cab may cost.
[pictured: Western Jerusalem]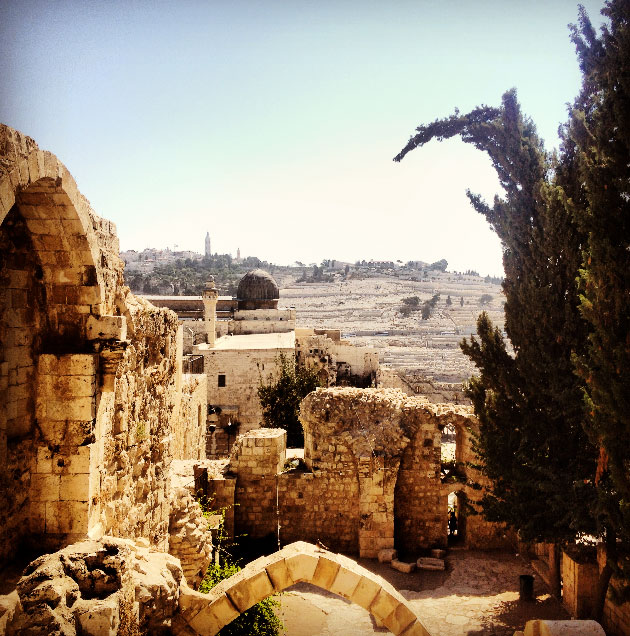 Located conveniently outside the central bus station is the Jerusalem Light Rail, for 6 shekels about $2 USD you can travel quickly throughout the city. Traveling south, the last stop on the light rail is Mt. Herzl, Israel's national cemetery, buried here are all the state presidents, prime ministers and chairs of the Knesset (members of Israeli legislature). Unlike the Arlington National cemetery of the states, both officials and IDF (Israeli Defense Force) members are buried at Mt. Herzl. While a visit to the cemetery is not necessary it is encouraged, and not to mention free. The grounds themselves are beautiful, while visitors often pay their respects to prime ministers of the past, it is the fresh graves of the IDF soldiers some no older than 25, the youth of Israel, who demonstrate the daily sacrifice for the countries independence.
Traveling north from the central bus station will lead you towards the old city of Jerusalem. You can either take the rail or walk down Jaffa road. Though the light rail is inexpensive if the sun is bearable, allow yourself to discover what makes Jerusalem so special by foot. The walk will take no more than hour, but let yourself be tempted off the beaten path, the cities greatest treasures are what lie within the labyrinth of streets.
Down Jaffa road lies the Mahane Yehuda market, the shuk; it is here where you will truly feel like you have finally arrived. Unlike the shuk of Tel Aviv, the market embodies the culture of the country, especially before the Sabbath. Friday mornings the Shuk comes to life more so than the rest of the week, busy with people buying specialty items for that nights meal. Whether or not you're staying in Jerusalem for an hour or a day you'll want to stop at the shuk and taste everything in site, think figs, say the size of your fist. Pick up some dried fruit, sunflower seeds are a must, and stock up on water, everything here is moderately priced compared to the shops down the road.
[pictured: Golan Heights Winery]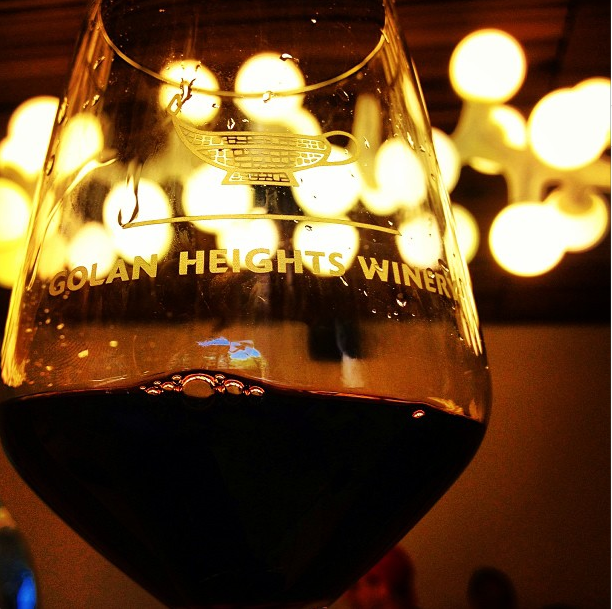 Continue down Jaffa road and Ben Yehuda Street, the central business district, a great place to shop and catch up with friends by day. By night, especially Saturday after the Sabbath, expect the streets to be flooded as people spill into the local bars and hookah lounges. Live music is always plenty, and everyone is always welcoming.
The beauty of Jerusalem lies in the fact that while it is very much a religious city, it upholds the age-old Hebrew saying of cheers, l'chaim, meaning to life. During the summer in Jerusalem you will never be without plans. Every Friday before Sabbath there are often free block parties with music featuring well known DJs, King George Street, not far from Jaffa road and often other side streets are completely shutdown allowing for a mini festival to take shape for several hours. Typically the party ends at 5pm and people hurry home to shower and dress in their best for Sabbath, to take part in a meal, rest, and just reflect with loved ones and friends.
In the beginning of August, the Beer and Wine festivals are held back to back. A great way to spend a night sampling local and world brews. The beer festival is held at Independence Park a short walk from Jaffa Road. There is an entrance fee and you have to pay for individual beers, although this can be an expensive night, it's well worth it with local bands providing music throughout the night. The wine festival is held the same week, while the beer festival is only two days the wine festival lasts all week. Held at the art museum in Jerusalem, splitting a cab will be your best bet. You can buy tickets on the museums website to avoid the hassle and possibility of not making it inside the grounds. They will sell out fast. Unlike the beer festival, the wine festival will cost you a one-time fee of 85 shekels, $25 USD, for unlimited wine tasting. It's the perfect summertime event held outdoors with live music and checking out the museums pieces with a glass of red or white in hand is an added bonus.
The Old City Of Jerusalem
[pictured: The Jaffa Gate]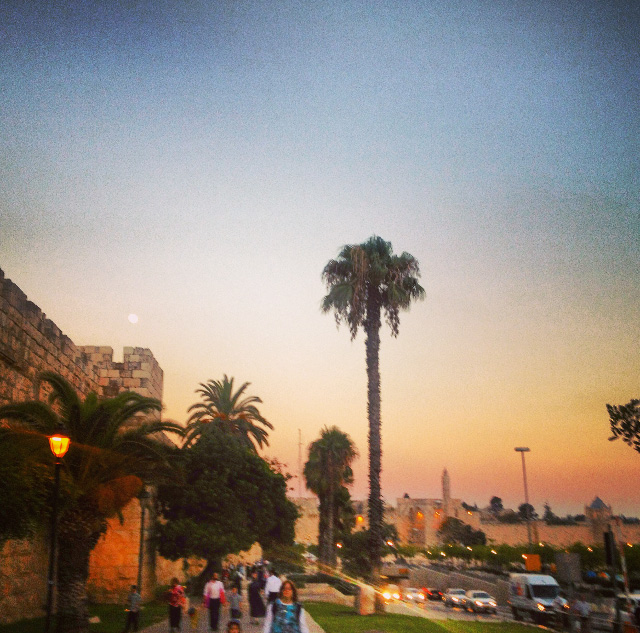 One of seven open gates, Jaffa gate starts from the western end of Jaffa road, and leads you into the Old City of Jerusalem with its towering stone walls and ageless buildings, you have just stepped back in time. Minus the tourist standing next to you taking pictures on an Ipad.
At the Jaffa gate entrance tour guides offer free tours around the Old City through the major religious quarters, and provide you with historic information beyond your wildest dreams. If you truly want to understand the nooks and crannies of the Old City without getting lost among the maze of streets, the two-hour tour is worth your time. While it is free, tipping your tour guide isn't mandatory but is appropriate, 50 shekels or $15 USD. However after the tour, with some knowledge and points of reference, get lost in the Jewish and even Arab quarter, but use your discretion. The Arab and Jewish quarter's intricate network of streets are made of bazaars, shopping quarters. It is here where you will find the perfect pair of harem pants and maybe even a genie lamp.
As you emerge from under tapestries and carpets, the stonewalls will appear, several left turns, and straight ahead will lie the Western Wall, the Kotel, to the western side, the Temple Mount. Jewish and Muslim prayer sites side by side separated by yet another wall. The Western Wall has been a site for Jewish prayer and pilgrimage for centuries, the only remaining wall from the destruction of the second Temple by the Romans. Visiting the wall is sacred for those of any religion, many write prayers, hopes, and wishes on small pieces of paper and place them within the cracks of the wall. The number of pieces of paper flooding out from the wall is overwhelming; you can't help but wonder how long some have been there or if others have been swept up by a gust of wind. Beneath the wall lies a series of tunnels, if the heat of the day is too much, a tour in the tunnels will cost you 20 shekels, $5 USD, another great way to experience a piece of history preserved.
After a long day, head to Abrahams Tent, a five to ten minute walk from the Kotel. Although it is not an actual tent, this inexpensive Hostel has a great rooftop to take in all of Jerusalem. A night's stay will cost you $25 USD in a dorm set-up, with breakfast included.
Masada and The Dead Sea
[pictured: The Masada]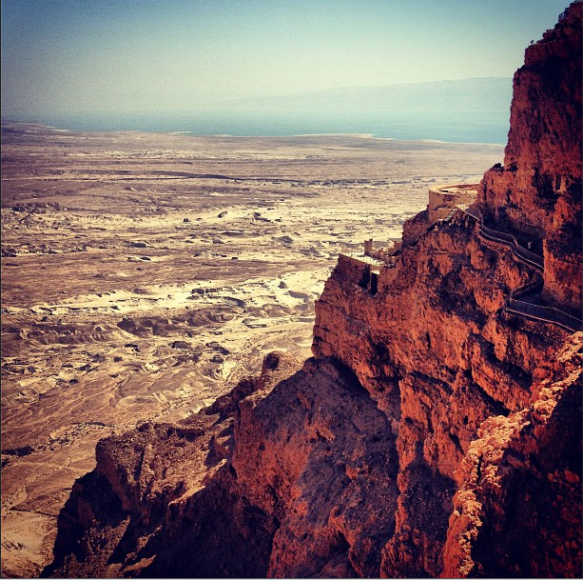 No trip to Israel is complete without a 4am hike up Masada. While its historic significance is somewhat grim, it is the sight of the first Jewish and Roman War. This isolated plateau in the Judean dessert looks over the Dead Sea. 40 shekels, $11 USD, will give you access to Masada's National Park and allow you to walk up the snake path to the top. The walk is about 40-50 minutes, but don't be discouraged, when you finally reach the top watching the sunrise will be worth the struggle and piercing pain in your calves. Walking down is another story. Cable car tickets for the return down are available but who needs to spend the extra money.
After your hike, head to the Dead Sea, you've arrived at the lowest point on earth. Its time for some much-needed spa like treatments from the seas natural healing properties. The sea contains the highest concentration of salt in world which makes it possible for you to float effortlessly. Most beaches are free as is the mud, which is great for your skin, so go get dirty, and head in to float for the day with a view of Jordan across the way.
Tips and Tricks
Forgo purchasing an international phone when there. Though some may entice you with the promise of a phone free of charge and a daily calling plan, their bills often have hidden fees costing you $500 US dollars or more.
If you have a smart phone invest in a SIM Card, a plan will instead cost you 100 dollars for three months. You can cancel it before you leave to avoid additional charges.
Flights & Airline Travel
[pictured: El Al Airlines Wiki Image]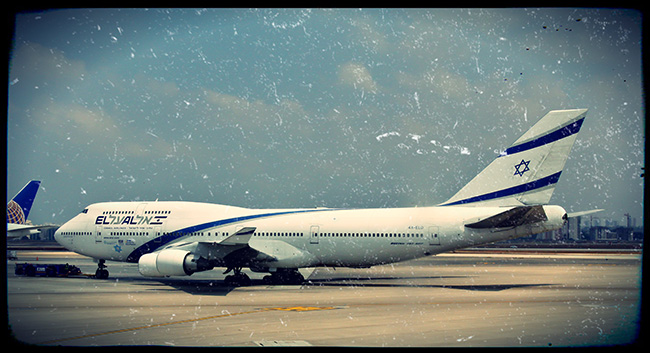 Depending on the time of year you are traveling the cost of flying will vary. Traveling in the summer to any destination can be expensive. A round trip to Israel will cost you about $1,400 USD. El Al is one of the safest airlines in the world, with direct flights from New York to Tel Aviv. Flying other airlines may be less expensive, especially with layovers in Russia or Switzerland but is all dependent on your travel preferences. Layovers can last up to 4 hours, keep in mind you are traveling 16 hours.
Currency Exchange
[pictured: Shekels]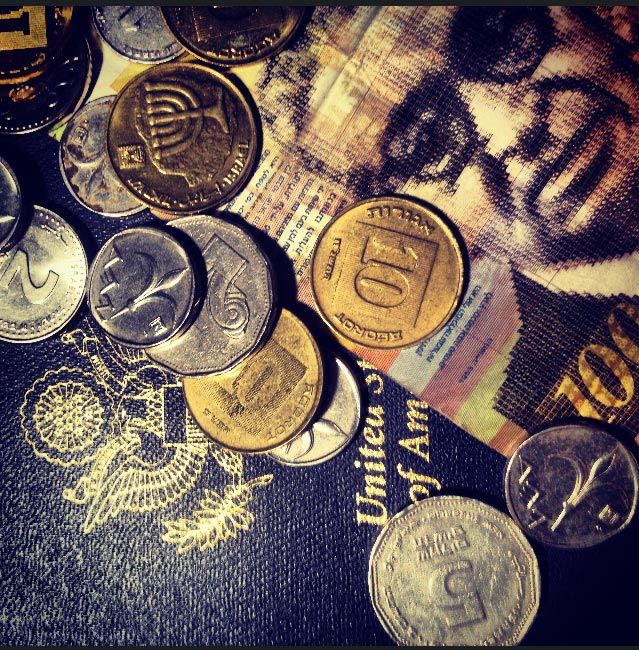 You can transfer dollars into shekels before you leave on your adventure at almost any American bank. However, the exchange rate may cost you a little more than intended. Before you leave exchange as little as possible, you can easily take money out at an ATM with a 2-5 dollar transaction fee depending on where you are. 500 shekels $150 USD can easily last you a week or more. Always let your bank know that you will be traveling ahead of time to avoid having your card be declined and stranded without money halfway across the world.
---
---
Montclair State | Earth
02.27.2014