While living in such a hectic and rapidly changing time, it can sometimes be difficult to connect to all the history and beauty our world holds. Take a trip across the pond to where breathtaking sights and eye-opening experiences are inevitable. Walking down the streets of London, no matter which way you look, it brings you a humbling realization to how magnificent the world truly is. As we are constantly looking forward to future advancements, never forget to look back and admire what it was like before our time here began.
Table of Contents:

Student ID: For College students, who have the passion of traveling but don't necessarily have the budget to support it, bring along your college ID card. Surprisingly an immense amount of locations offer student discounts. Places ranging from restaurants and tourist attractions to nightclubs. A few dollars here and there add up over your travels, so take advantage of being a student!.
Purchase tickets in advance: Planning ahead and purchasing tickets in advance can save you hundreds of dollars. If you know you will be visiting other cities or countries while you are abroad, buy tickets online before that day. Personally, this saved us over £150. .
Where to stay:
Hotels vary in price solely based on the location. Hotels right in the middle of London are much more expensive then those on the outskirts of the city. Hostels are an easy solution. They are less expensive and usually located in opportune places.
Transportation:
With so much to do and see all over London, having the easiest way to maneuver around the city is a must. The smartest and most cost efficient method of transportation would be to purchase an Oyster Pass. This allows access to almost all of public transportation. The Tube, The Overground, London Busses and Docklands Light Railway (DLR) will be key in making your way from site to site.
Oyster Pass Prices (weekly)
Adult Zones 1-2 £31.40
Child Zones 1-2 £15.70
Adult Zones 1-3 £36.80
Child Zones 1-3 £18.40
Adult Zones 1-4 £45.00
Child Zones 1-4 £22.50
Adult Zones 1-5 £53.40
Child Zones 1-5 £26.70
Adult Zones 1-6 £57.20
Child Zones 1-6 £28.60
Big Ben & The London Eye
[pictured: Big Ben]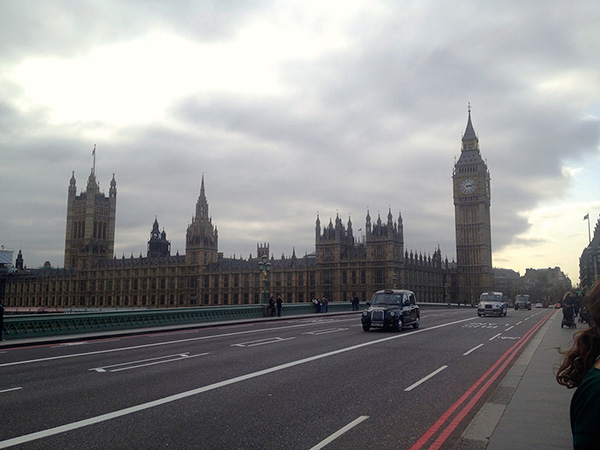 Located at the north end of the Palace of Westminster, this is a landmark you cannot miss during your visit to London. Big Ben holds the record for the largest four-faced chiming clock in the world. Magnificently standing at 316 feet, enjoy its beauty while standing on the Westminster Bridge.
Opening back in 2000, The London Eye has become a major tourist attraction. As you travel around the eye, get ready for a breathtaking view of the city for a full 30 minutes. On a clear day, you will be able to see as far as Windsor Castel, an astonishing 25 miles away! By doing this on one of your first days in London, it will give you a good sense of where everything is located.
Prices for a standard ticket:
Child: Free
Adults (16+): £19.95
Family of Four: £19.95
Senior: £16.50
St. Paul's Cathedral, Buckingham Palace & Kensington Palace:
[pictured: St. Paul's Cathedral]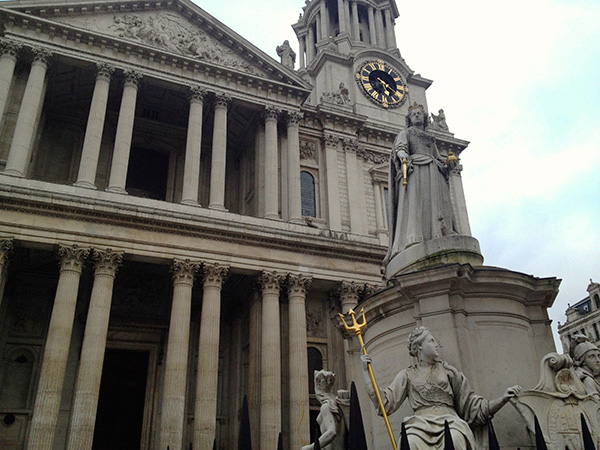 Take a quick walk across the Millennium Bridge and it will bring you out right in front of the beautiful, St. Paul's Cathedral. Doors open at 8:30am for sightseeing and last sightseeing entry concludes at 4pm. At 5pm everyday you can enter and listen to the Choral Evensong. At this time they don't allow photography, but come light a candle and take a moment to admire and take in the astounding beauty of the Cathedral.
Located in the City of Westminster, Buckingham Palace is the official residence and workplace of the monarchy of the United Kingdom. On certain days you are able to watch the Changing of the Guard, which is a wonderful ceremony that will give you a glance of one of London's many traditions. Guards with bands begin arriving at 11:15am, but the official start time is 11:30am and the ceremony concludes at 12:00pm. The area becomes extremely busy, so be sure to arrive early and secure a good spot to watch the ceremony.
Changing of the Guards Schedule:
February 2014 – even days (2nd, 4th, 6th, etc.)
March 2014 – even days (2nd, 4th, 6th, etc.) PLUS 31 March
April 2014 – every day
May 2014 – every day
June 2014 – every day
[pictured: Kensington Gardens]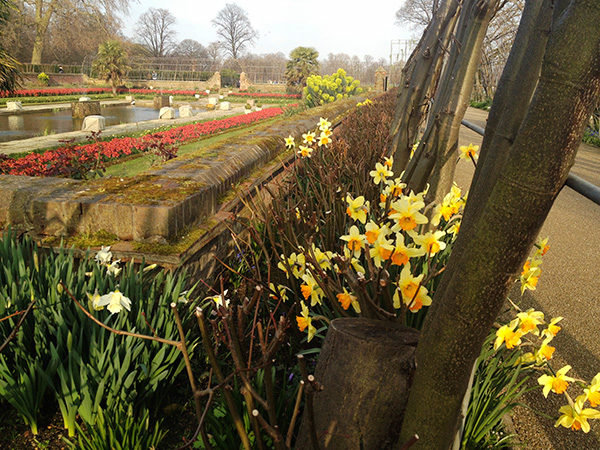 Located in the middle of the beautiful Kensington Gardens. Experience the charm and beauty of the royal residence. Open every day of the week, this Palace is filled with history and beauty. The King's staircase, The King's and Queen's State Apartments and The Sunken Gardens are just a few sights to explore. Don't forget to stop into the fashion rooms, where dresses from previous Princesses and Queens are on display, including many of Princess Diana's. Adult £16.50 Children (16 and younger): Free
Tower Bridge & Village Markets:
[pictured: Tower Bridge]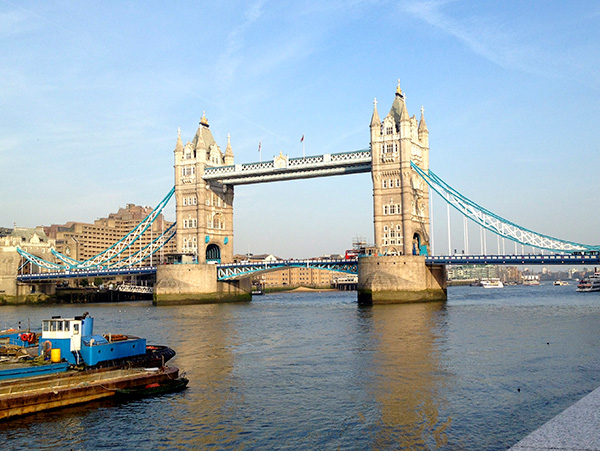 Tower Bridge has become an iconic symbol of London. Crossing the Thames River, this recognizable bridge opened in 1894. A simple walk across the bridge is absolutely beautiful but you also have the option to go inside. This will give you a magnificent view from the walkway between the two bridge towers. Take some time to enjoy the Tower Bridge Exhibition, where you can learn all about the history and what makes this Bridge so special.
Aside from all the main tourist attractions, vintage markets are very popular and held all over the city. Local business owners sell homemade food, wines, clothes, jewelry and crafts. The items you will find are inexpensive and much more authentic than regular stores. Brick Lane Market and Borough Market are two well-known ones.
Abbey Road:
[pictured: Abbey Road]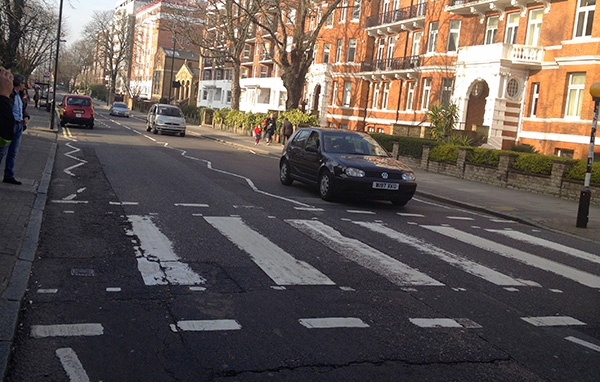 For any devoted Beatles fans, visiting Abbey Road is an absolute must. Take a quick ride to the St. John's Wood stop on the Jubilee Underground Line and visit this historical spot. Once you are off the Underground, walk down Grove End Road, which will lead you right to Abbey Road. While you are there, admire the writing from fans on the wall and take a look at The Abbey Road Studio.
Brighton & Edinburgh, Scotland:
[pictured: Brighton Pier]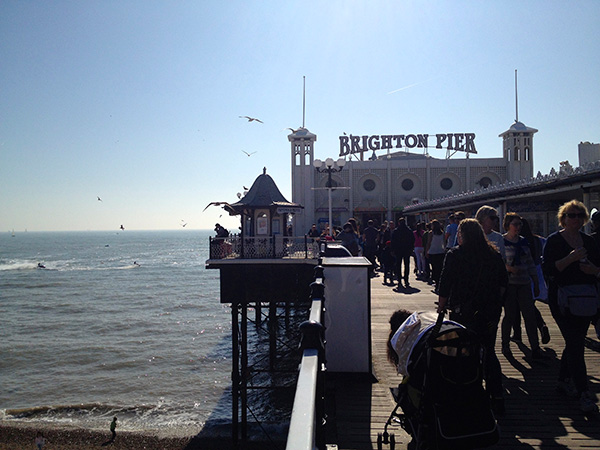 Only a £5 train ticket and 1-hour ride away from London, located at the south end of Great Britain, Brighton is a gorgeous beach town that will steal your heart. Pebble Beach is less than a 15-minute walk from the train station. On your way to the water, enjoy the many shops and restaurants Brighton has to offer. Once you've reached the ocean view, ride the Brighton Wheel, walk up and down the pier, play boardwalk games and enjoy a peaceful day in the sun.
Those in the United Kingdom have a luxury we don't have in the United States. They are able to travel to other counties by just a quick and inexpensive train or plane ride. If you have time to spare, take advantage of this and experience as much as possible within the timeframe of your journey.
[pictured: Edinburgh, Scotland]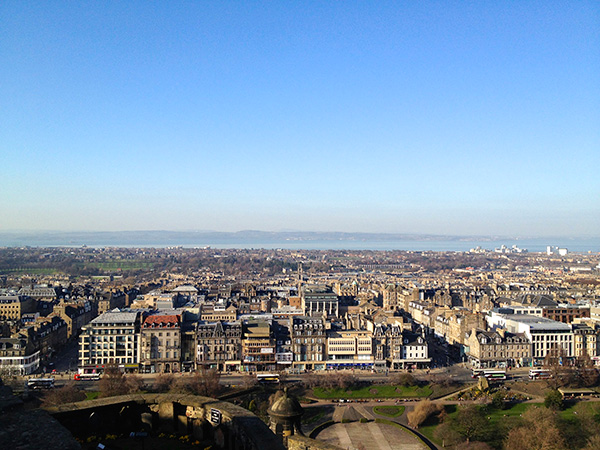 Scotland is inexpensive and convenient to travel to from London. A round trip and over right stay personally only cost us £85. The five-hour train ride provides you with an opportunity to admire the stunning countryside. Once you have arrived, dive into experiencing the culture and beauty Scotland has to offer. Don't forget to visit the historical Edinburgh Castle, King Arthurs Seat, St Giles' Cathedral, and for the Harry Potter fanatics, The Elephant House.
---
---
Montclair State | Earth
05.07.2014