In the middle of a moonlit night, an air bus darts across the darkness of a twinkling sky. The flickering lights below illuminate Havana, and the island of Cuba. By sunrise, the Caribbean Gulf will give way to the mystical mountains of the Peruvian Andes. In Lima, the massive coastal population center, a small charter awaits to shuttle transient travelers high into the mountains bound for the ancient capital of the Incan Empire, Cusco.
Pack lite, strap in and live your adventure. This is your travel guide for visiting Cusco, Peru and the ruins of Machu Picchu. Destination South America: the Lost City in the Sky.
Table of Contents:
Cusco, Peru:
PeruRail & The Sacred Valley:
Aguas Calientes:
Machu Picchu:
Airlines & Flights:
Currency Exchange:
Cost: $1,110 – $1,750
Duration: 5 days – 4 nights
Season: April – November
Essential Items: Hero 3 Go Pro, US Passport, 220v – 110V Power Converter, Bug Repellent, Nuevo Sols, Pancho, Hiking Shoes, Sun Block
Required Rx: Malaria, Yellow Fever, Tetanus, Diamox
Cusco, Peru
[pictured: The Plaza de Armas, Cusco]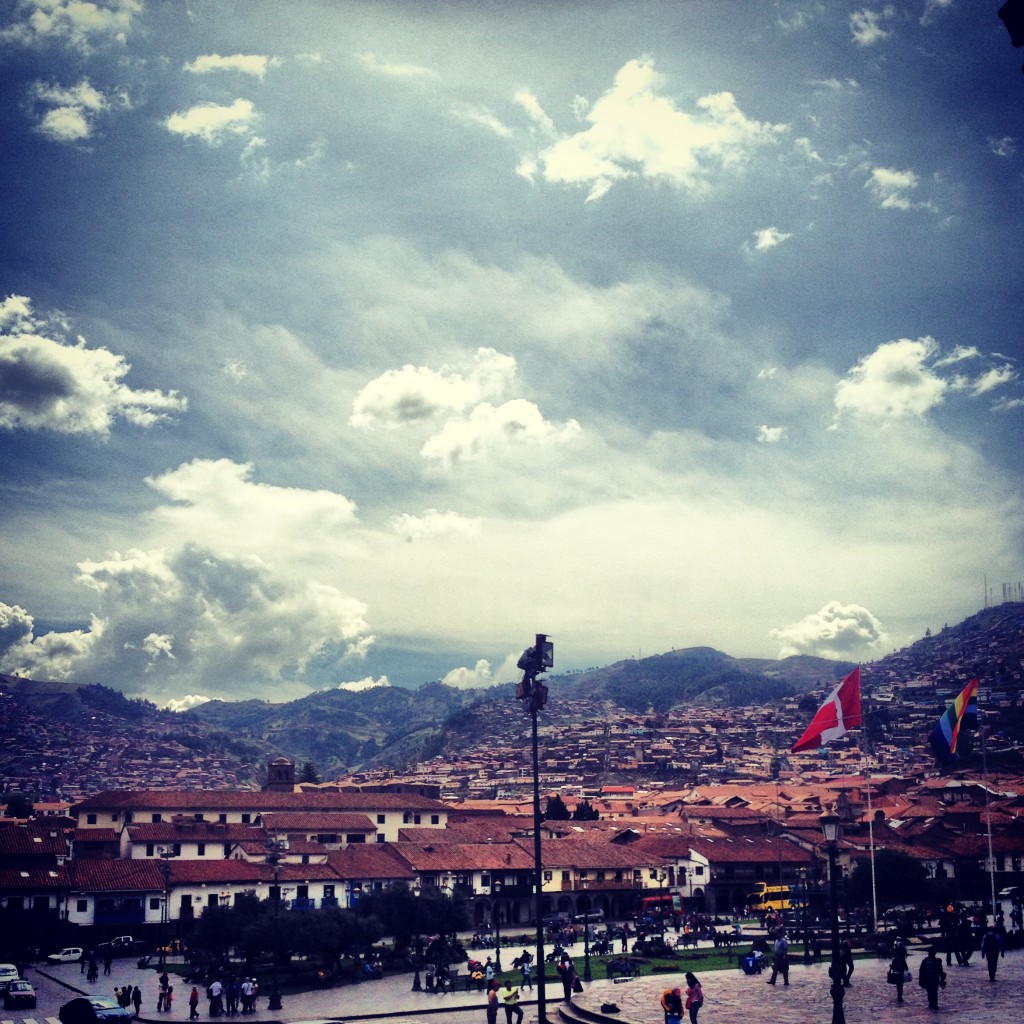 A short flight from the capital, Lima, shuttles travelers 500 miles Southeast to Cusco, a city perched in the clouds. Towering a woozy 11,200 ft above sea-level, and situated in the bowl of a tight valley dimple, Cusco's majesty served as the epicenter for the Incan Empire from roughly 1250 to 1532 AD. The Empire stretched from modern day Ecuador down the West Coast of South America to Chile.
During the height of their reign, the Incas defined intelligence and power. They built an elaborate network of stone roads across the region and developed an agricultural system that left the Empire without hunger.
Cusco is a center for tourism. The local beer is Cusqueña, which is brewed from glacier runoff of the Andes. Though you might be 4,500 miles from New York City, the urban center caters to travelers' experience and comfort. The concentration of hotels centering around the Plaza de Armas subscribe to NFL Sunday Ticket. They are about a $5 cab ride from the small central airport.
An average hotel is Cusco is around $125 a night [hostels are much cheaper], and around the Plaza is extremely safe. Each hotel has police on guard in their lobbies. The interaction between local staff and tourists adds an additional blanket of safety and comfort. For our trip we booked two hotels, one night at the Sonesta Posadas del Inca Cusco, and our last night we splurged on the newly constructed JW Marriott. Both are highly recommended and if we were to return, we would re-book the same way.
[pictured: The Spanish Mission, Cusco]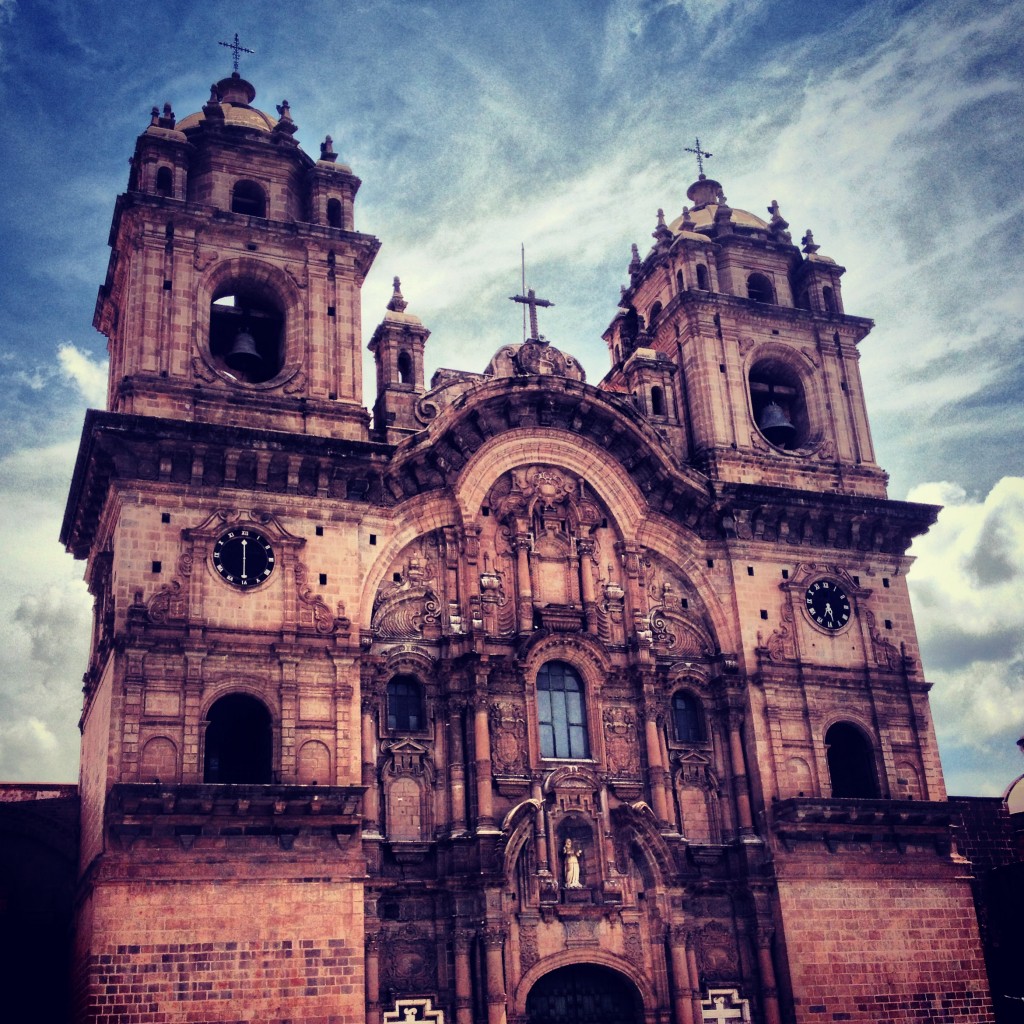 Cusco's architecture reflects the Spanish conquest of 1533. The religious missions and injection of Christianity still remain in the form of cathedral-esque churches. While walking through Cusco, the scene is straight out of an Indiana Jones movie, set in the early 1930s.
The other major travel tip for Cusco is understanding the effects of altitude. At almost 12,000 feet oxygen levels are about 70% of that in New York City. You would think that might just leave you out of breathe while exploring city streets and alleyways but actually altitude sickness is much nastier. Imagine a really bad hangover that can't be cured with coffee and greasy food. Travelers to Cusco or Machu Picchu are recommended a 24 – 48 hour acclimatization period where the body can adjust to the difference. It is recommended to just take it easy and eat light, such as soup or stew your first night. If you fail to follow these rules chances are you will have a debilitating headache and puke up anything you eat. Sounds fun right? It's not.
There are ways to combat altitude sickness: herbal and medical. The first is the most common, and for locals it's coca leaves. Every hotel and restaurant has leaves on hand and, though outlawed in the States, coca is a local reality of dealing with thin air. The leaves can be chewed or added to tea.
The other is medical, and you can get it from your doctor. It is a drug called Acetazolamide or commonly known as Diamox. It adds a bunch of sulfur to your system to help the blood hold oxygen at high altitudes. Side effects are you pee a lot the first 24 hours and experience a feeling of being slightly light-headed.
No matter you preparation or fitness level, everyone is susceptible. But it is unique to the individual. For instance, I took a bunch of precautions and felt kinda like crap. While my traveling buddy was pounding Cusquena beer like he was at a frat party off campus and was totally fine.
Once you are accustomed to the environment in Cusco it is time to head into the wilderness of the Peruvian Andes.
PeruRail, The Sacred Valley & Inca Trail
[pictured: PeruRail Vista Dome at Poroy]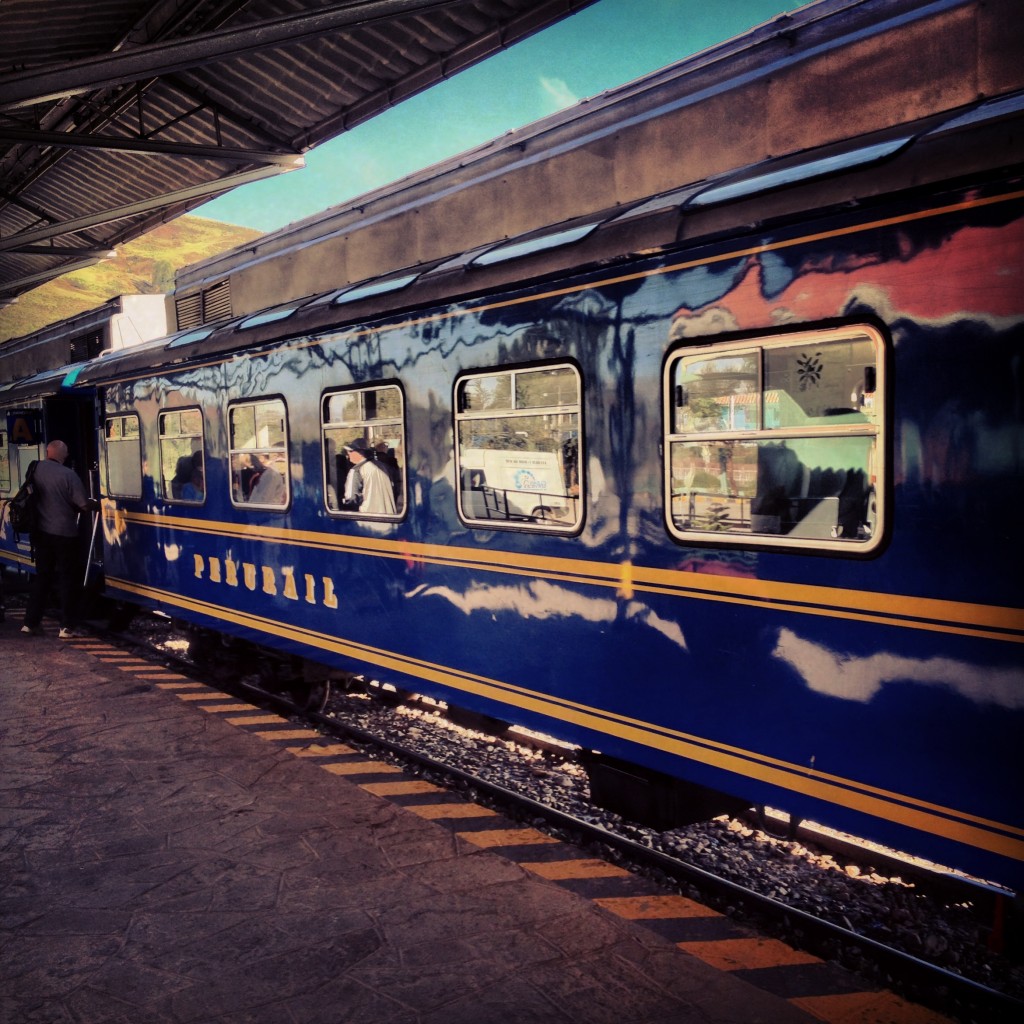 The only way to Machu Picchu and the Sacred Valley is by railroad or foot. Your choice. On the Northern outskirts of Cusco is the small rail station of Poroy where Peru Rail runs daily trains to The Sacred Valley, Ollantaytambo and outpost Aguas Calientes. The cab ride to Poroy is roughly $10 USD / 30 Soles and takes 20 minutes from the Plaza de Armas.
Train fare on PeruRail is around $76 each way in a large windowed Vista Dome train. Tickets need to be purchased in advanced at www.perurail.com. The trek is about 60 miles into the mountainous jungles of the Andes or roughly 4 hours.
Trains leave Cusco starting at 7 am and passengers will be treated to complimentary breakfast and beverages as farming communities pass by the vista windows.
[pictured: PeruRail Vista Dome]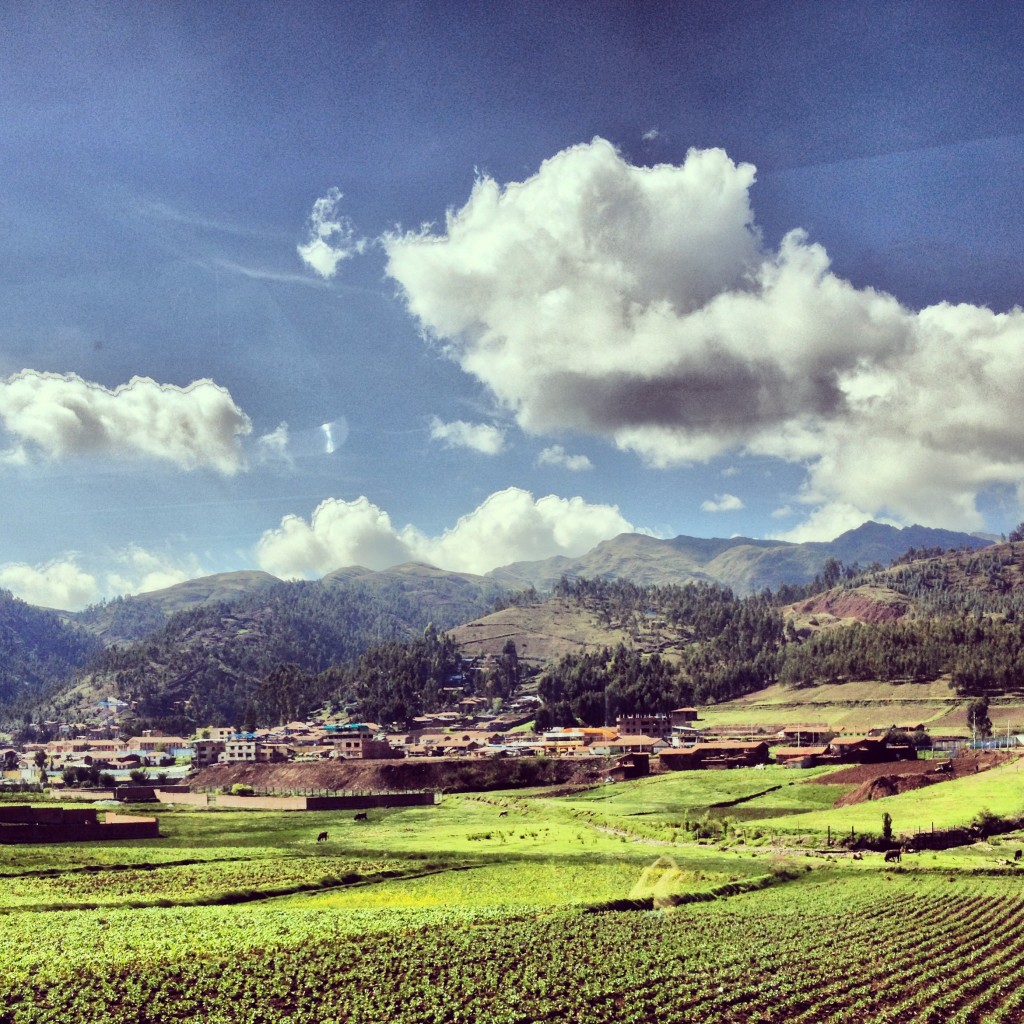 The rail car will make a few stops along the way, as switch backs help the carriage descend steep passages. A common stop for travelers is Ollantaytambo and the Sacred Valley where hiking trails create a stark difference from the city life of Cusco.
Travelers are about half way, or two hours, to Machu Picchu. It is at this point that the landscape begins to change dramatically. Farming plateaus and valleys quickly morph into rugged peaks. The rail line clangs through tight mountain passes following a rapid-laden river.

[pictured: The Sacred Valley]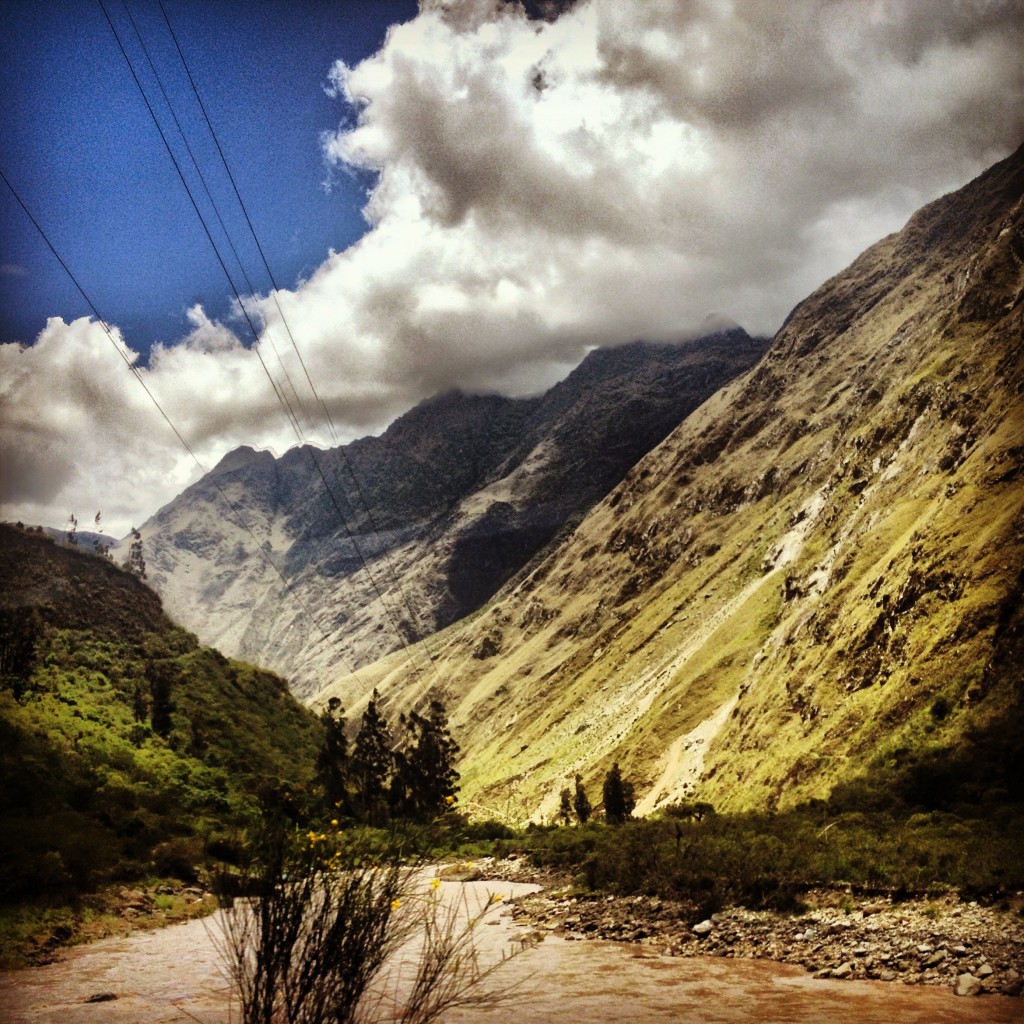 For the true adventurer, the Inca Trail is the way to go. Do your research here. The PeruRail will come to a stop in the middle of the mountains and let you out at a wooden bridge, where your porters will be waiting. The Inca Trail is the original route through the Sacred Valley that was used to reach Machu Picchu during the time of Pachacuti's reign. It's a 4 day, 26 mile hike, with breathtaking views and unrivaled scenery.
The Inca trail can only be done during the dry season in Peru, roughly April to October. It also should be noted that is the busiest for tourism. Commonly, traveling to Machu Picchu during the rainy season is difficult due to mud slides and floods. November is the ideal window though; the weather hasn't turned, and the crowds disappear. Airfare, hotels, and travel plummet.
[pictured: The Hiram Bingham]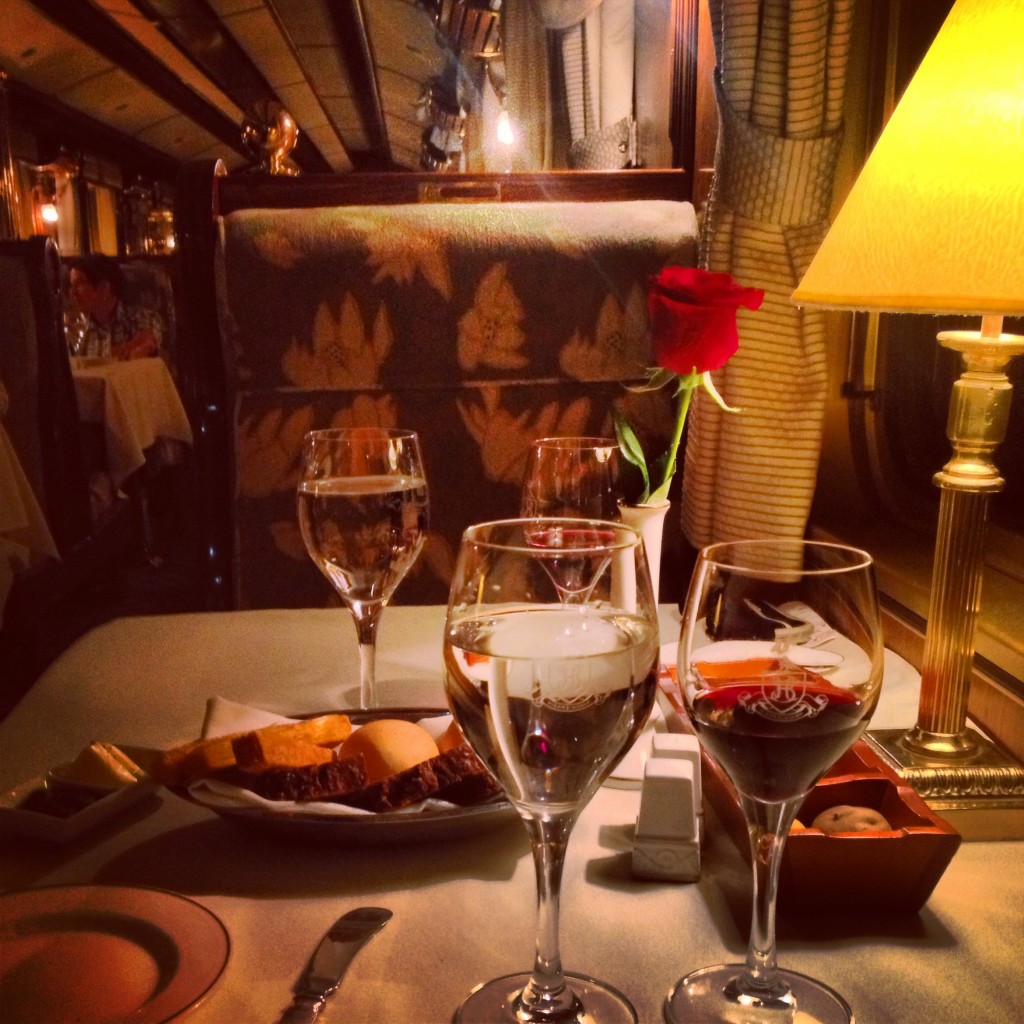 If your wallet can bear the cost of a $427 one-way ticket there is a third option for the 4-hour journey; the romantic 5-star Hiram Bingham Railroad, named after the American explorer who discovered the ancient site in 1911. The vintage rail car is a luxury playground for the refined traveler equipped with a lounge observation car, bar car, live music and full 4-course dining. We discovered it by watching an episode of Anthony Bourdain's Parts Unknown and couldn't resist the opportunity to indulge.
After 2 full-days of hiking, and being spiritually exhausted from roughing it all the way to Machu Picchu, a little luxury was worth every penny. But if your journey does not include the Binghman, it is simply more hype than necessity to get you to and from Cusco in one piece.
Aguas Calientes
[pictured: El Mapi Hotel Aguas Calientes]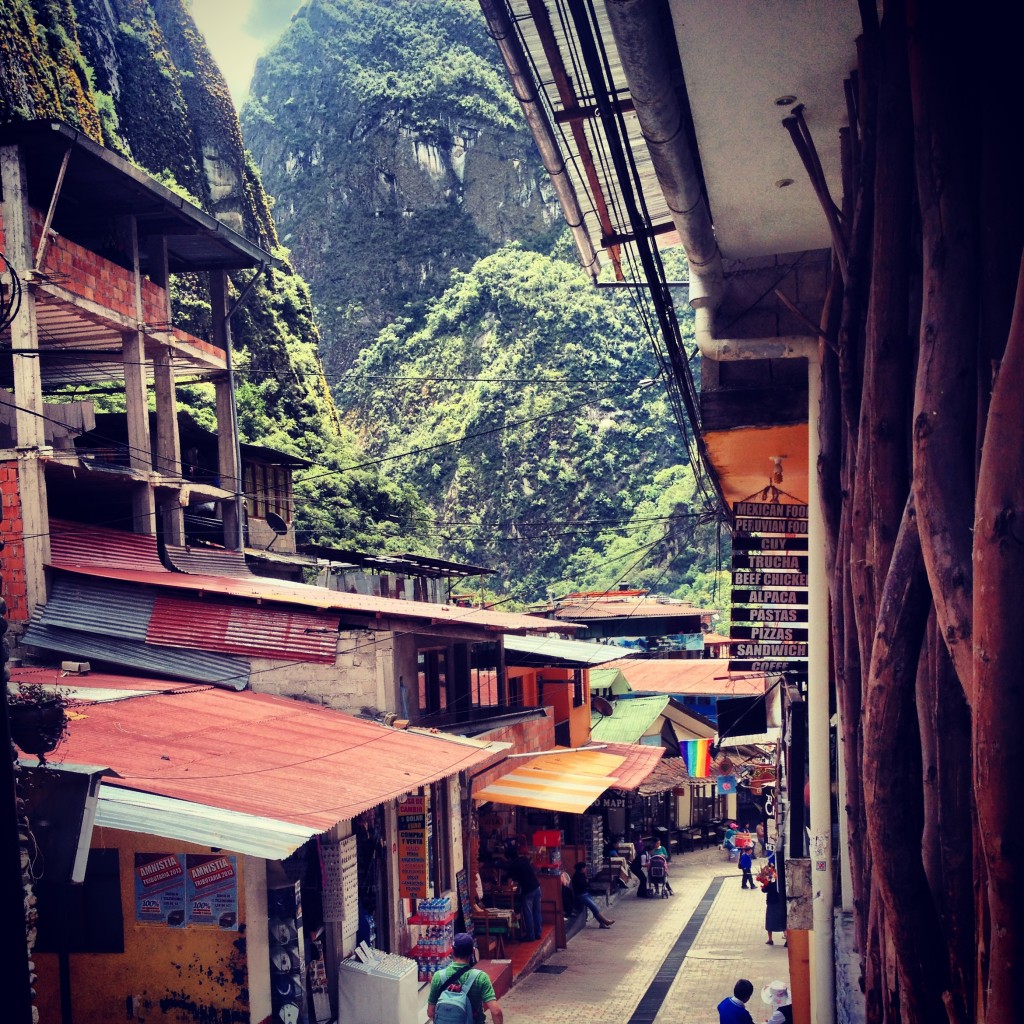 For the more common traveler, the train to Aguas Calientes is adventure enough. The outpost town, at the base of an indescribable mountain range, is home to Machu Picchu. She is quaint, remote, and packed with tourist friendly hotels. An average night is around $200. For our 2-night stay we chose El Mapi. Breakfast and Dinner were included to all guests as part of their stay.
Just outside are the narrow alleys, restaurants and merchant markets of Aguas Calientes. It is a great location to shop for trinkets or famed Peruvian Alpaca Scarves. A scarf will run about $5 USD / $15 Soles. I bought about a dozen for friends and family. The local delicacy is Guinea Pig and the roosters wake the town at the crack of dawn.
The only hotel actually at the archaeological site of Machu Picchu is the Sanctuary Lodge. For $2,000 a night, they will pamper the crap out of you but the more practical option is a stay in Aguas Calientes and take the shuttle bus to Machu Picchu. They run every 10 minutes and the fare is $18.50 round trip. First bus leaves at 6:30 am and the last comes down the mountain at 5:30 pm.
Machu Picchu & Day Hikes
[pictured: Machu Picchu]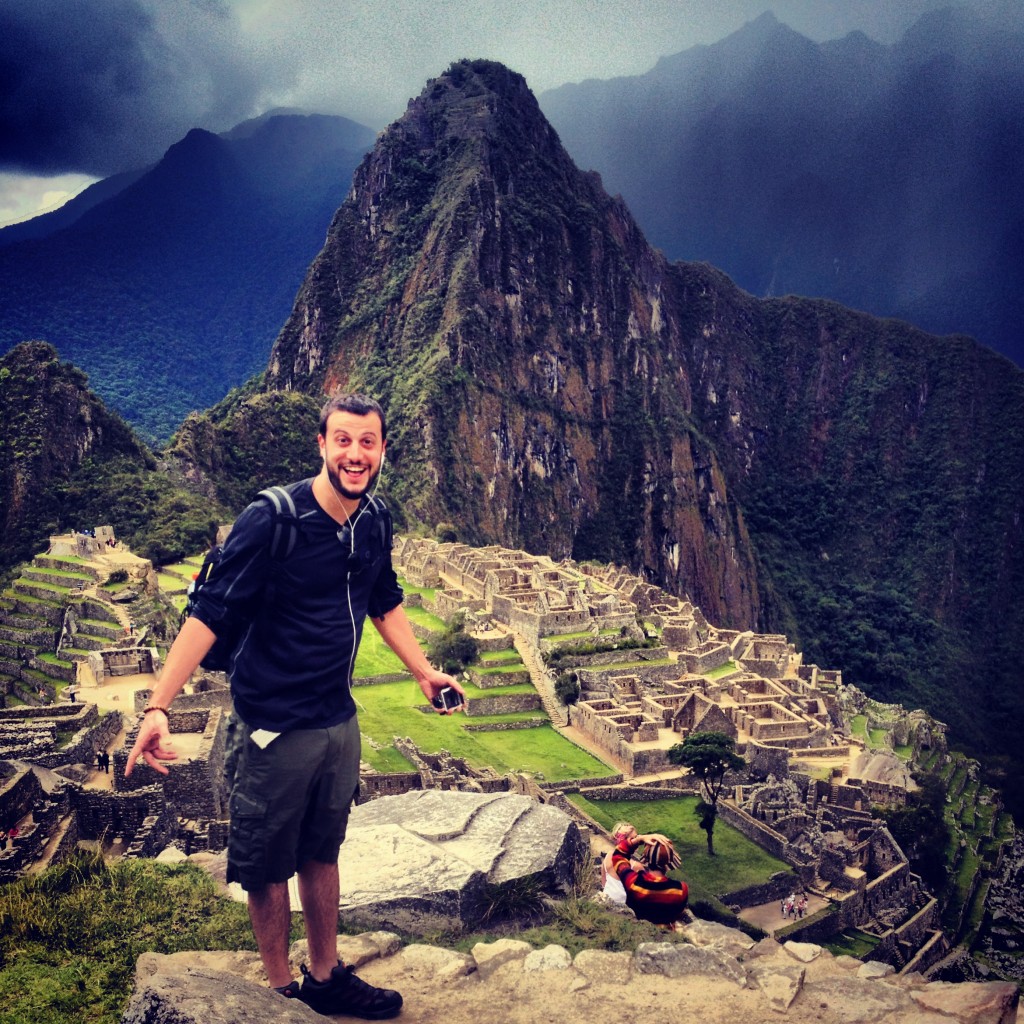 Machu Picchu, the ancient lost city of the Inca. It was built on the face of a sheer mountain cliff and was so remote, the Spanish conquistadors never found it. It wasn't until 1911 that American explorer and archaeologist Hiram Bimgham, who was a professor at Yale [the real Indiana Jones], was searching the mountainous Peruvian jungles for the city in the sky. When locals led him to the site, it was almost unrecognizable — covered by jungle foliage.
Since then it has turned into a top tourist destination, a Wonder of the World, and a top 5 bucket list expedition for pretty much everyone alive. Machu Picchu is all about hiking, and the entire site from the Sun Gate to the tip of Huayna Picchu stretches about 1 mile. A recommended stay is about 2 nights or 3 days before returning to Cusco.
But traveling 7000 km from New York City to Machu Picchu might end in disappointment if you haven't planned correctly. The Peruvian government only allows 2,500 visitors per day to the site, so if you don't secure tickets in advance you might be left out in the cold.
Here is what you need to know: credit card fraud is ripe in Peru so you are required to go through some hoops to score permits, unless your travel package includes them already. The first step is contacting your credit card company to let them know you are going to be making international purchases in Peru.
[pictured: Machu Picchu from the Sun Gate]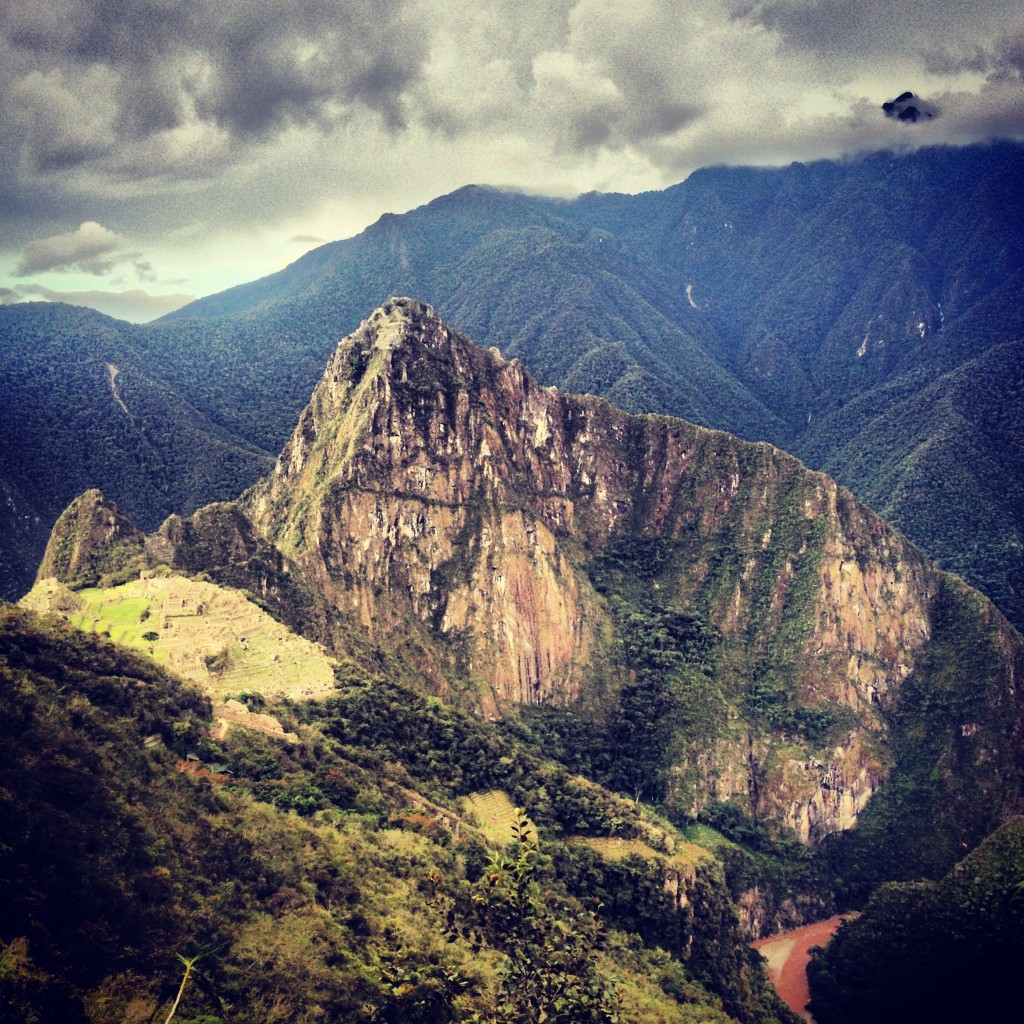 Once Visa releases any international blocks you are free to begin booking your expedition. The next hurdle is physically getting the permits. The Peruvian government keeps a close watch over Machu Picchu for outsiders. Each permit must be accompanied by an international passport ID#. Because of this, only specific authorized brokers can accept requests for permits, that will then be submitted for acceptance or denial.
Purchase Permit Tickets:
www.machupicchu.gob.pe/
www.ticket-machupicchu.com/
If you booked your trip thru a travel package or an agency then they should take care of this. The permit process works like a que and by priority. "Priority" meaning when you plan to visit Machu Picchu. For those travelers booking more than 3 months in advance they usually get to your request within 5 weeks. If they get to your name, run your credit card and it's blocked or denied you can see where problems begin to arise.
Once your confirmation is obtained, you can plan your entire trip around your visit to Machu Picchu. Another important tip is this: your permit ticket to Machu Picchu and your PeruRail ticket are not delivered in any secure way. In fact, they are pretty public for download and printing. The way your tickets are attached to an individual is by passport ID # and the credit card you used to purchase. Don't have these with you and you might be in the cold, if there is an identity dispute.
Machu Picchu is a spiritual experience. Go early in the morning and stay til sunset. Go hiking, take a nap on a cliff or just stand in awe of the breath-taking mountains. For the travel time, the money, and the preparation, not soaking in every moment would be a travesty. And that isn't me getting all Kumbaya on you.
[pictured: Machu Picchu from a top Huayna Picchu]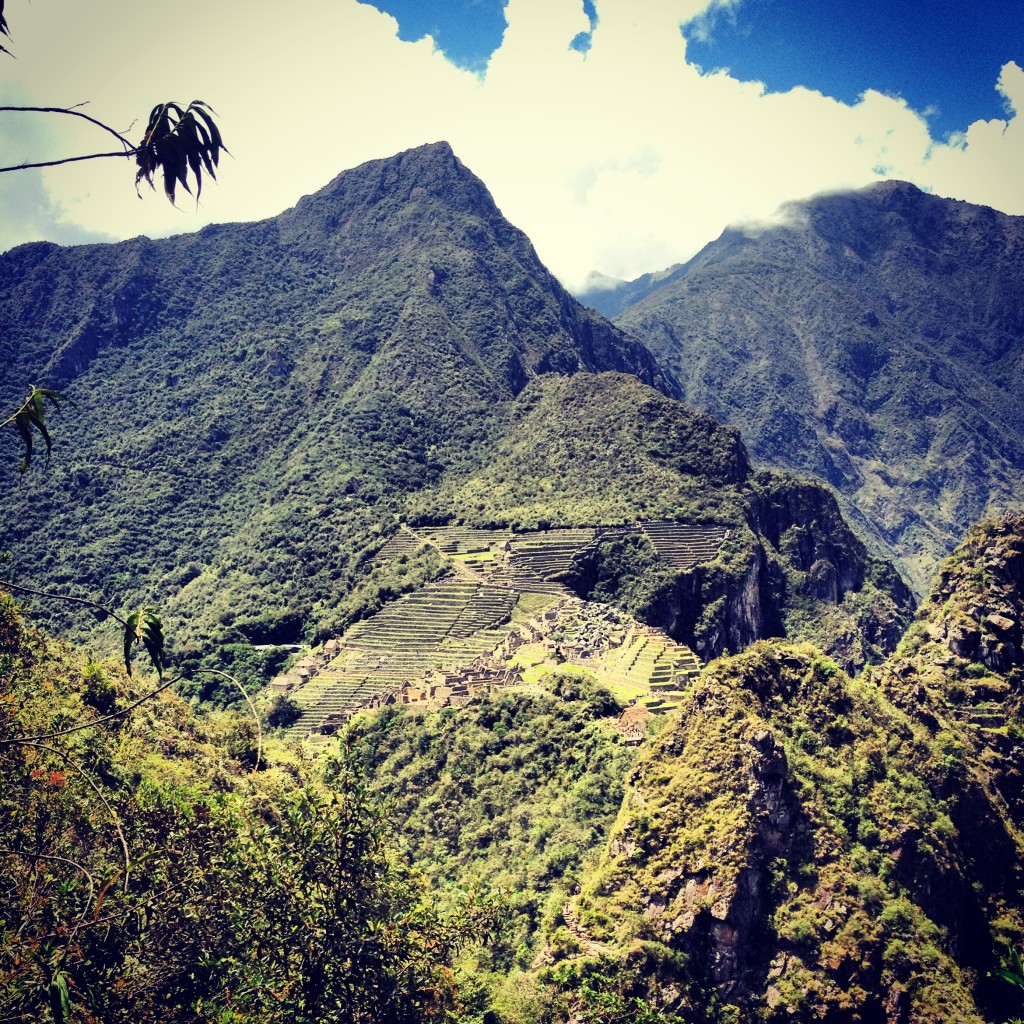 While at Machu Picchu there are three opportunities for day hikes. The most common, and death defying, is Huayna Picchu. For a few extra dollars added to your permit, 400 hikers a day are allowed to the top of the classic Machu Picchu cone. The hike up there will test your stamina and will haunt your dreams. A thin, single-lane, rock road heads straight up the Northern face with nothing securing you to the side of the mountain but an occasional steel cable latched to the rock. Once at the top, vertigo is common and the feeling of begin part of the mountains morphs to being at the precipice. A temple and buildings were built by the Inca at the top. The 90-minute hike, is worth every bit of heartache.
Second is Mount Picchu. Though not as steep, Mount Picchu will get you to the mountain tip directly across from Huayana Picchu [pictured above] and will give a birds eye view of the entire archaeological dig.
[pictured: Machu Picchu]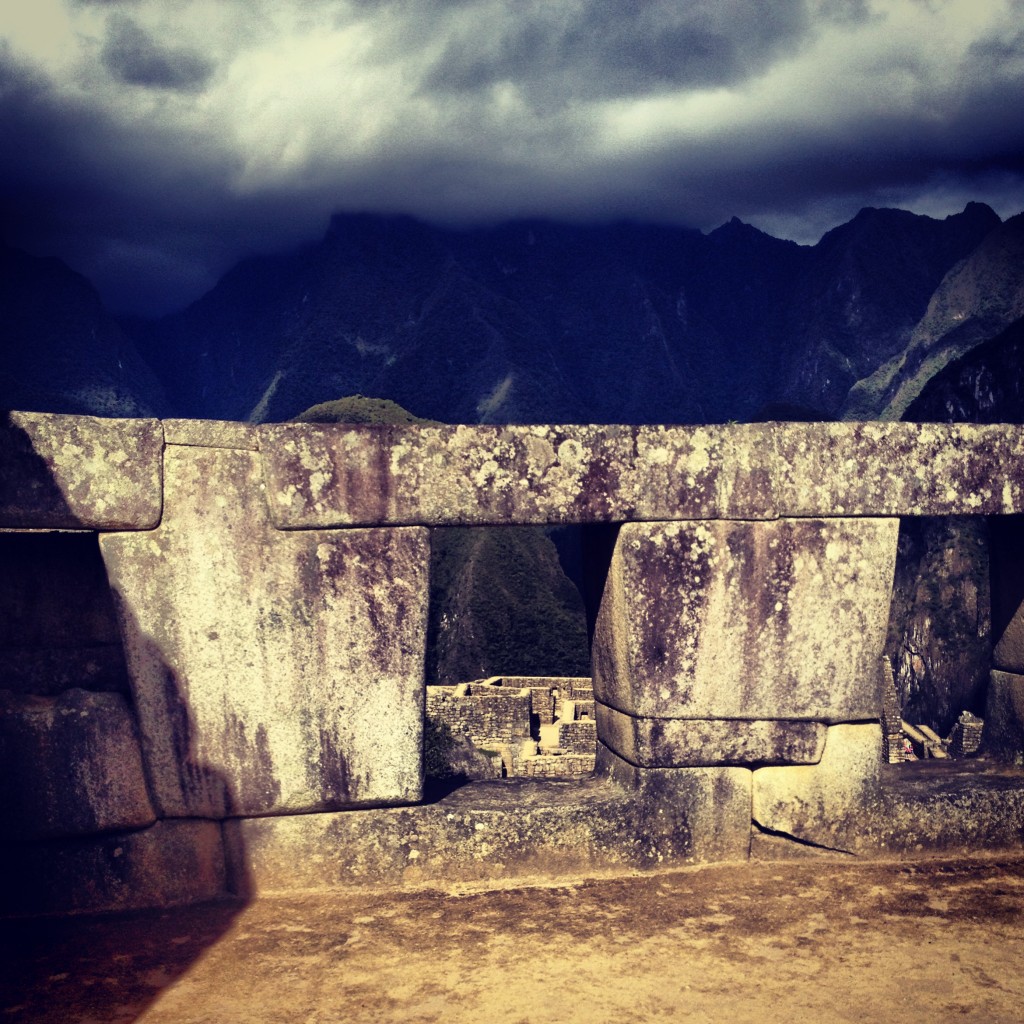 Lastly is the Sun Gate. The hike there is modest, and for those hiking the Inca Trail, it's where they get their first view of Machu Picchu at sunrise. While exploring the site, it is impossible to not notice the architectural and engineering achievements of the Inca.
Machu Picchu was built on two earthquake fault lines, hence the stunning topography. To ensure the survival of their construction, the Inca erected their buildings without mortar. Instead, they carved blocks to fit together perfectly, without spacing. It's mind blowing. As the sun set on Machu Picchu, the ruins retreated back into the shadows. Instead of opening National Geographic to get a glimpse, I can simple just reach for my phone and reconnect with her beauty and mystery.
Flights & Airline Travel
[pictured: LAN Peru Airlines Wiki Image]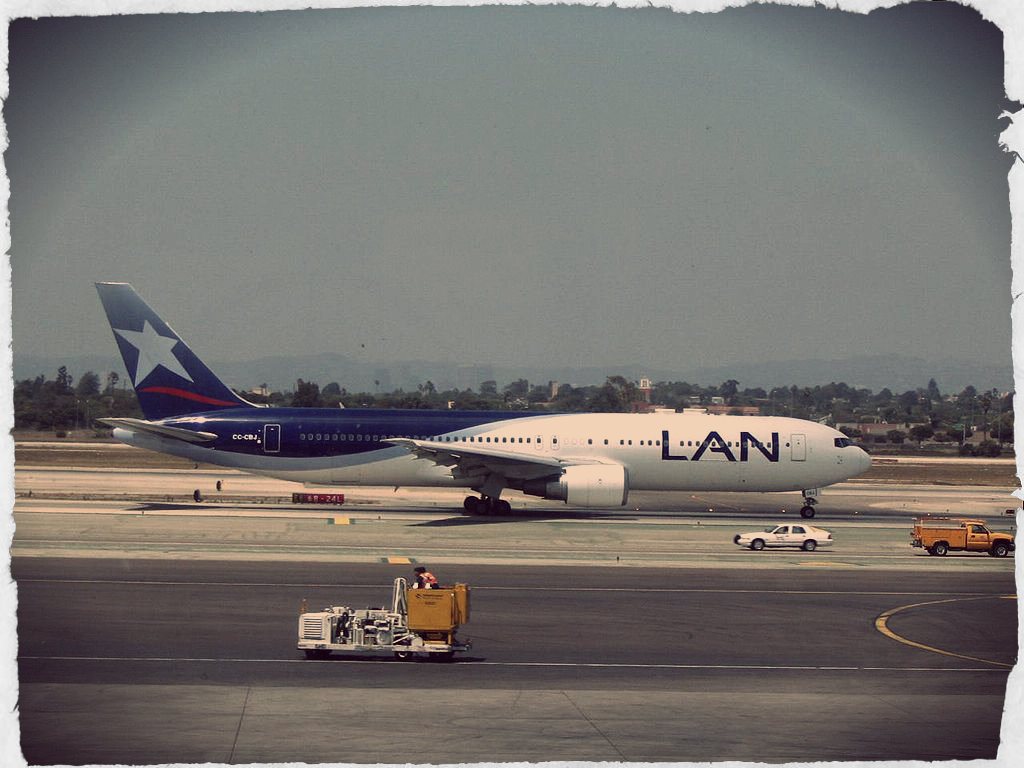 How you book flights is the single greatest determining factor of what the overall price of a trip to Peru will be. My method, when traveling anywhere, is to go directly to Google Flights.
Upon entering in my desired dates for travel, I look just above the results for a message altering me about travel deals on flights leaving on different days. As an example, if you left a day earlier or later savings could be up to a few hundred dollars. For this trip we took an 11pm flight departing from JFK, 8.5 hours direct to Lima. Then a 1 hour flight from Lima to Cusco. Total travel time was 13 hours. Round trip was a total of $800 a person. The airline was LAN Peru, a South American company geared towards regional travel.
The luggage bins were huge, the leg space was ample, the crew were all good looking, served a meal and offered complimentary whiskey to help with the red eye journey. If I was traveling again, I would without hesitation choose LAN accommodations over Delta or United Airlines.
Currency Exchange
[pictured: Nuevo Soles]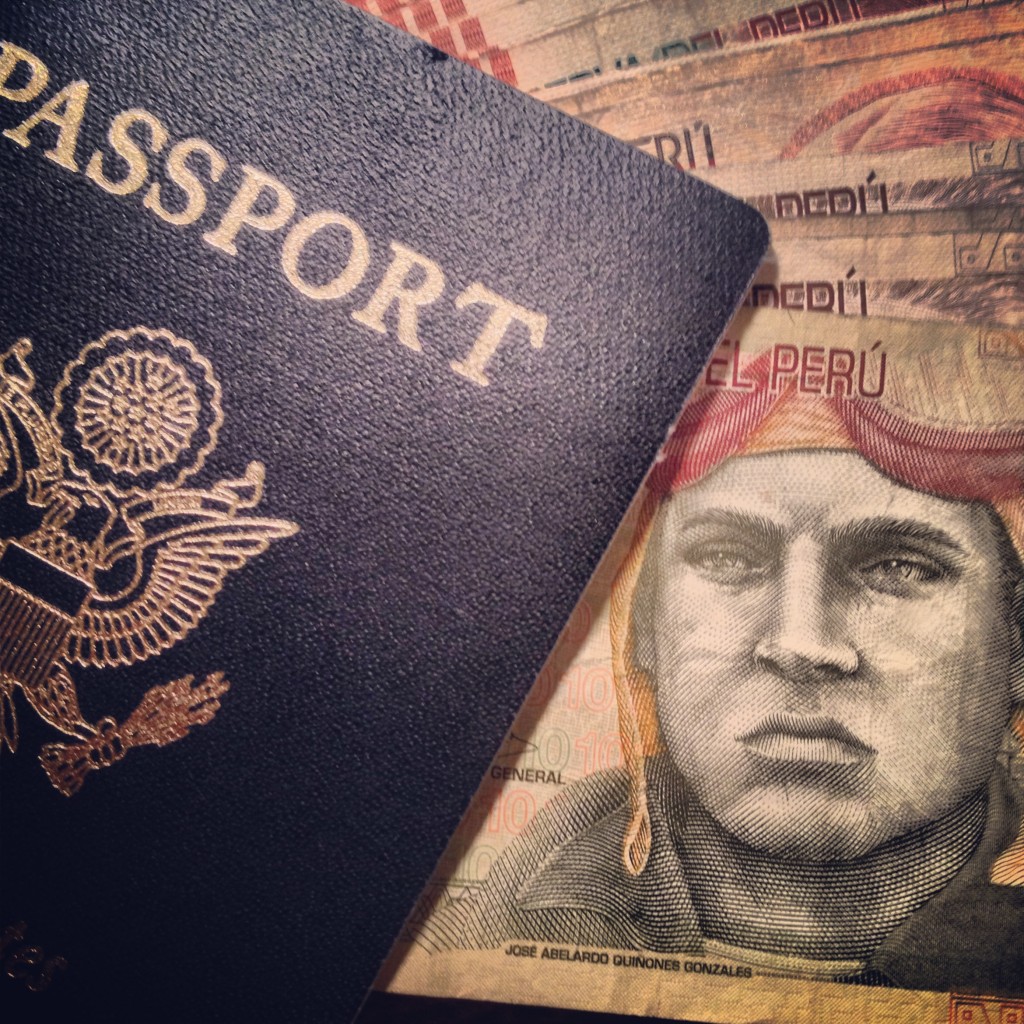 Transferring American Dollars to Peruvian Nuevo Soles is the final ordeal of your journey. Though American currency is accepted in Peru, it is not the norm and tourists are expected to abide by local monetary standards. Currently, as of November 2013, the exchange rate is 2.5 soles for every dollar. So $10 USD is 25 soles. Local money will be used for cab rides, tips, dinner, shopping and beverages. All other major expenses, like train, hotel and airlines, are pre-purchased on your US Credit Card.
There are a number of places to exchange money. The first is at your local bank in America. Just walk in and ask for a currency exchange. For a small fee, a FedEx package will arrive the next day with your money. The next is exchanging money at the airport. This is not encouraged because it requires you to display a large sum of cash in a public place — it is the same for ATMs and exchange shops in country. Doing so may leave you vulnerable for a mugging or robbery.
For our trip we exchanged $482 USD for 1,137 Soles and that lasted both my traveling partner and I til the very last day.
---
---
Montclair State | Earth
11.24.2013