When you think of punk rock, you might think of musicians who play loud and fast, and have an in your face style. You might think of artists and musicians who are absolutely unwilling to bow down to the establishment. Unfortunately, more often than not, you might think of punk as mostly a boy's club. But now there's another identity that you can give punks: feminist fundraisers.
That's exactly what this year's Ladies First Fest was all about. Held at The Silent Barn in Bushwick, and organized by New York City art collective ABC No Rio (who are "In Exile" as they wait for their new space to be constructed), Ladies First Fest is an annual punk and hardcore festival that's centered around women in the scene. This year, for the first time, all of the proceeds went to RAINN; the Rape, Abuse & Incest National Network.
Sister Munch at Ladies First Fest
Video by Dave Lopez
This year's Ladies First Fest was held on March 25 and April 1 of 2017. Nine of Swords, Sister Munch, Downtrodder, and Bleeders played on Day 1. Ellen and the Degenerates, Lady Bits, Fluoride, Whipworm, and Heavy Negatives played on Day 2.
ABC No Rio was founded in 1980 as a community center for art and activism. In the late 80s, they got involved in the DIY (do it yourself) punk and hardcore scene. They typically host punk or hardcore shows on Saturday afternoons, and enforce a strict policy where they "don't book any bands with racist, sexist, homophobic, transphobic, or otherwise bigoted views."
They've hosted the Ladies First Fest since 2012. The festival was founded by Loud Melissa, a former member of the punk/hardcore collective, with the intention of showing solidarity with women.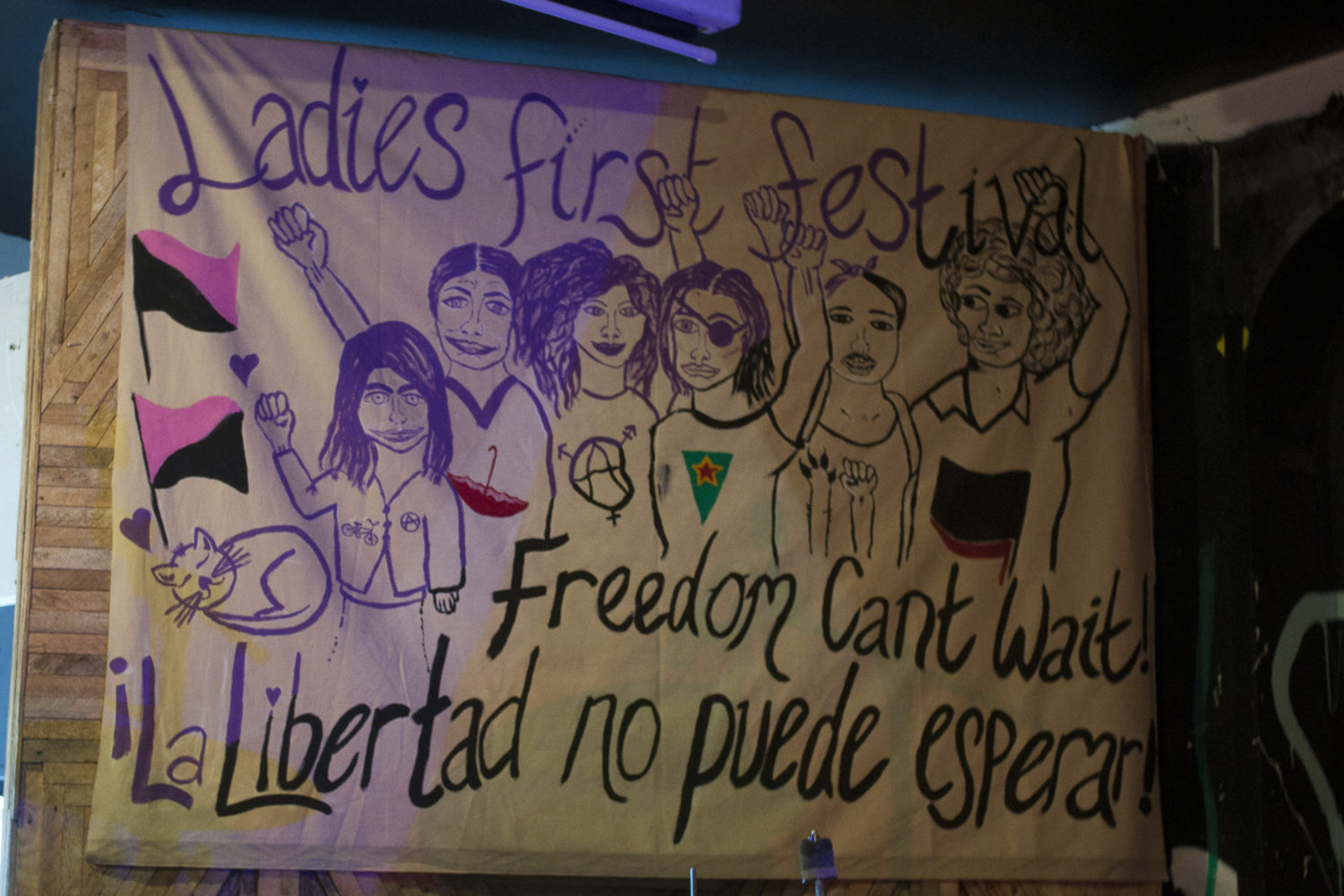 Stage Art at Ladies First Fest/ March 25, 2017
Photo by Brian Smith
This year the event was organized for the first time by Gerard Krakowski, a booking coordinator with ABC No Rio, who turned the Ladies First Fest into a charity event. "This is my first year organizing the fest and my goal was to continue in the tradition of what we've done before, but on a bigger scale," Gerard said, "I felt that with the very unsettling changes in our political climate, where women's rights are again being openly attacked by the government, that the hardcore/punk collective had an opportunity to do something meaningful for the women in our community."
While hardcore and punk often invokes feelings of anger and fury, Gerard sought to create a lighter, friendlier atmosphere with this show. "I wanted the event to be fun and to offer people an escape, but I also wanted it to include some kind of direct response," Gerard mentioned, "which is how we ended up with a fest with a bunch of inflatable birthday party decorations that is also a benefit for the largest anti-sexual violence organization in the country."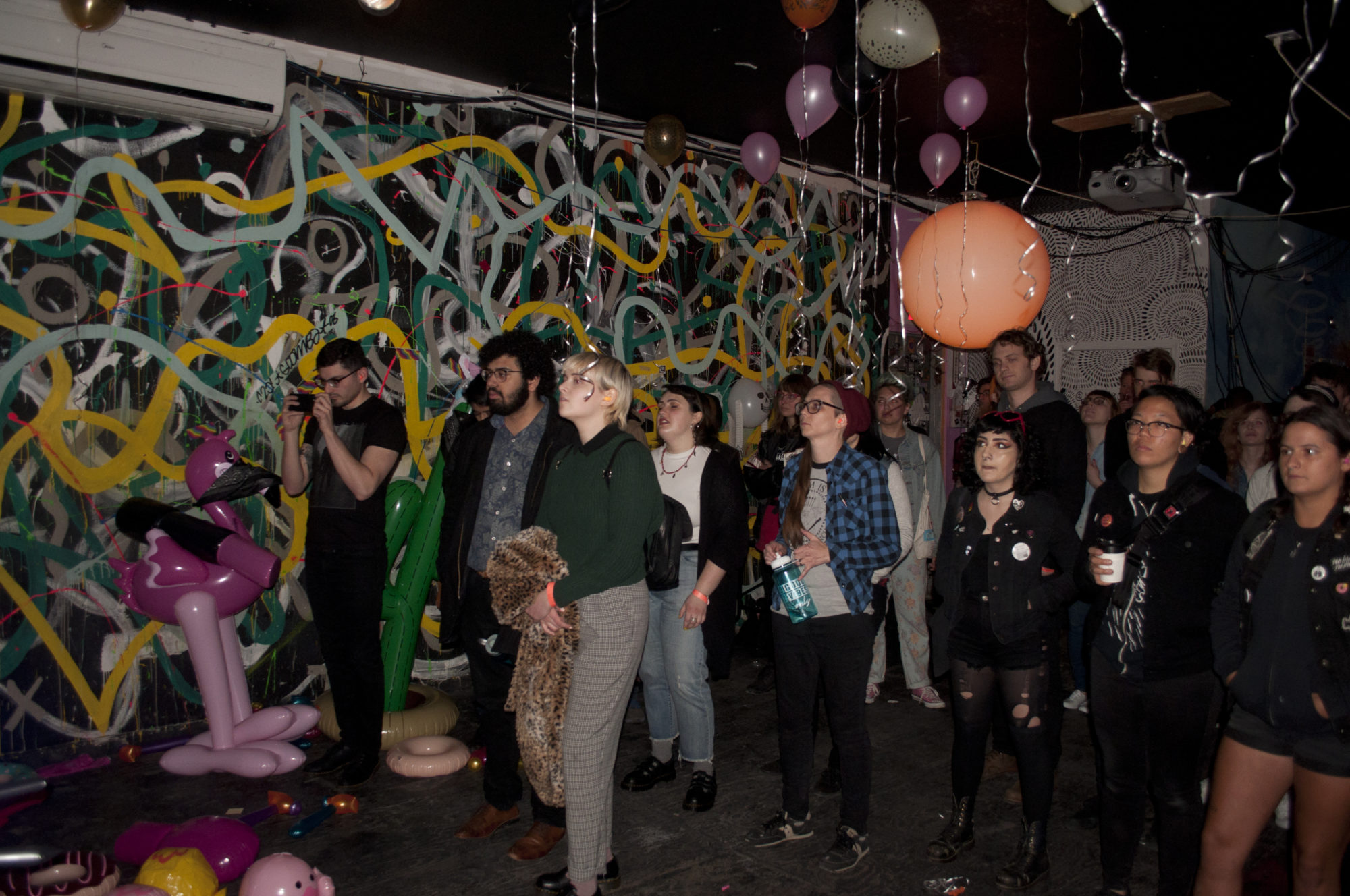 The Crowd at Ladies First Fest/ March 25, 2017
Photo by Brian Smith
The event was a huge success. Ladies First Fest raised $960 for RAINN. Gerard put together a lineup of feminist punk, hardcore, and post-punk bands; all of who shared his vision of "deliberately creating a space where otherwise marginalized people can have the opportunity to express themselves" and to make a difference for an important cause.
One of the bands who is pushing to make a difference through punk are Philadelphia-based Downtrodder, who played on Day 1. They were founded in 2015 by vocalist Kate Meyer, who wanted to give back to causes she and other women in the punk scene felt strongest about.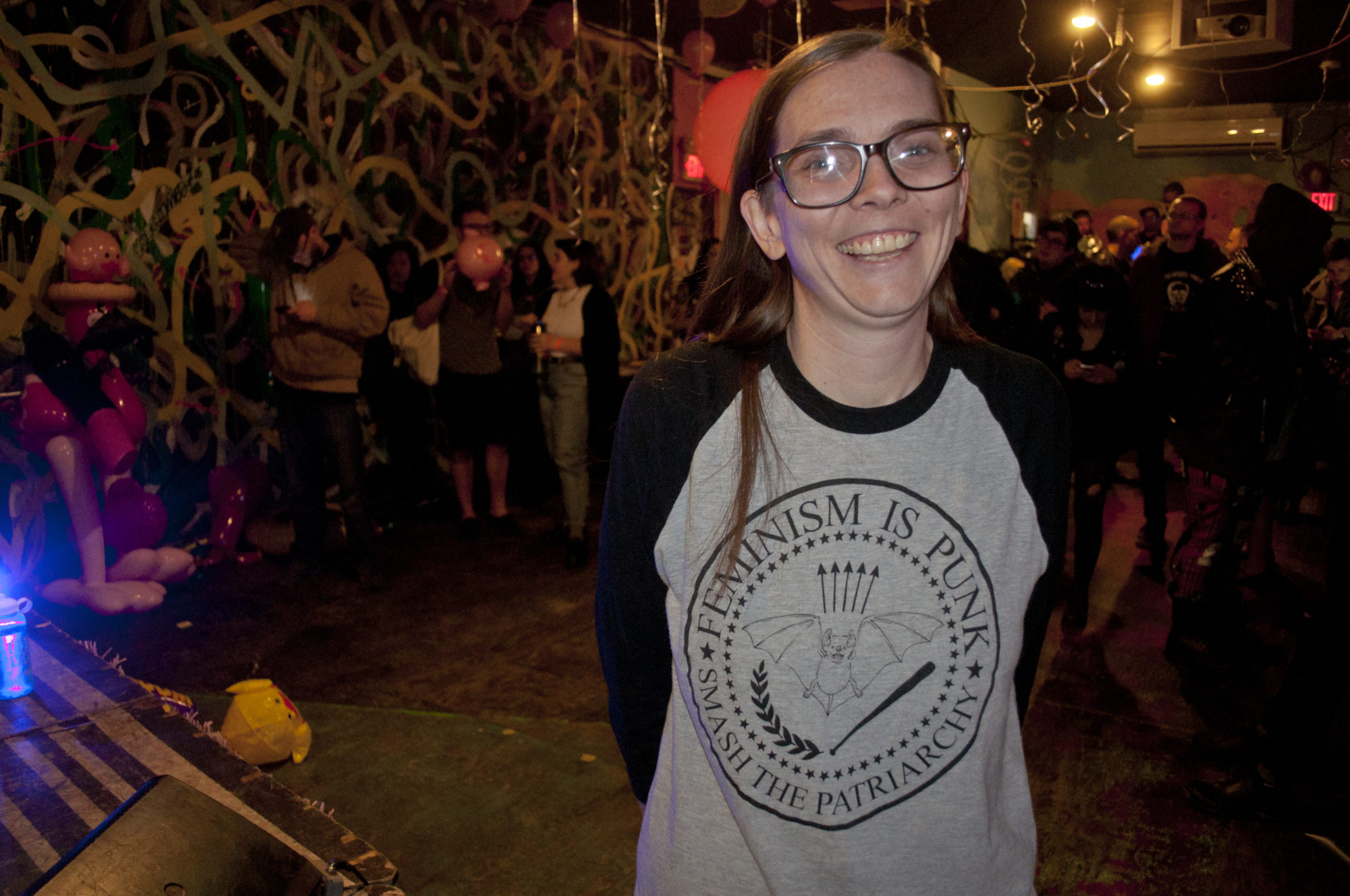 Kate Meyer of Downtrodder/ March 25, 2017
Photo by Brian Smith
"Benefit shows and compilations were definitely a big part of why I wanted to start Downtrodder. I've been playing in some kind of punk band since 2003 and I always felt like music was a selfish endeavor," Kate mentioned, "'Listen to my important thoughts and feelings!' I had trouble reconciling that I was taking so much, but giving very little."
Downtrodder have played shows benefiting RAINN, Planned Parenthood, the ACLU, The Trevor Project (a suicide prevention and toll-free hotline for LGBTQ+ teens), as well as many local LGBTQ+ centers. While they've played all over the east coast (primarily in Philadelphia and New Jersey), this was their first show in New York City.
Downtrodder are fast, loud, and in your face. "Lyrically, I'm inspired by the attitude and sneer of War on Women, the speed and panic of Bomb the Music Industry!, the all-out fury of Night Witch, and lots of other stuff," Kate said, while also listing bands like War on Women, Paint it Black, and Gouge Away as inspiration. Both Downtrodder and Sister Munch, the band who played before them, epitomize radical feminist punk.
Having played in punk bands since 2003, Kate has seen first-hand how far the DIY punk scene has come in terms of inclusion, because those early days were tough for women in the scene.
"I would go long stretches without seeing any other women in bands that I was playing with," Kate recalled, "A band decided they didn't want to tour with my band because we had women members. I was literally told to my face that a band wouldn't audition me because I was a woman and that would be "distracting". People working the door literally wouldn't let me into my own shows unless a male bandmate vouched for me."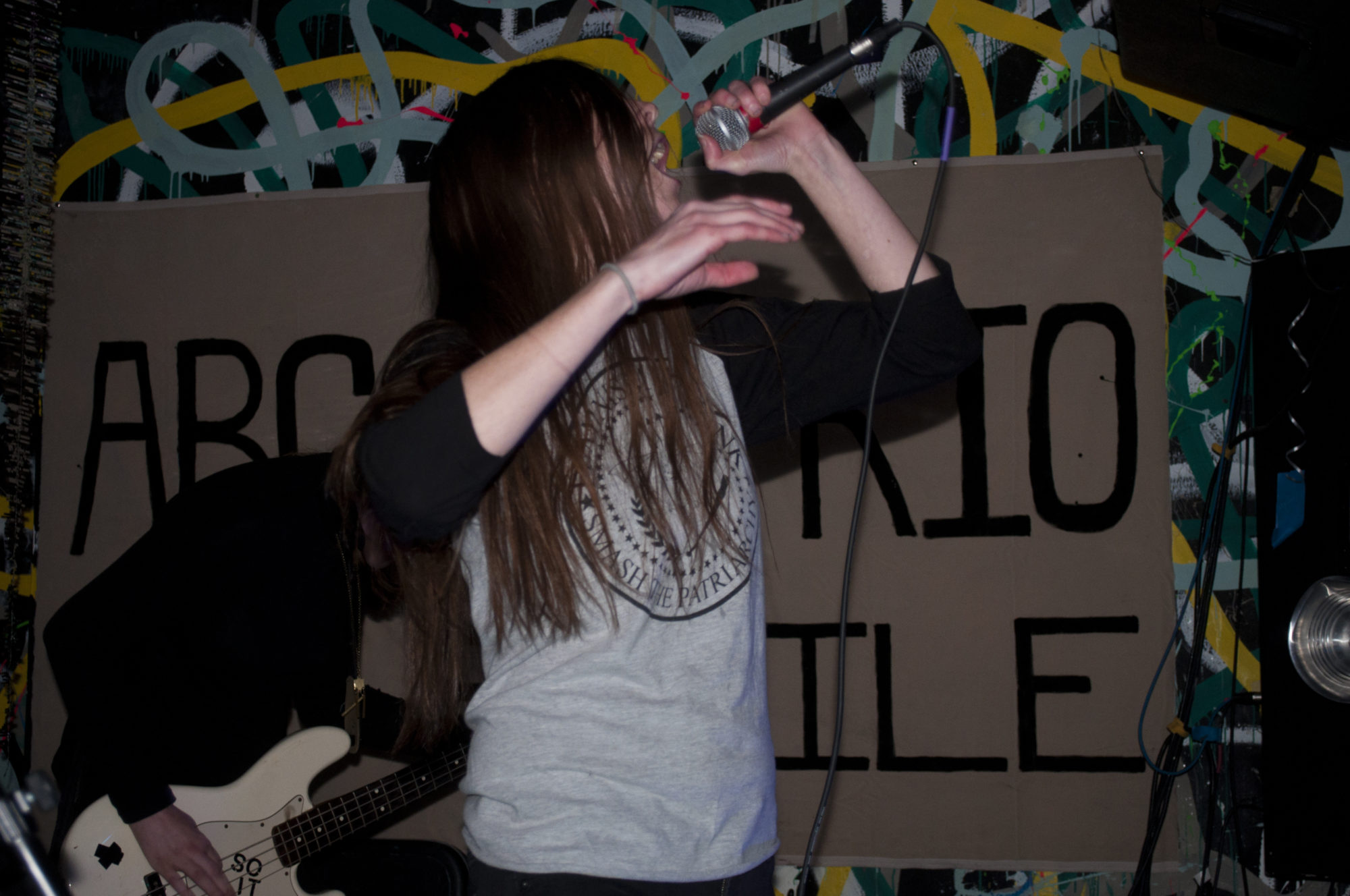 Kate Meyer of Downtrodder/ March 25, 2017
Photo by Brian Smith
"But over the past few years, there's been a huge shift in that attitude. It feels like all the women who got told 'well if you don't like it, start your own band/label/booking company/festival,' took that garbage excuse to heart, and just started doing our stuff on our own terms. Plus, there are definitely more promoters and label owners trying to make sure their shows and releases are diverse and not just all white dudes."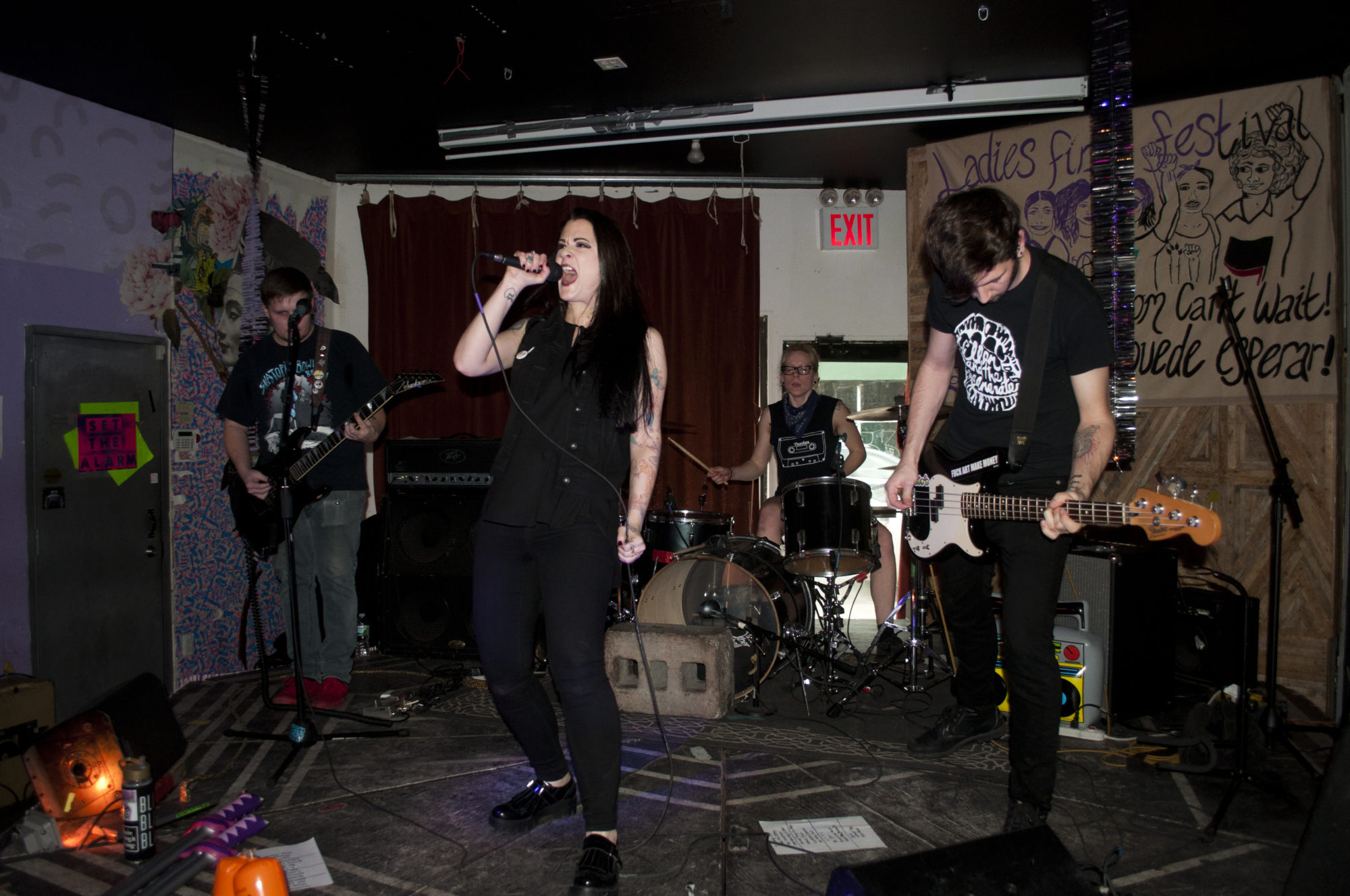 Sister Munch at Ladies First Fest/ March 25, 2017
Photo by Brian Smith
Kate views her band and the scene as "being a place of refuge for people in this country who are being marginalized by the current administration. Some people might not view hardcore as a place for taking comfort, but I always feel a sense of relief after screaming along to an enraged band that's going through the same difficulties as me."
This is not lost on booking coordinators like Gerard. The artists and the audience are one in the same in this scene, sharing a common goal of creating a space for women and the LGBTQ+ community to express themselves. "I will say that I feel deeply inspired by people all over the world who put in their time, energy, and available resources to keep this going for the sake of everyone who relies on it to help make sense of their lives."
---
---
Montclair State | NYC
04.27.2017