Jersey City, NJ — Inside a brick brownstone building in the Hamilton park section of Jersey City a third story walk up leads to a green door where music is softly heard. After a knock, Robert Piersanti emerges wearing jeans and a T-shirt. Piersanti, a local New Jersey artist, is known for using kaleidoscope interpretations for his pop art which dawns the walls of bars to bowling alleys across the state.
His warm personality is immediately detected with the backdrop of his entire loft. "Come on in, how did you get past security?"
Robert Piersanti, a native New Jersey artist, grew up in South River in a household full of women. "I grew up alongside three sisters and I believe I used artwork as a way to get attention at home," he says with a longing look. He sits crossed legged on the black modern sofa.
While mimicking a scroll with his hands Piersanti explains, "my father worked as a Teamster Truck-driver, and would always collect scrolls of paper for me to draw on. I turned them into scrolls of art. To this day walking into an art store still makes me happy."
[pictured: Painting in Progress]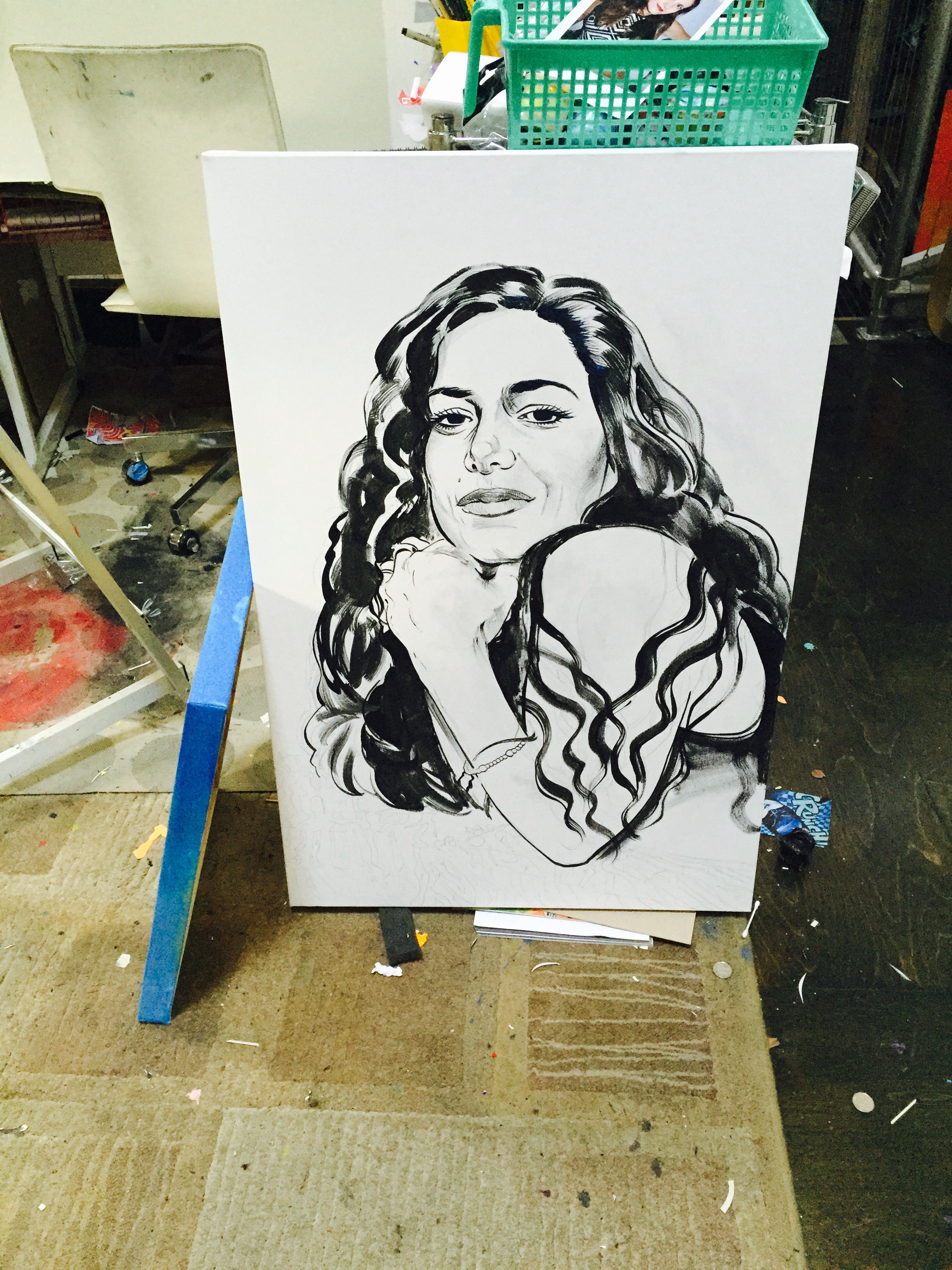 Piersanti got his start working in the garment industry after finishing art school. "I drew silk screens on clothes for children," Piersanti adds. "Then I went into editorial illustration. I kept attending galleries and libraries to see where my paintings belonged," he says while pointing to his artwork.
Piersanti got his first break by being published in Entertainment Weekly. Then soon followed the New York Press, Daily News, Sports Illustrated, New York Magazine and the New Yorker. "About 10 years ago I left that behind and started painting for myself," he says with a smile while brushing hair out of his face and leading the way to his home gallery.
Piersanti's home gallery is on the second floor of his loft. Paintings hang on the wall, on top of counters and are placed on the floor. There's just enough space to walk to his daughter, Gina's, room. Canvases are neatly stacked next to each other. Each painting is covered by plastic wrap for protection. Each painting hangs with pride with his older collection in one area, and his newer paintings together, sorted by size. Bigger paintings are near the entrance, while smaller ones are on the counter or hung on the wall.
Although Piersanti painting style has changed over the years his love for art has never ended. "I moved from a cartoon style to a more of a blended painting." Piersanti has a pop style that comes into play with every art piece and a majority of his subjects are women. "About 80 percent of my paintings are people," he says.
"I started off studying original oil painting style, but then realized people don't like to sit for eight hours long," he says while sipping on a glass of water and offering a slight chuckle. "I taught myself to take photos and use those pictures as reference for my paintings."
Piersanti loves having that special connection with his models, which he sometimes casually finds roaming the streets of Jersey City.
[pictured: The Big Hair]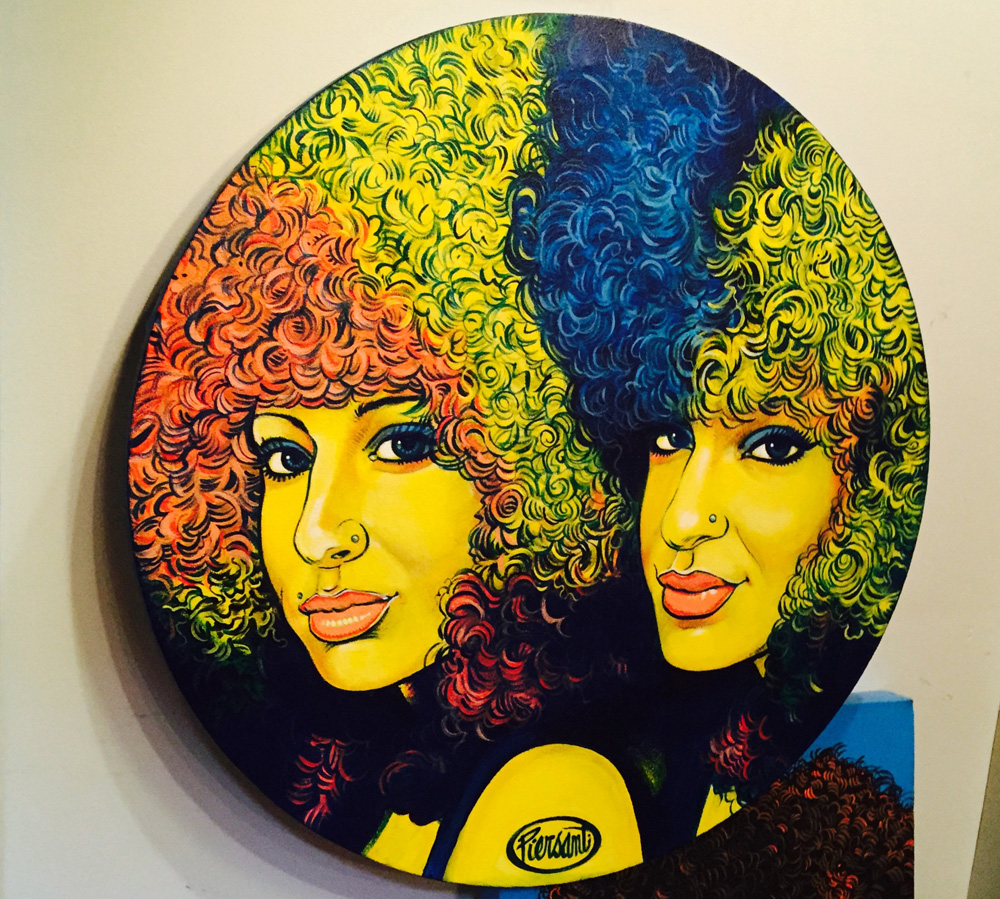 "Once there was a woman walking down the street, with amazing hair. I went up to her and asked if she would be a model for me and I gave her my business card. Turns out she has a twin sister. They are known as "The Big Hair Girls" and they wore crazy customized latex outfits and had beautiful colored fros."
As part of his style he encourages his models wear whatever they want. "I prefer pin up styles but if my model wants to be a mermaid I'll make that happen. Sometimes if a subject doesn't have a preference, I'll use my imagination. I'll also use any pop for inspiration for my backgrounds."
"First I take photos of my models," he continues while pointing to his photos on the wall. "The next stage in the process is to get rid of photos I don't think would make a good piece of art. Then I make a little printed out book and look at them carefully. "
[pictured: Photos of upcoming paintings]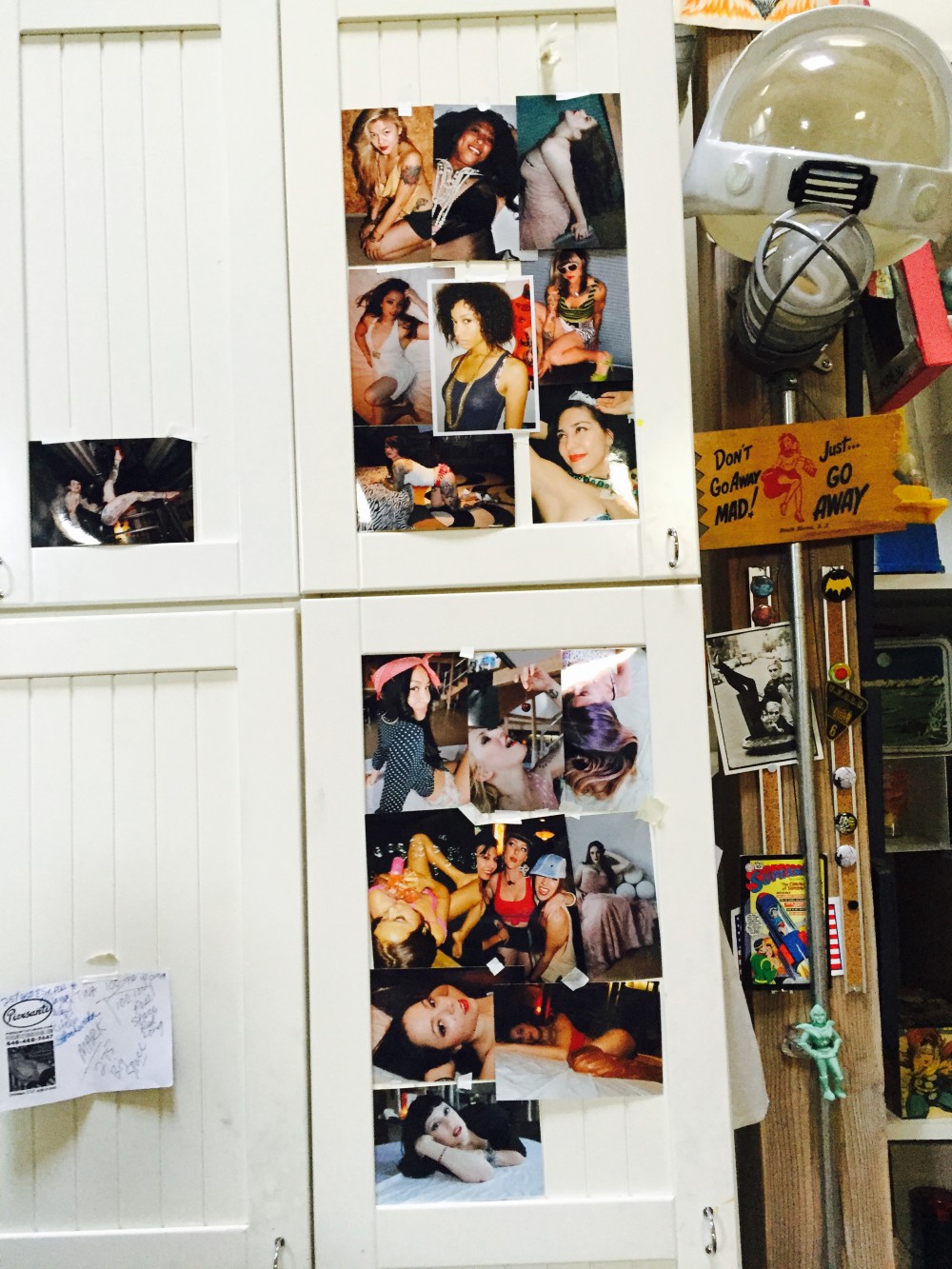 As to not waste canvas, he does a sketch before making the painting permanent. "I then paint with black ink," he says, "then add in the color and depth. After that I restore the colors and black." Piersanti shows off his newest half done painting while explaining the process which only takes about a week.
"The background of the painting is created by my imagination; it goes off what the model is wearing or how her personality shines through. The name of the painting goes off of any inspiration I have."
In other words, if Piersanti's listening to a song, he'll name his artwork after that, or if the model is wearing a cool T-shirt with a saying it'll go off of that. But like most creative projects and turmoil, does he ever get artist block?
"Nope! I conditioned myself to paint on a set schedule. I often have multiple paintings to do at a single time and always push to finish them," he confesses while adjusting his silver thin framed glasses.
Piersanti will draw whatever inspires him. "I'll stop by a park, and draw with my sketch pad. Or if something interesting comes up I'll draw on a napkin, or just about anything. I also go to an art class about once a week to keep up my abilities," while he fishes for his sketch pad.
[pictured: Gina]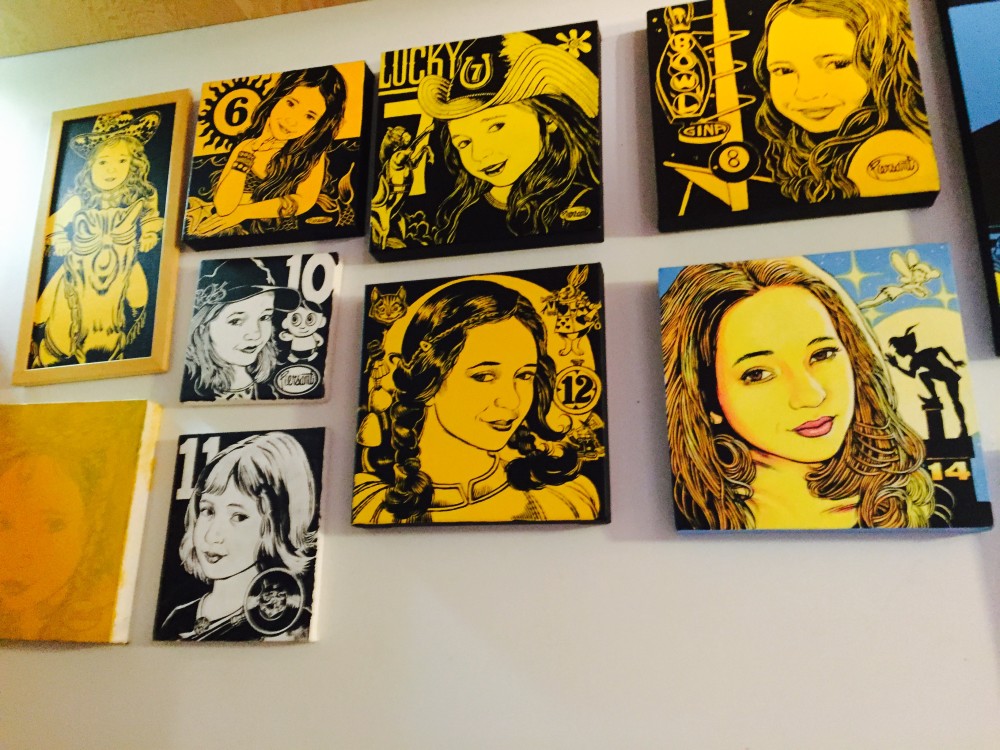 The apple doesn't fall far from the tree. Robert Piersanti has a seventeen-year-old daughter, named Gina. She is an actress who starred in a film "It Felt Like Love", which was in the Sundance film festival, and won awards.
When Piersanti isn't painting his daughter, he's drawing with her. "On a trip, we were sitting by a fountain drawing, while on-goers admired how close we were. "The whole family together painting," Piersanti says with an accent to mimic the onlookers.
"I'm planning to take a break and promote myself. I'm thinking about a show on the West Coast," he says with a longing look.
Has he ever had a bad review? "Of course, but I don't let that get to me," as Piersanti recalls on a past incident. "I learned from all of the constructed criticism. It's a good idea to think of the criticism as a challenge," he says. "For example, when an artist gets out of school he or she is used to all of the compliments received. But when the artist applies to a new job and shows their portfolio, the art director might not like the style and the artist has to learn how to make the director happy. It's good to take any criticism and build off of it."
"It's hard to be an artist. An artist has to make a voice and try to make a living. If I can't get my work in a gallery, I look for clubs that have wall space. Work can practically be anywhere," Piersanti explains.
"The advice I have for young artists is: go to galleries, hang out with like minded people, follow all the rules and take as many classes as you can. Take advantage of every opportunity, whether it be music or visual arts. If you get invited to do a group show, approach it with a lot of professionalism," he shares, "try to surround yourself with successful people, because it will rub off on you."
Not everyone can say that they love their job, but Piersanti looks forward to his work everyday. "My mind is constantly wandering to work. I work about five or six days a week with long hours." Piersanti admits his surroundings in Jersey City has tied him to his community. "It is now becoming the new Brooklyn for artists. It is a very supporting and accepting community. "
Perry Klaussen, a publisher for hoboken411.com believes "Robert Piersanti's work has a unique style that brings an immediate retro feel to your senses. Amazing how new, modern work can feel so timeless. His power of observation growing up allowed his vivid imagination to come to life on canvas." Klaussen also adds, "Despite much of his work having similar colors, contrast and style – each piece is profoundly unique individually, which makes his collection irresistibly addictive. We were proud to have him on display in Hoboken, and look forward to more in the future."
[pictured: Sketchbook]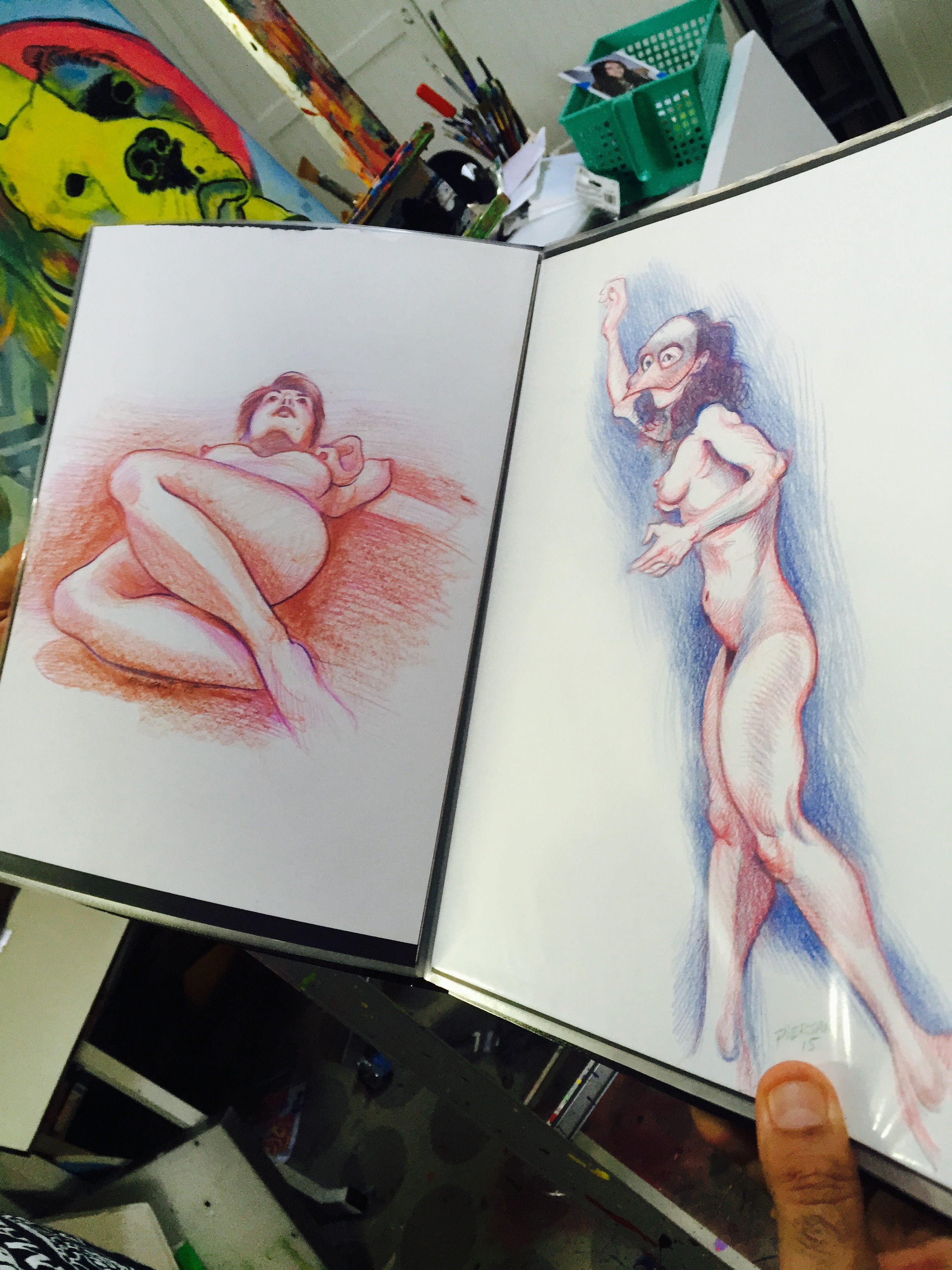 Piersanti believes that success can be measured by doing what one loves. "If an artist has to juggle another job while continuing art work, that's okay." Piersanti always looked for jobs to help him in the future. He even worked at a printing company when he was younger.
"Social media is a great way to get work out there," he says. "An artist can post about their work or any gallery openings." Piersanti tries to put his paintings on there so everyone can see.
There's no other career that Robert Piersanti would like to pursue. He chuckled while saying "he'd be a bitter old man."
Piersanti is an artist who takes such pride in his work. His calm friendly personality makes him an interesting painter. Piersanti says his paintings "have become a diary of the people I meet, and the pop culture elements that I love. I just feel lucky that my biggest accomplishment is that I'm doing it everyday."
---
---
Montclair State | Jersey City
10.02.2015