Teddy Paz has a knack for something that many admire but few can master: juggling.
Paz, 19, a sophomore at Montclair State University, has been juggling for roughly four years now. Throughout the semester, you can almost guarantee that you'll see Paz at least once showing off his skills in the Student Center Quad or in other areas around campus. Paz hopes to share his skills with other MSU students through his up and coming Juggling Club that will be coming into play soon on campus.
[pictured: Paz taught Jannicelli to juggle in the beginning of September.]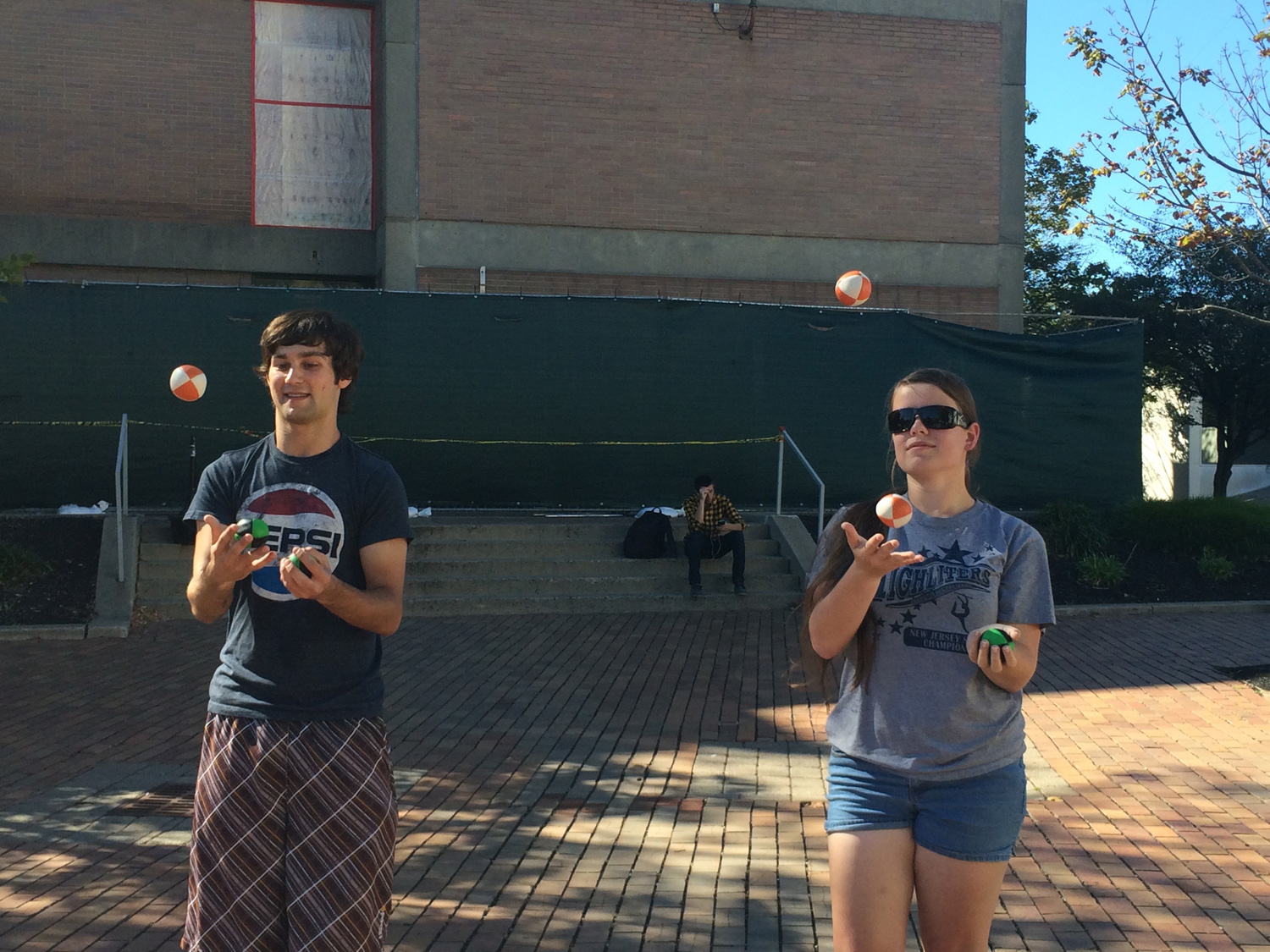 Paz, a native of Montville, NJ, was first taught juggling by his cousin at a family friend's party. Within his first year he could juggle five balls. As of now, he can juggle up to nine balls at one time or five clubs. His ultimate goal as a juggler is to be able to juggle 11 balls. Paz has even taken home a medal for winning the International Jugglers' Association's best trick competition for the 'six or more ball' segment.
Students tend to gather around Paz to watch him preform or ask him to do a trick, and Paz does not shy away from the attention, calling it his 'little moment of fame.' Freshman Nadya Nazario watched his one-man show from afar calling him 'amazing' and describing it as 'some X-factor stuff." Piper Jannicelli, 18, a friend of Paz's whom you can catch hanging out with him while he's juggling around campus, laughed as she told about the students who "will awkwardly Snapchat him while they're walking."
[pictured: Samuels shows off his yo-yo.]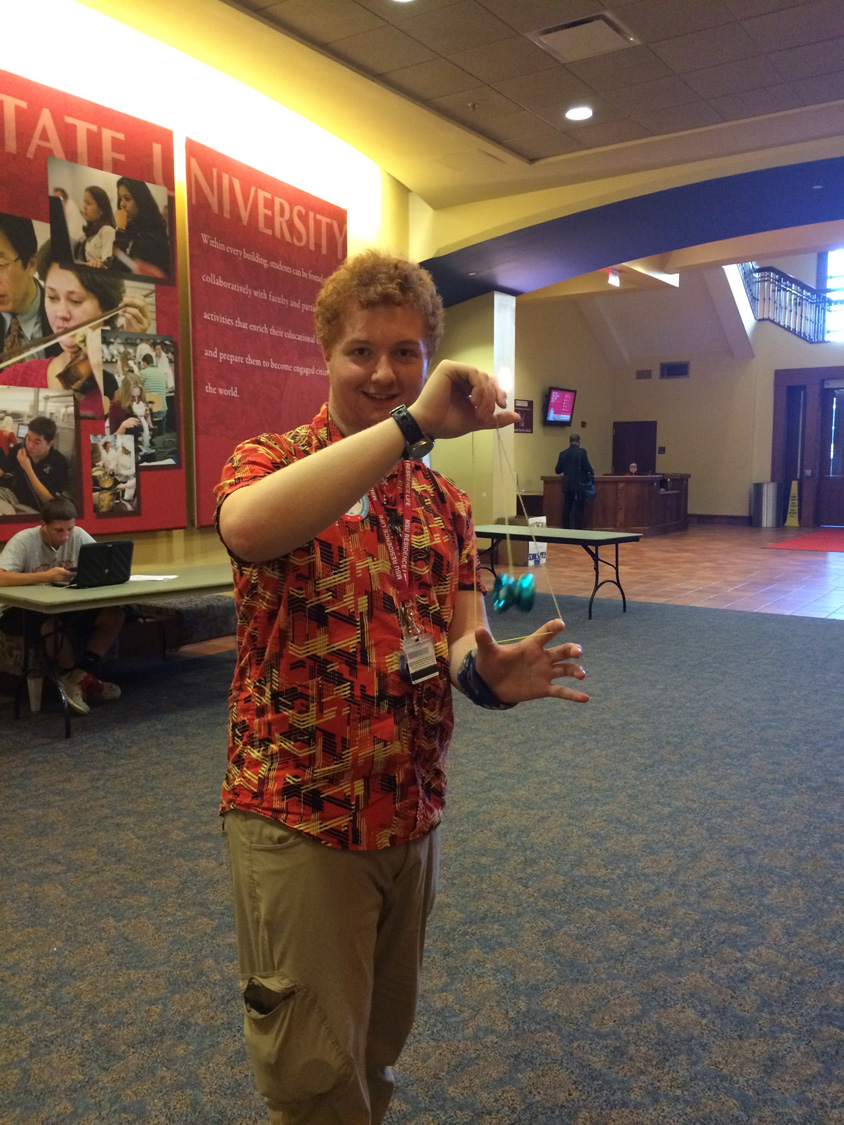 Paz said he just couldn't sit with the fact that there wasn't a Juggling Club on campus and he wanted do what he could to bring a club to MSU. With the help of peer leader, Jon Wan, 21, Paz hopes to make his Juggling Club a success. Wan is the admin of the Club and helped Paz start it up. He had the idea in his head that there were other students on campus that wanted to learn how to juggle as much as he did. In Wan's eyes everyone comes to college with the hopes of making friends and Paz might just have it a little easier because 'he's throwing something bright and shiny around.'
Tony Cocchi, 24, another member of Juggling Club met Paz through a Juggling Club outside of campus called the "Jersey Jugglers" and was able to stay connected with him here at MSU. Cocchi has high hopes for the growth of Juggling Club, welcoming everyone from beginners to experienced jugglers. Cocchi didn't have enough good things to say about juggling calling it 'good for everybody.' And Paz will definitely agree, in his words, "every trick becomes easy if you do it enough."
[pictured: Rocky the Red Hawk surprised on-looking students with his juggling skills.]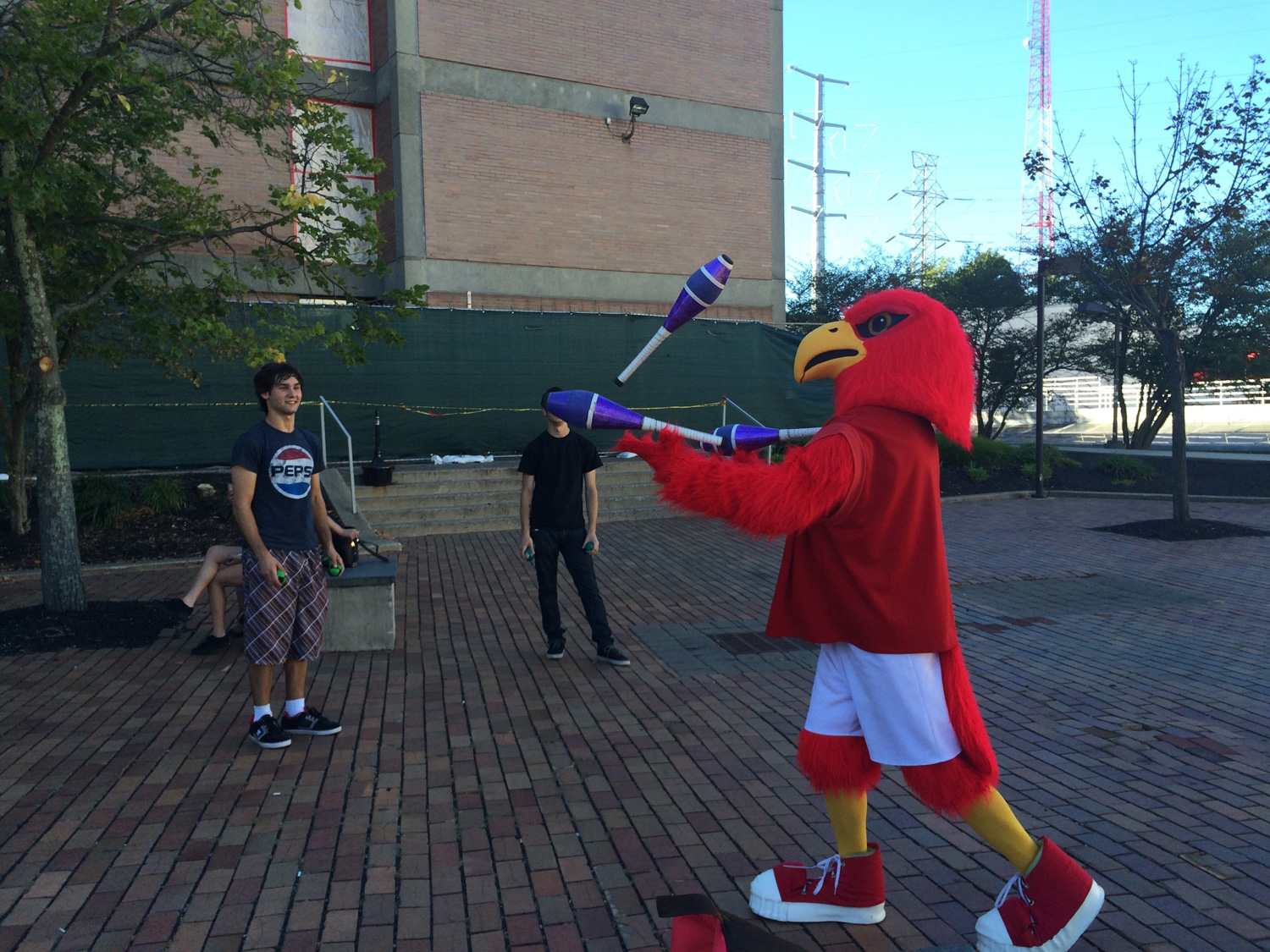 This is advice that Maxwell Samuels, 18, found himself listening to when he joined Juggling Club and brought an entirely different element to the table: the yo-yo. Samuels, who was thinking of starting a yo-yo club, saw Paz juggling and decided to link up and combine the two. Samuels, who called himself 'the lone yo-yoer' described the club as somewhat of a 'gaming club but they do tricks.' Paz went on to explain that Juggling Club will try to broaden their scope to include yo-yo, hacky sack, Chinese yo-yo and others like it that fall under the category of 'object manipulation.'
Even Rocky the Red Hawk stopped by Juggling Club to show everyone what he was made of. Giving it a 'good effort just like the Red hawk should,' as Paz said. Paz hopes that one day Juggling Club will be recognized and be asked to preform at events around campus and be able to entertain students. But, for the meantime, Paz just wants to teach as many students who want to learn as he can. Paz guarantees, "If you come to Juggling Club, you will definitely, 100%, without a doubt learn how to juggle," because he will make sure you learn.
---
---
Montclair State | New Jersey
10.16.2015