If you thought Bill Murray had it rough in the 1993 classic film "Groundhog Day," then you haven't been spending to much time in the Northeast lately. It appears as though we cannot catch a break due to the recurring "Polar Vortex" affecting the 2013-2014 winter season.
About four more inches of ice-laden snow fell in Montclair last night, and there was yet another school cancellation. And there's talk of another storm on Sunday.
According to Star Ledger Data Reporter Stephen Stirling, the pattern has been very volatile thus causing the production of snow, although there were rare moments when the temperature has spiked up to the 50's and 60's. Due to the volatility of the weather pattern, the state has experienced weather in the single digits on various occasions this season.
"It has pushed storms across the country and into our region at a rapid pace and we've just happened to be cold enough to support snow" said Stirling.
Montclair State University is having its fourth snow day of the semester and it is only the third week of school. In the past, MSU have been known to not cancel school because of snow. Recently, Governor Chris Christie has been issuing State of Emergencies due to snow storms that leave more than five inches of snow. MSU's President Susan Cole had to cancel the first day of classes on January 21st. Regularly-scheduled classes resumed in the afternoon on January 22nd.
Class cancellation has a grave effect on future classes especially on the first day of the semester. "With one of my classes it was only going to meet 10 times and we couldn't miss it, but we had no other choice but to push it back," said Communications and Media Arts associate professor Steve Johnson. "Sorry, we will extend the class on another date."
Having the first two days of classes cancelled due to severe weather effects the rest of the semester as well. Now currently in Week 3 of the Semester classes had to be cancelled yet again due to inclement weather.
Teachers may have to revise the syllabus in order to cover all of the necessary material before midterms, it is to be assumed that the students are not stressing the issue.
"I love having a break, (it) gives me time to catch up with my work and be able to sleep," said MSU student Arna` Jackson. "If they are really concerned about teaching everything they had plan for this semester then they will cram everything in and expect us to keep up."
Although it is to be expected by some that the northern part of the state receives more snow than the southern part, this year the roles have reversed.
"Monmouth County has been getting slammed this year," said Stirling. "A smart man (the state climatologist David Robinson) often tells me 'Sometimes it just wants to snow in a certain place.'"
Update: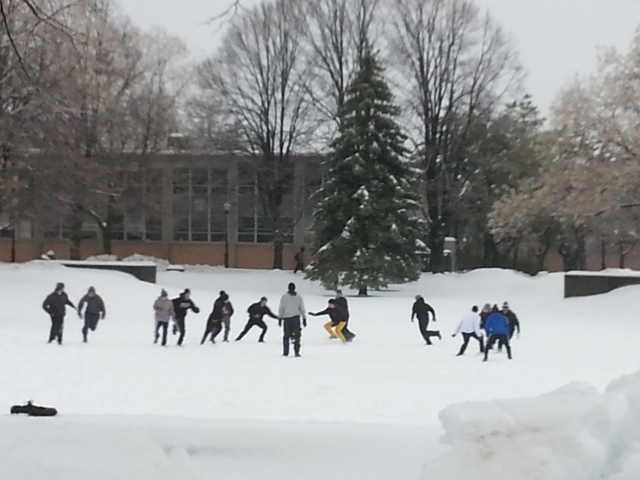 With classes being cancelled and majority of the campus closed, MSU students had yet another free day. The Student Recreation Center was the hot spot on campus today. While swiping in at the Rec my friend that worked at the front desked informed me there was more people than usual at the Rec Center today. Trying to find a machine to workout on was equivalent to finding parking at a Mall on Black Friday.
After I left the Rec center I decided to take a stroll around campus to see how much progress was being made with cleaning up the snow. To my surprise, majority of the snow was cleared with only a few icy patches around the Student Center.
In the Student Center Quad, there was group of students playing a game of football. Although they did not have any coats on it appeared that they were not cold.
It seems as though a snow day is a good day to play some football or get a good sweat in at the gym.
---
---
Montclair State | New Jersey
02.05.2014