Diana Bilezikian, author of "Dear Diana: Diana's Guide to Independent Living for Adolescents and Young Adults with Different Learning Styles and Special Needs," paid a third visit to Montclair State University on Saturday, December third, after officially being appointed as an affiliate faculty member for the Developmental Models of Autism Intervention, or DMAI.
Despite Bilezikian's initial shyness upon her arrival, she was able to effectively communicate with Dr. Eileen McKeating's class at the Center for Clinical Services, answer questions, and speak about her journey to independence and helping others with advice.
"I was always different," Bilezikian told McKeating's graduate students. "The fact that my speech may be a little rapid through my stress, the fact that I may mumble, I have to move my feet a little bit to get the words out — I was different in that way."
[pictured: Diana Bilezikian talking to Dr. McKeating's students on Dec. 3rd.]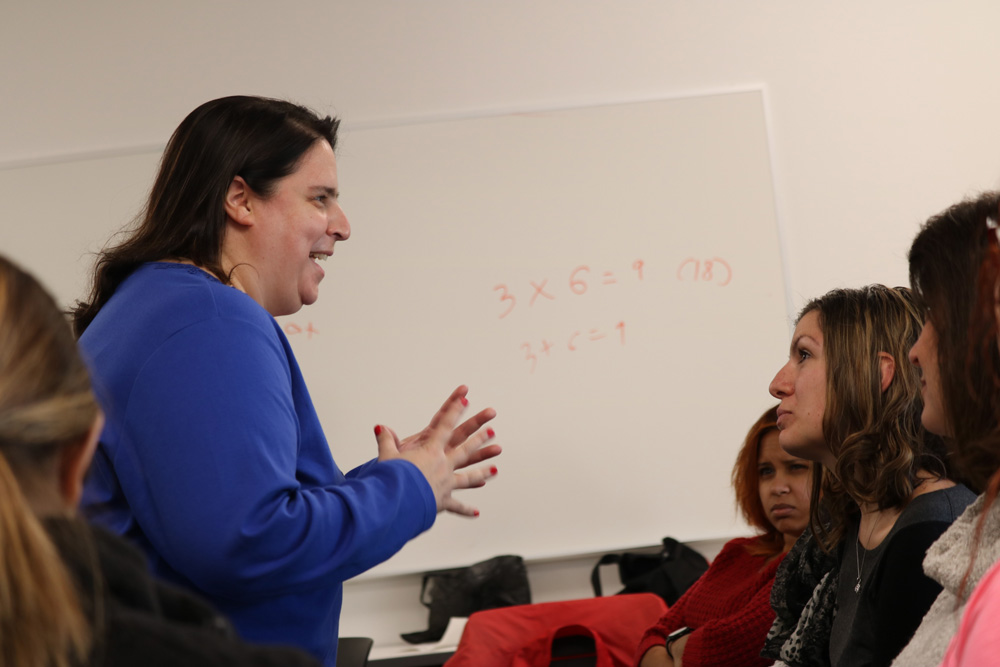 Bilezikian was selected to be a faculty member at Montclair State by Dr. Gerard Costa, a professor at Montclair State and director of the Center for Autism and Early Childhood Mental Health.
"He was so proud of me, Dr. Costa was, that he got the idea of putting me on his affiliate faculty," said Bilezikian, who was accompanied by Michael Storz, president of Chapel Haven, which is an independent living facility that Bilezikian credits much of her success to.
"It prepared me because I wanted to live in my own place," said Bilezikian. "The thing is, I was tired of my parents rules and they agreed. I wanted a job, I wanted my independence, I wanted to be able to pay bills and all. So, Chapel Haven helped me."
Storz told Montclair State students that "it doesn't matter what the ability of a person is. They all have the same goals that we do. No matter what you see, no matter what you hear, these folks can live on their own, and they want to live on their own."
Chapel Haven was able to teach Diana and those with cognitive disabilities like herself to eventually be able to function on their own, without assistance from their parents or guardians throughout their adult lives. According to Storz, Chapel Haven, which was founded in New Haven, Connecticut in 1972 by two parents, is a two-year program that serves over 250 individuals.
"If you can imagine back then what life would be like for adults with developmental disabilities or cognitive disabilities, there was really nothing," said Storz. "These two families, with just a little bit of training, a little bit of teaching, their son and their daughter would be able to live a life no differently than you and I."
Storz described the world inside of Chapel Haven as one true to the world we live in. "We have artists, we have authors, we have patients, we have couples who go on to get married, we have husbands and wives, boyfriends and girlfriends, we have drama," Storz joked. "We have true life, true living, and I'm very, very proud of that."
According to Bilezikian, Chapel Haven was able to help her learn to handle stress, cook, clean, make professional phone calls, and other basic skills that would lead her to independence.
"I wanted to make a phone call but I was afraid to, so they would supervise me to be sure I didn't get uncomfortable or goof or anything," said Bilezikian. "We were in a quiet room, and we read the written script that we had written down. I had to speak kind, use proper language, proper words. Then after awhile I didn't need as much help. The trick is, staff could help you, you could help yourself."
[pictured: Diana Bilezikian's book, "Dear Diana…Diana's Guide to Independent Living For Adolescents and young Adults With Different Learning Styles and Special Needs."]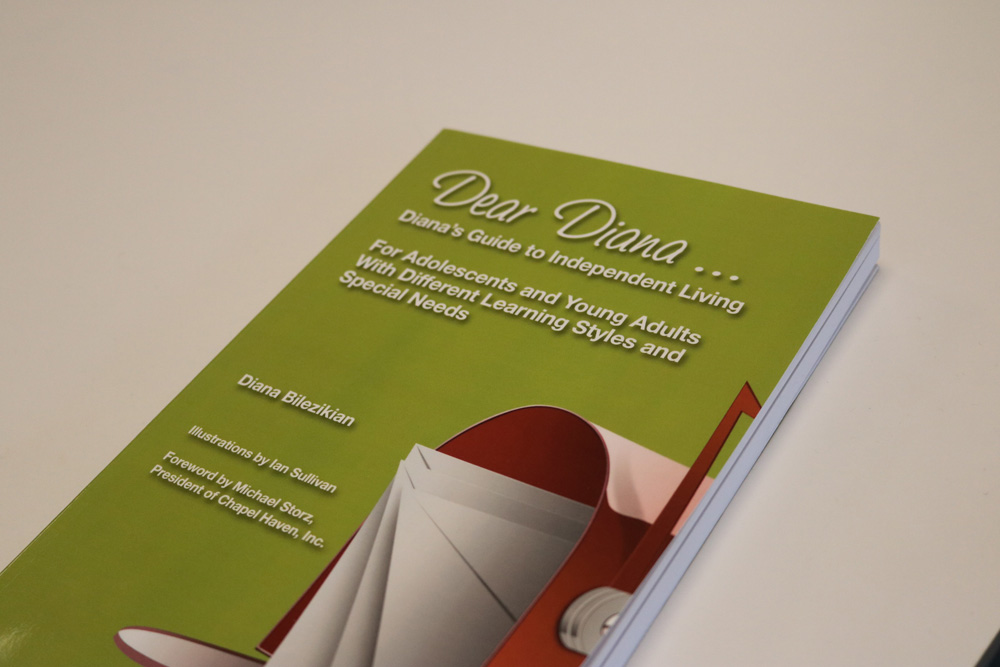 Bilezikian said another person who was influential in her journey was her younger sister.
"If I would pace all over the store, she would suggest that I sit down and calm down. She was really my little sister but she acted like the big sister because she was trying her best to help me," said Bilezikian. "She died, but she would do anything for me. She would tell the school kids not to tease me."
Growing up, Bilezikian said that despite knowing she was different from others, it didn't stop her from wanting to lead a normal life.
"Junior high, it was stressful for me. Being teased — I hated it. It was not kind," said Bilezikian. "It was hard but I grew up and I learned a lot."
"When I was angry, I would say 'it's not fair, life sucks, I can't take it anymore,' mom told me 'Diana, you are making a mountain out of a molehill.' I asked her what it meant and she explained," said Bilezikian. "She would say a lot of things like that." Bilezikian uses a lot of idioms, both in her book and in life, to help her understand different situations that may need clarification.
"That's really great because there's lessons in those idioms," Dr. McKeating said. "So I think that's a really interesting perspective."
"The difference with Diana — and it's an incredible, incredible strength of yours — is in a lot of people who think differently don't necessarily do what you do, and this is an important message for teachers," Storz explained. "You do not stop until you understand what it means. You do not stop asking questions, you ask for clarification consistently until you understand what's being communicated with you. Like 'a mountain out of a molehill' — you didn't let your mom off on that until she explained that it's a small problem versus a big problem, and many of our adults don't go to the level that she does."
Despite the appreciation Bilezikian has for her parents, she wanted to learn to function independently as she entered adulthood. "I am not a baby like I used to be," she joked. "My parents have their own separate lives to live, I have my own separate life to live." Bilezikian wanted to be in control, rather than following the rules of her parents for the rest of her life. "Even though your different, you're your own boss," said Bilezikian.
"I'm not the boss of everything, but I am the boss of myself," Bilezikian told the students. "As you get older, your older and you learn a lot more, and your able to use your head and know what's good for you."
Once Bilezikian learned how to handle things independently, her cousin eventually helped her come up with the idea of helping others who may need assistance with similar problems that she learned to deal with.
"I was telling all my relatives about how I was doing with independent living," said Bilezikian. "My cousin Nancy, she was so impressed, she was so proud of me, she got the idea of suggesting to me writing that book about independent living, because she was so impressed. She figured that other people that were different like me could actually benefit from it."
Bilezikian said her idea stemmed from pretending people would write to her with a particular problem, and she'd give them advice on how to solve that problem.
"I would pretend that people had problems or questions and they would write to me "Dear Diana, my hair is a mess. What should I do?" said Bilezikian.
"I was proud of myself, 'cause the point is I could help other people that way," said Bilezikian, who considers herself a mentor, or "big sister" to those that she helps through her advice.
"People don't understand things, so they can rely on me," said Bilezikian, who aims to teach others like her how to be independent, as well as teach students by answering their questions.
"I wasn't just helping other people, I was helping myself also," said Bilezikian. "I learn how not to be shy, and not just that — I learn that whatever works for me can work for other people. I can answer questions because of my experiences, what I chose to do even though I was different."
Bilezikian said that some of the biggest challenges she faces on a daily basis are her shyness, and doing things she is unsure of.
"I was tired of being bashful, I was tired of feeling this feeling inside of my chest," said Bilezikian, who said that one way she copes with her shyness is through rehearsing. "You rehearse so you know what to do. You practice, practice, practice. You get it over and done with, and then you feel better, and the butterflies in your chest they fade away. Your feeling anxious go away, your bad feelings turn to good, your shyness goes away, your loss of sleep goes away, your loss of appetite goes away, your 'I can't concentrate' feeling goes away."
"It doesn't really matter which way you do it. What matters is your able to do it, said Bilezikian, who plans on writing another book in the future. "After awhile you're so proud of yourself, you can help other people that way."
According to Storz, "she is who we are, and the success of what we do."
---
---
Montclair State | New Jersey
12.13.2016