A sprinkle of lemon-marinated poppy seeds for garnish, a pinch of salt for taste, and a drizzle of buttery vanilla pasty glaze just for kicks. When open, the smell of vanilla extract with a hint of dark chocolate and melted butter lingers through every nook and cranny of the Cookie Connect's 650 square foot shop.
One can order a chocolate-hazelnut filled chocolate-raspberry cookie topped with a raspberry glaze or settle for salted pretzel cookie topped with crushed pretzels and drizzled caramel. The Cookie Connect's menu is a mouthful and has impelled hundreds of customers to flock to their business every weekend.
Three cookies. Each one is the size of a DVD, freshly baked and out of the oven in 15 minutes or less. But there's a catch. The company only caters to anyone with a sweet-tooth after 7:00p.m.
Hajidaihari's business is quickly becoming one of the most popular businesses amongst college students in the Essex County, New Jersey area.
"I started the company with a friend of mine," said Hajihaidari. "We would blend up Fruity Pebbles and incorporate it into the batter. We were college students and [we] would stay up late baking cookies and we tested out a bunch of different recipes."
Hajihaidari attended Pace Univerisity in New York, where he studied business administration. He wanted to find a solution to late night sugar cravings during final exams and began selling these cookie creations to his classmates at the university. The sales were very successful.
He started The Cookie Connect from home in September 2016 and officially opened The Cookie Connect store in January 2017.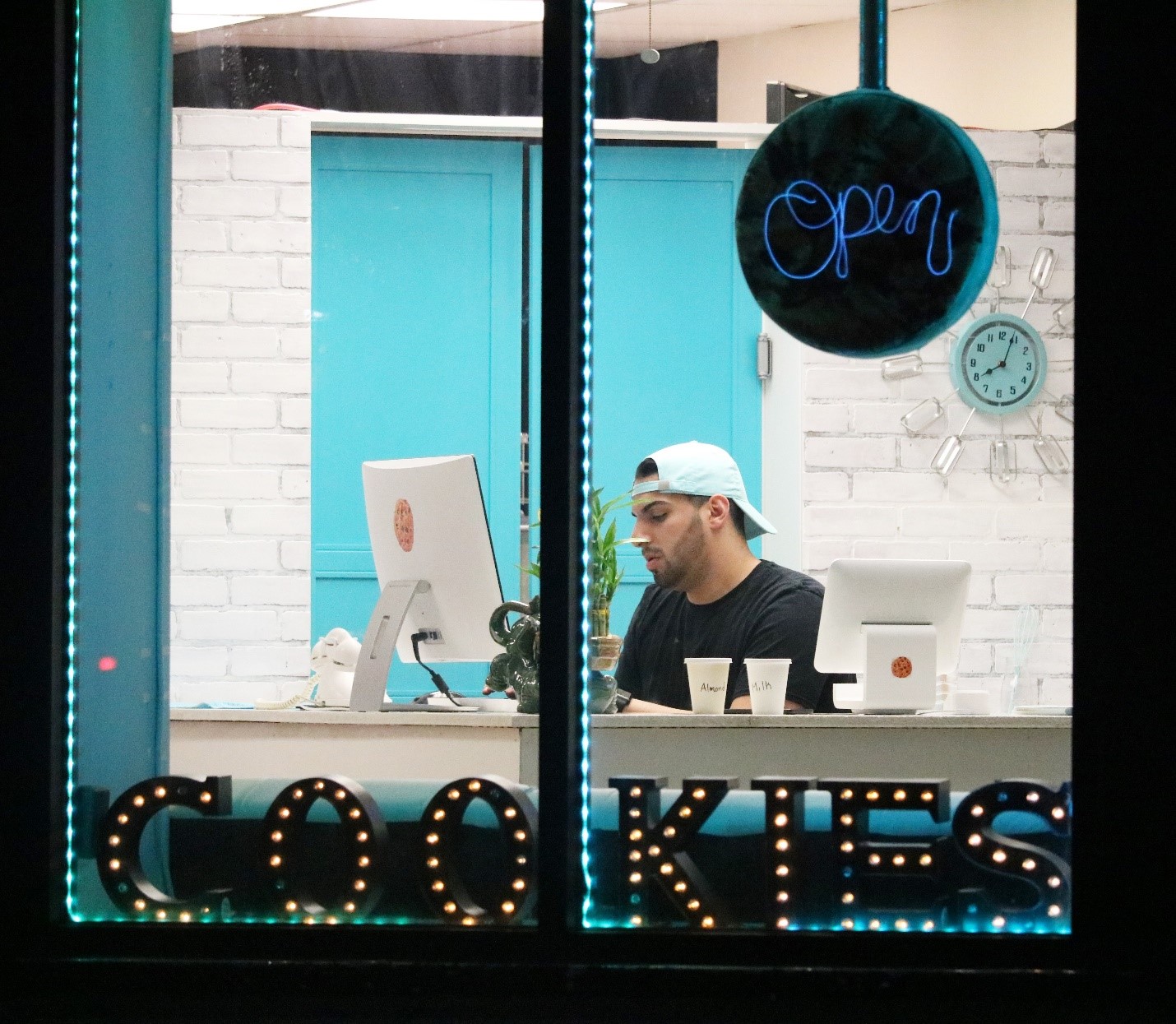 The company was originally named "Milk N' Cookies." But after receiving a lawsuit-threatening letter from the lawyer for a company with the same name in Brooklyn, Hajihaidari officially branded the business "The Cookie Connect."
"People were confusing our menu with theirs and thinking that our baked goods were theirs," said Hajihaidari. "They requested that we change our name. We thought, 'do we hire a lawyer to fight it or do we rebrand?' We decided to rebrand."
The company has become very popular with residents from Nutley, Belleville, and college students in the area. Montclair State University students are one of The Cookie Connect's most frequent customers.
Montclair State University resident assistant Evan Griffin is no stranger to the warm and gooey decadence from The Cookie Connect. In fact, Griffin has ordered from the company at least three times since their opening. He works extremely late hours three times a week at a front desk of the residential halls of Montclair State.
"I think they're rich in flavor, nice texture," said Griffin. "I enjoy the variety of cookies that they sell."
After constant trial-and-error, the company's final menu was inspired by Hajihaidari himself, his friends and family, and a few college students who were asked by members on staff, "what is your favorite dessert?"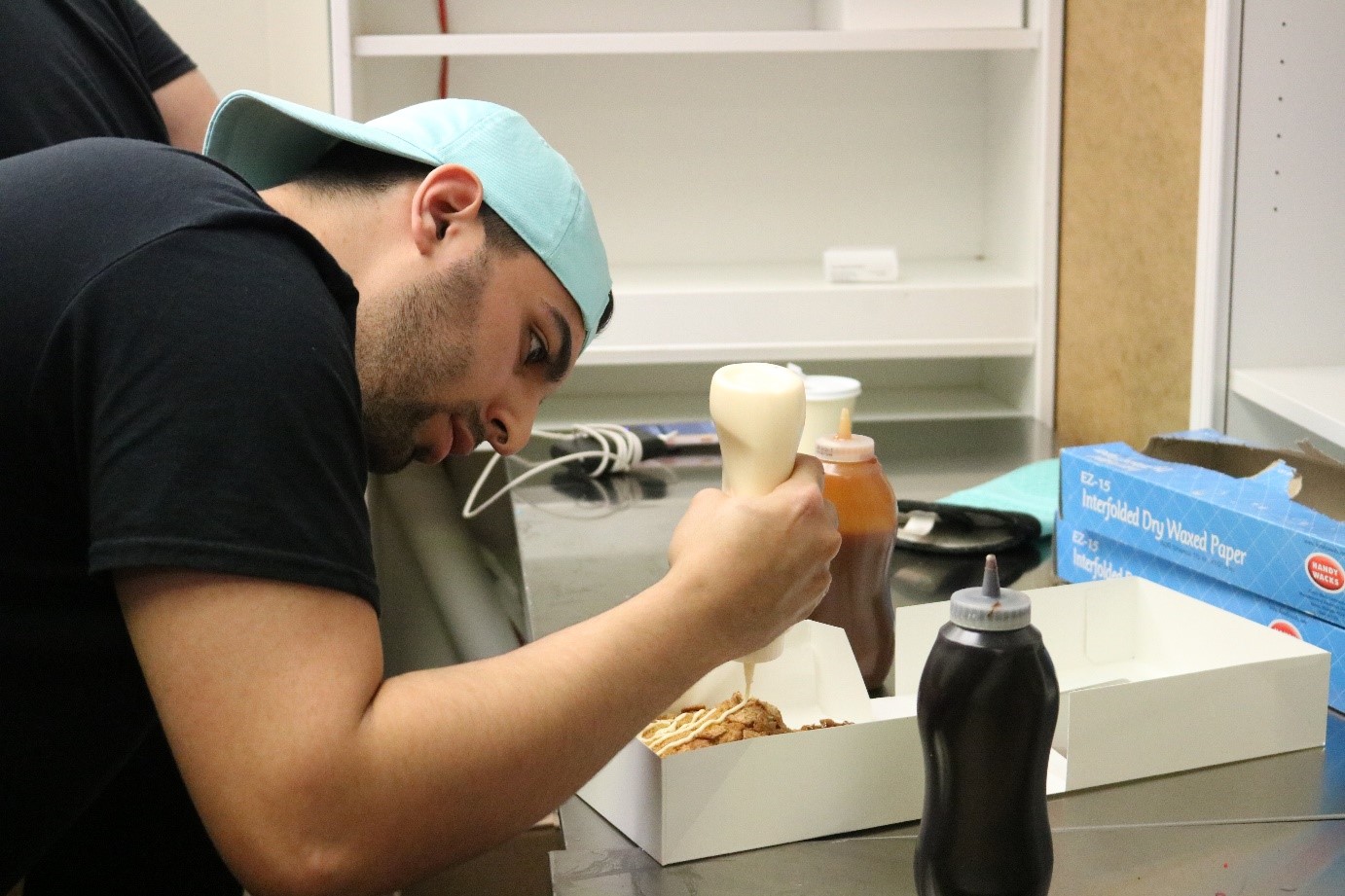 "Basically, we'll think of something that we love, like a bowl of 'Fruity Pebbles' cereal, then think of how we can make [it] into a cookie", said Hajihaidari. "From that, we [decided to] infuse some Fruity Pebbles into the [cookie] dough."
One of Hajhaidari's long-time friends and one of the bakers at The Cookie Connect, Andrew Zerquera, helped concoct some of the menu's most desired cookies such as the 'New York Cheesecake' cookie and the 'Apple Pie' cookie. Throughout the baking process, Andrew makes sure that the cookies are baked thoroughly and sent out of the kitchen door in 15 minutes or less.
"Me, [Ali], and [my] brother started this [idea], but it's [Ali's]. He invested everything," said Zerquera. "I know how to make everything with my eyes closed."
The company has now officially opened its store in Bloomfield and delivers between 7p.m. to 2a.m. from Thursday to Sunday.
"There's actually two parts to why we deliver from Thursday to Sunday, rather than Monday to Friday," said Hajihaidari. "Even though I graduated [already], a lot of the people that help run the business and started the business with me are still college students," said. "We still want our workers to maintain a school schedule and a work schedule [and] I don't want anyone to feel extremely stressed out having to go from school to work."
"Secondly, lot of our business comes from students," Hajihaidari continued. "Usually, they're looking for some [kind of] late-night snack after they're out or after a long week of work, so we kind of want to cater to that."
The Cookie Connect currently has seven employees. Three of those employees currently attend college and one of those three employees is Zerquera, who is a junior psycology major at Montclair State.
"I have 12 credits [right now] and after this semester, I'm doing summer [courses]," said Zerquera. "They're all online and they're so hard. [Ali and I] would do my homework together and I'd still get, like, a 'C'."
When ordering by phone, this small business allows customers to either call or text the business phone. For texting, emojis are deemed appropriate to communicate emotion about the service or the food and sometimes gives the delivery person more information on an address or an order. The Cookie Connect employees work immensely hard to reply to customers quickly and get their orders on the road in a timely fashion.
"Our entire [phone] system is run off a google voice server meaning that all of our delivery drivers and the people working the [point-of-sale] machine are able to view everyone's inquiries in real time," said Hajihaidari. "If an order is texted or called in, everyone gets alerted. It becomes extremely efficient because our drivers can text our customers when they are outside."
Using a Google-bought phone number also means one less bill statement every month from a landline provider. Because The Cookie Connect is a graduate and undergraduate student-owned business, budgeting was very important when it came to decorating the store. Hajihaidari did most of the store decorating himself using homemade arts and crafts, furniture décor from Ikea, and small decorative pieces found on his every-day travels.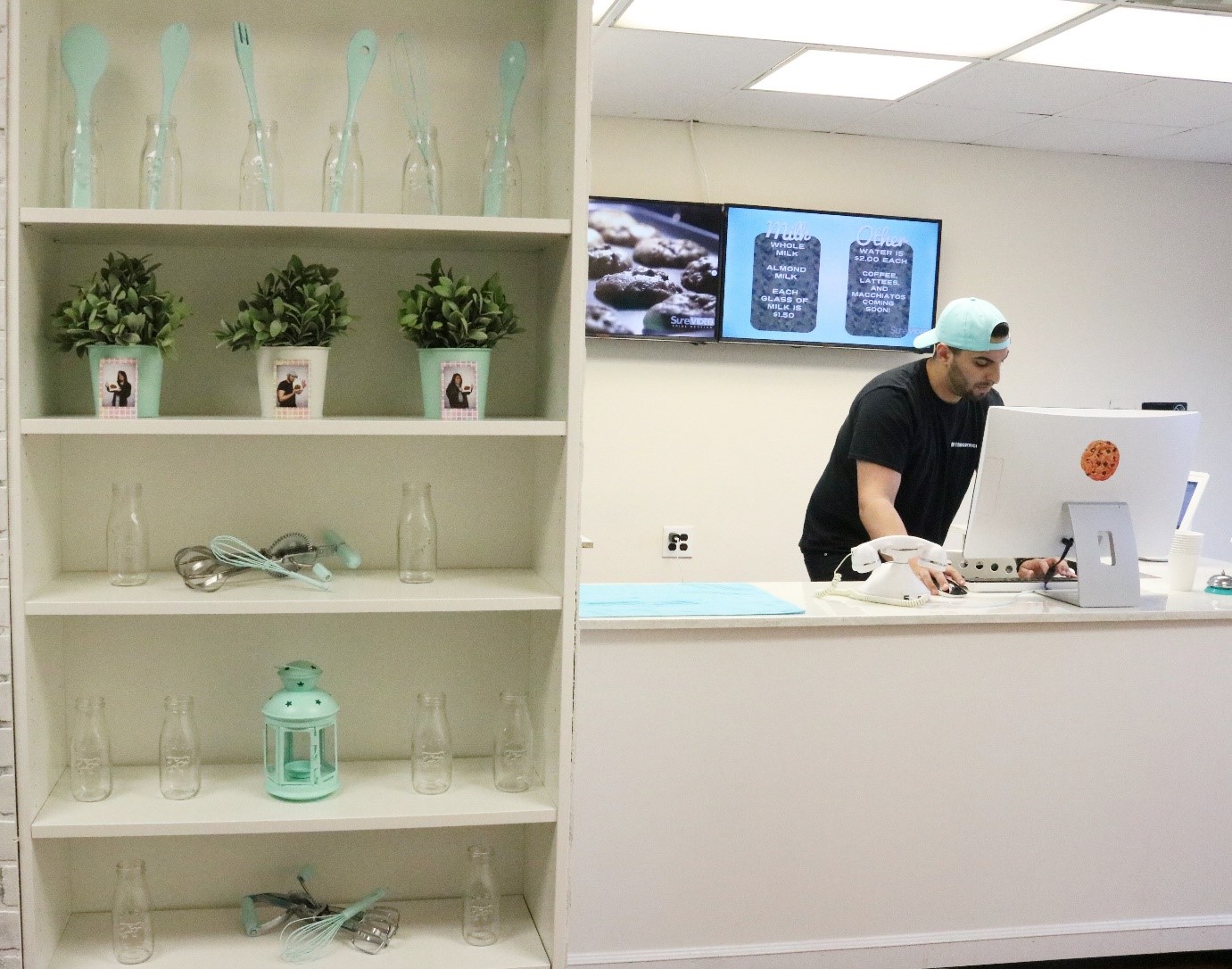 Hajihaidari's sister, Miriam, is diabetic and was diagnosed with Prader-Willi Syndrome; a genetic disorder that can cause intellectual disability and hormonal symptoms and short stature. To show his unconditional love for his sister, Hajihaidari has recently added a "Miriam-style" gluten-free and sugar-free cookie on the menu in her honor.
Hajihaidari's takes a lot of his baking skills and inspiration from his mother, who he grew up baking with, especially on special holidays. Though, his mother is living with Polio, the two find a solitude in baking and sees it as a bond between family.
"There's a lot of disability in my family, but there's been a lot of joy in baking in my family," expressed Hajihaidari.
Hajihaidari tries to reflect the love of family through his pastries, his staff and through his business, where every customer can feel a sense of home. He plans to keep the company as a "family-and-friend" business for now, working with some of the closest people in his life.
"My mom and I [have] always had this charm when it comes to baking. Baking doesn't discriminate," said Hajihaidari. "You can be in any mental or physical state, go into the kitchen, and somehow enjoy yourself."
"Just really having the opportunity to create memories, new stories, and crack jokes while in the workplace kind of relieves me as a boss," Hajihaidari continued. "I'm truly lucky to have friends that are really respectful and honest. It gives me the ability to trust them."
---
---
Montclair State | New Jersey
05.25.2017