Jill Stein, the Green Party's presidential candidate, made her final campaign stop in New Jersey at Montclair State University on Friday evening. Hundreds of people gathered in University Hall for the party's rally and town hall forum. During her speech, Stein described this presidential election and modern political climate as a "perfect political storm for real transformative change." She stressed the importance of the rise of the Green Party and the progressive ideas it stands for.
The night began with the founder of Montclair State's Environmental Club, Stephano Castro, declaring that despite some being "hypnotized" by this election, "a shift in consciousness is taking place – from apathy to empathy." Castro addressed issues of sustainability, racial injustice, and poverty while asserting that Stein brings "peace, compassion, and intellect" to this presidential election.
Erika Jacho, the party's candidate for the Belleville Board of Education, also spoke at the rally. Jacho gave an emotional recount of her childhood as an undocumented immigrant, which shaped her policies as an activist. Jacho stated that she is a "living example of perseverance, passion and overcoming obstacles" and called on the crowd to overcome today's "callous" political climate by voting for Stein and her vice-presidential candidate, Ajamu Baraka. Jacho praised Stein and Baraka as "champions in the fight for social, environmental, and economic justice."
The crowd enthusiastically welcomed Seth Kaper-Dale, as he made his first formal introduction as the party's candidate for Governor of New Jersey. Kaper-Dale introduced himself as a Vermont native, followed by a well-received nod to Bernie Sanders. Kaper-Dale and his wife, Stephanie, came to New Jersey to attend Princeton Theological Seminary in 1998 and have remained in the state since then. Kaper-Dale and his wife serve as co-pastors at Highland Park Reformed Church— which is evident in his righteous political stances, which he hopes "encourage compassion and engagement." Kaper-Dale declared several times during his speech that "the last will be first", suggesting that the weakest and most vulnerable people in society should be protected. On the topic of his race for governor, Kaper-Dale stated, "When the democrats put up such a pitiful fight against Governor Christie in 2013, my positive energy for governing melded with my disgust for the status quo of politics in this state." Kaper-Dale addressed a plethora of hot issues including police brutality, racial injustice, Islamophobia, LGBT rights, renewable energy, the wealth divide, and voter rights. Kaper-Dale decried the two-party political system and applauded Stein as a leader who will empower other leaders in the fight for social, environmental and economic justice.
Stein was greeted by a standing ovation to which she responded, "You are what democracy looks like." Like Kaper-Dale, she denounced the two-party political system, claiming that it does not serve citizens well and that it is on its way to extinction. Stein stated that with Donald Trump as its presidential candidate, "we've seen the Republican party come apart at the seams." As a result, Stein claims Republican and Democratic leaders have come together "under the umbrella of the Hilary Clinton campaign" and that the two parties have become "one, big, happy, corporate, political family."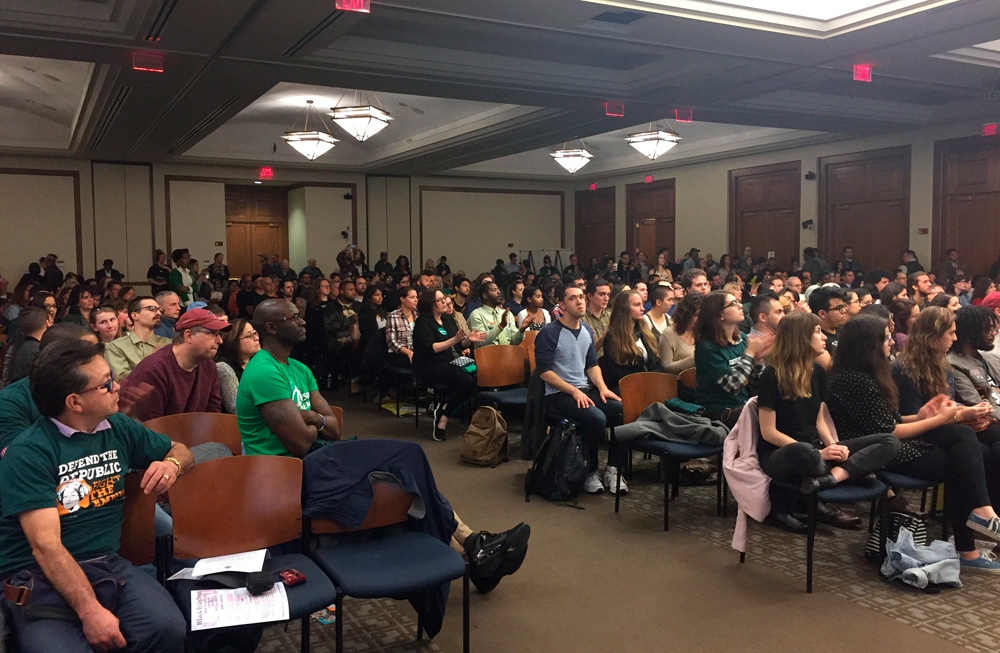 Stein asked all previous members of the Bernie campaign to stand up, which resulted in the majority of the crowd standing. Stein thanked and saluted the crowd, then asked longtime Green Party supporters to stand, which resulted in only a handful of people identifying as such. Stein stated, "We are all Berning Green together now," a phrase that references Sanders supporters who rejected his endorsement of Clinton and gravitated towards Stein and the progressive Green Party.
Before beginning the town hall forum, Stein presented a summary of her thoughts and policies. Stein addressed poverty, student debt, immigration, "black lives that are on the firing line," wars, and climate change. In an optimistic change of tone, Stein stated that she was excited by people who are "refusing to be silenced" and transforming this "breaking point moment" of our country to a "tipping point moment" by supporting progressive change.
Stein stressed that voters have power to transform the two-party political system by holding "humanitarian values" which she claimed are synonymous with "core American values". Addressing the economic struggles of students, Stein declared that she and Baraka will "bail out" students the way Democrats and Republicans "bailed out the crooks on Wall Street." Stein pressed on, "If we came up with 16 trillion dollars…to bail out Wall Street, we can come up with 1.3 trillion dollars…to bail out a generation of young people."
Addressing her ratings, Stein claimed that her voters (millennials, people of color, immigrants) are not counted in these polls, which Stein wrote off as propaganda. Stein firmly stated her belief that her numbers are higher than they appear, and that reaching 5% of the national popular vote is a probable reality. If a third party reaches 5% of the popular vote, the party will be eligible for 8-10 million dollars in matching funds for a 2020 presidential campaign. On a state level, the party will need to gain 1-5% (depending on the state) of the popular vote to gain automatic ballot access for future campaigns. Stein and Libertarian candidate Gary Johnson have consistently emphasized the importance of this goal in their campaigns.
Stein, a practicing physician, declared that health care is a human right and should be freely available to everyone. Stein denounced the American health care system, stating that due to rising co-pays and deductibles, even if people "have health insurance, [they] can't afford to get health care." She called for putting money into health care rather than "paper-pushing, bureaucracy, and profiteering." Stein also claimed that free health care would not cost the taxpayer any more money, and that the medical industry should undergo reform to accommodate free health care.
On the topic of immigration, Stein stated that the most viable way to solve the "crisis of immigration" is for America to "stop causing it in the first place." Stein called for the halt of "destabilizing other governments." She added, "We say to Donald Trump, we don't need your frickin' wall, we just need to stop invading other countries."
Regarding police brutality, Stein called for police review boards and independent investigators for all communities, stressing that balance needs to be restored between the powerful and the powerless. Stein declared, "Communities need to be in charge of their police, instead of having police in charge of our communities," which was followed by the crowd enthusiastically cheering.
Black Lives Matter has not been heavily addressed by Clinton or Trump. The first question of the town hall forum requested Stein's specific plans on how to support this movement at a national level. Stein reiterated her stance on community control over police, as well as stressing a need to "change the culture of policing" which is a "culture of impunity." Stein stated the importance of "an emphasis on de-escalation" and integrating mental health professionals into day-to-day policing, as to avoid mentally ill people being killed or injured by police. Stein also called for the end of the "militarization of police," which she claims transforms the nature of police into an "occupying army" rather than a force that serves its community.
The event was not without controversy. In a gap between questions, a man in the back of the room shouted, "Bernie Sanders supports Clinton!" Another man in the crowd responded, "We support Jill," which was followed by the crowd chanting, "Jill not Hill." Stein responded by quoting Sanders, "As Bernie himself said, it's a movement, it's not a man—and that movement is not going to be silenced."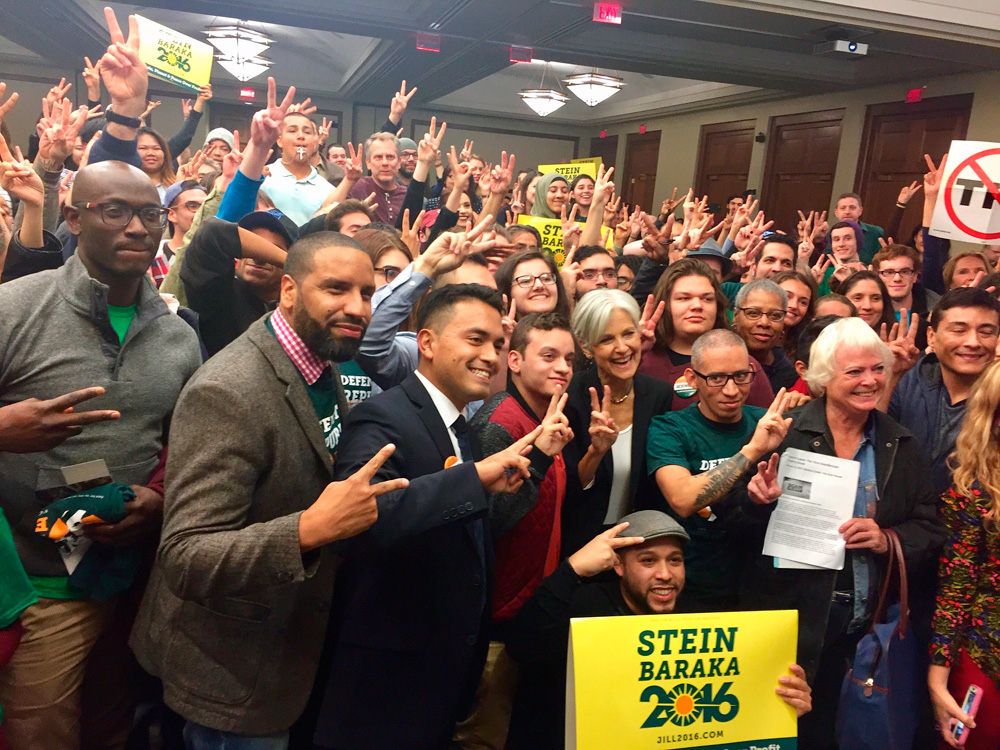 Alex Stransky attended the rally because he was "curious to hear a perspective that wasn't just Democratic or Republican—because that's pretty much all the focus is on, from the debates to the media coverage." Stransky echoed Stein's frequent mention of a media blackout of her campaign. During the forum, Stein stressed for the crowd to use social media and the Internet to overcome this media blackout—something Stein has done frequently to overcome the boundaries of being a third party candidate. During the presidential debates, which she was not eligible to participate in, Stein hosted Facebook livestreams where she streamed the debate in real-time and paused the programs to answer the moderator's questions.
Andrew Peng, a student and democrat, stated, "It was only natural to come and see a presidential candidate, even if I disagree with their views." Peng views foreign policy as more important than climate change and environmental issues, which were frequently addressed by Stein. Peng asked Stein a question during the forum regarding how she would function as a Green in a Democratic and Republican senate, but he felt that she didn't answer his question. Stein's competency as a non-politician running for president has come into question during this election. Jessica Frago, a member of the New Jersey Higher Education Partnership for Sustainability, sees this election as bigger than a single candidate. "Having the Green Party, I think it's definitely making its way up there…I think it's waking people up," she stated.
Stein closed the event by declaring the party's persistence as a movement. She stated, "This does not end November 8th, this is the beginning."
---
---
Montclair State | New Jersey
11.06.2016