A voice bellowed out, "The poorest service is repaid with thanks!" causing a passerby with arms full of laundry to confusedly double-take. After she realized this oddly-worded sentence wasn't meant for her, she stopped to notice the unusual scene in front of her. She saw what looked like friends with scripts yelling at each other in a common room on campus. In reality, it was some of the country's top young talents rehearsing Shakespeare's "The Taming of the Shrew."
When Chris Cherin, a senior in Montclair State's nationally ranked musical theater program, decided he wanted to produce and direct "The Taming of the Shrew," he figured the department would be able to accommodate him. Instead, he was granted no rehearsal space and no budget: an outright rejection. Rather than conceding, Cherin decided to take matters into his own hands. In true guerrilla fashion, Cherin took his show underground.
"I took rehearsal space wherever I could find it," said Cherin. "It was a real challenge at first. It wasn't until we were doing a read-through in a laundry room that I thought this might be a bad idea."
The cast of "The Taming of the Shrew's" current means of operation are the result of a backlogged theater department. When asked to discuss scheduling and distribution of rehearsal space within the department, chairperson Randy Mugleston explained, "We have a delicate dance where one group leaves a space and another one is waiting in the halls to occupy it," he said. "We are able to get by here in Life Hall due to the dedicated production staff who schedule classes, events and rehearsals with precision."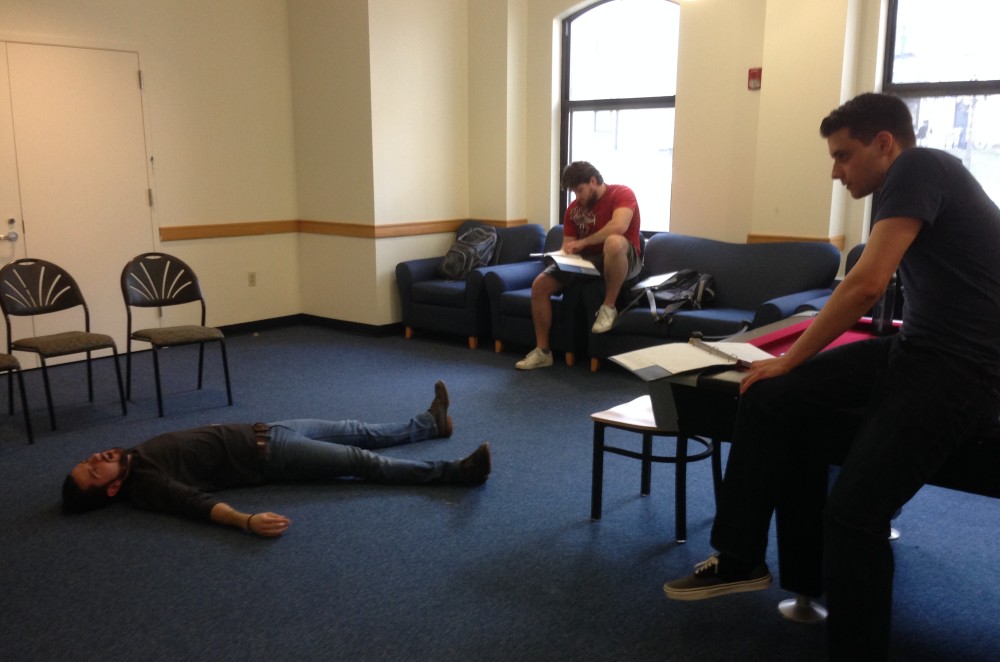 Cherin's split from the department is unprecedented. With only a small handful admitted to the program each term, funding stays relatively the same year by year.
Through persistence and some luck, Cherin was able to mostly secure a bland common room in Williams Hall littered with chewed-up carpet, a rarely used pool table, and scratchy chairs.
Where Cherin and his cast could have felt some sort of righteous indignation towards the department, they believed their adversities have been for the best.
"In a lot of ways, our cast has united faster than it usually takes because of our circumstances," said senior lead actor John Caliendo. "Once a cast is able to unite and feel comfortable around each other, the real art begins."
Without the rigid structure of a typical production, everyone involved in the show has been enabled to broaden their already impressive skill sets. Cherin has never directed. Caliendo has never performed in a Shakespeare play. His female counterpart, Victoria Meade (also girlfriend) has never performed in a non-musical play.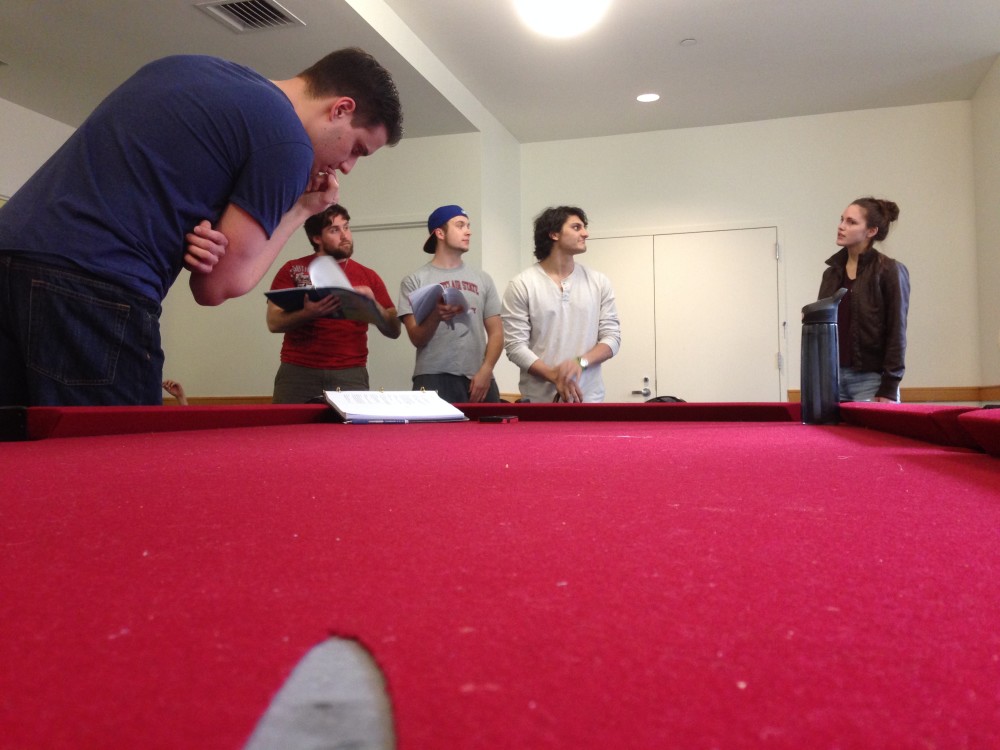 Like any production, it hasn't come without its difficulties. Scheduling, actors quitting unexpectedly, and differences in creative direction all come with the theatrical territory. But the offbeat nature of the show brings with it some unlikely rewards.
"We don't resent the department for how this went down," said Cherin as a smile began to curl. "There's kind of an element of danger to it all. It's odd, but it's like you're having sex while your parents are right downstairs."
That thrill is clearly shared among the cast. There's an infectious excitement buzzing throughout them. Cherin's relaxed mood as director has created an environment of comfort and openness between his actors. If there's some disagreement about interpretation of the script, anyone's thoughts are valid. The demanding bonds of their classical trainings have been momentarily liberated.
So why see "The Taming of the Shrew?" On the surface it seems like an inexperienced team of friends putting on a backyard show. However, this will be Shakespeare done like a new trend popularized by productions like "Shakespeare in the Park" and "Drunk Shakespeare."
By breaking the fourth wall between the actors and the audience, Cherin's cast will create an interactive show between the cohesive cast and its audience. Despite the seniors' extensive resumes, they haven't had an opportunity to act in a show like this before; another new liberty.
"We want to create a fun and different environment for our audience," Cherin explained. "It's a fair representation of what our process of rehearsing for this has been like, and we want the audience to feel that as they experience us."
"The poorest service is repaid with thanks!" now holds different meaning for this cast. After giving years of unyielding service to their department, they've been given little in return. Instead of sulking in that injustice, they can happily say "thanks" for their newfound opportunities.
"The Taming of the Shrew" will debut for two days only on April 25th and 26th in Life Hall Studio A.
---
---
Montclair State | New Jersey 04.07.2015