For most of us, stargazing is a calming experience that we love to do with our friends, family, and others. But for Tori Marek, the feeling is completely opposite. Just a little after midnight on July 2, 2014, Marek was being stretchered out of a Jeep Grand Cherokee on exit 44 of Interstate 80 West with a brace securing her head and neck.
"I just remember looking up at the sky and all I could see were the stars," says Marek with gloomy eyes. "I was in so much pain and I just remember thinking to myself that I'm never go-ing to be able to look at the stars again."
On that July night, the 17-year-old was involved in a car accident on Route 80 that left her with a broken hip, broken pelvis, severe nerve damage to her spine, and many long and exhaust-ing years of recovery ahead.
The day started off like any other. Tori and her older brother, Nick, went to the Verizon store and were enjoying her first "post-high school" summer. The smart, tall, blonde-hair and blue-eyed girl had just graduated from Morris Knolls High School in Rockaway, NJ, just a few minutes away from their home in Denville. It wasn't until later that night when Tori received some text messages from her friends, begging her to go grab dinner with them. After being per-suaded, she was convinced. Tori put her black leggings on, her pink Forever 21 shirt with trian-gle designs, and was out the door.
Since Tori wasn't originally supposed to go, her and her five friends ending up squeezing in the back of her friend Sean Merk's Jeep Grand Cherokee. Feeling apprehensive about getting in the car, she felt assured when Merk said "Don't worry, I've never been in an accident or got a ticket." Tori responded with "hopefully tonight won't be the first."
The night continued as the group of high school graduates drove to the restaurant in Clif-ton, NJ, where Tori ordered her usual — chicken fingers and french fries. After a long night of food, fun, and conversation, it was time to head back to Denville. With the immense ongoing construction on Route 80, leaving only two lanes open, the drive home took much longer than the usual 25 minutes.
Matchbox Twenty was playing on the radio as worn out Marek began to close her eyes after looking at the clock for the last time. "The last thing I remember is it being 12:06a.m., and then all of a sudden I just remember opening my eyes to Sean slamming on the breaks and see-ing the break lights ahead of us."
Relieved that the group of friends just nearly avoided rear-ending the car ahead, seconds later something would happen that would change Tori's life forever.
Marek, who was siting in the back seat behind the driver, was directly impacted when the driver behind them rear-ended the Grand Cherokee. After minutes of making sure that everyone was alright, Tori's vision began to black out and she was unable to move.
"I was driving to my friend Matt's house and I saw that Tori's friend Liv was calling me. But since I was driving, I just ignored it because I didn't think it was that serious," says Marek's older brother, Nick. "When I got to Matt's house I called Liv back and she told me that they got into a car accident and that Tori is alright but she can't see and can't move."
While Tori was stuck in the back seat of the car, an off-duty EMT who was delayed in the traffic came to the car and was comforting Tori until the ambulance arrived. "When I was lying in the back seat, I remember thinking "am i dying?" I was just seeing black and I felt so alone." When the ambulance arrived, they had to remove the car door in order to get Tori out. They then transported her to Morristown Medical Center in Morristown, NJ.
It wasn't until 6a.m. when Marek was transferred to her own room. Doctors were able to determine that she was not paralyzed, but did suffer a broken hip, broken pelvis, and nerve damage in her spine.
[pictured: Tori at Kessler Rehab Center.]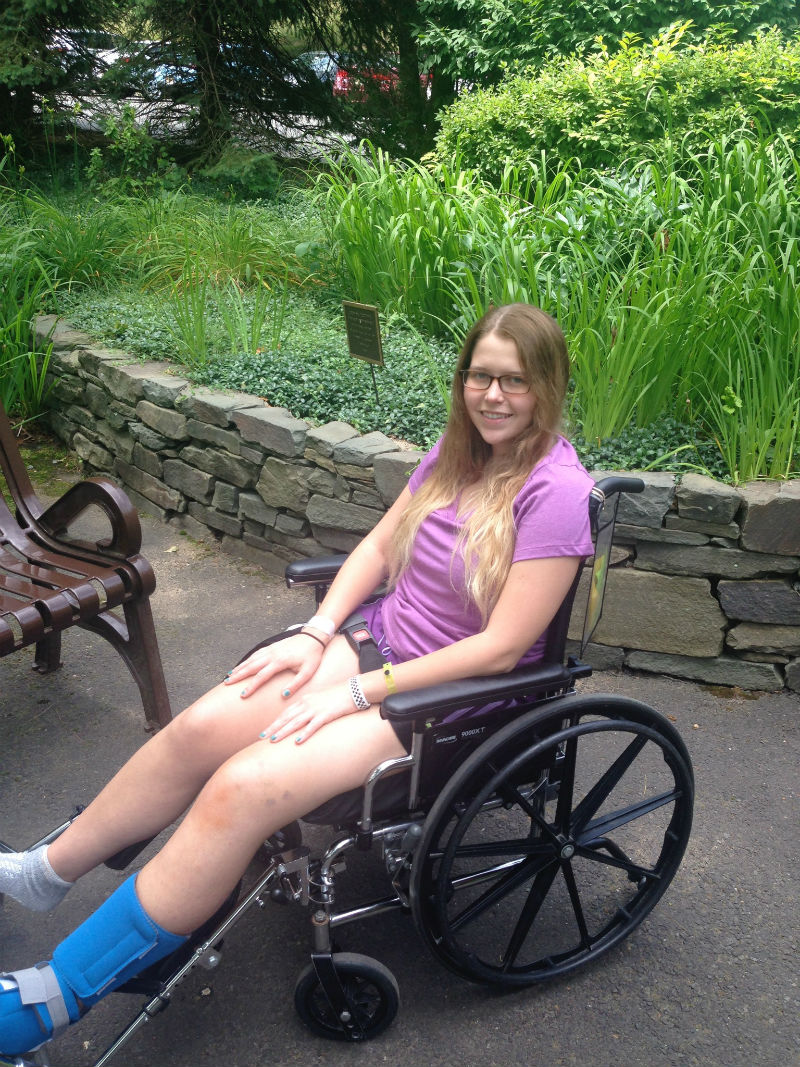 On July 4, Marek had her first surgery that lasted six hours in which the doctors put plates in her hip and a screw in her pelvis. Marek was in the hospital for a week then moved to Kessler Institute for Rehabilitation in Chester, NJ, where she stayed for three weeks. "I had occupation-al therapy for an hour and a half and physical therapy for an hour and a half each day. For the first few days I progressed to a walker, but the whole time I was there I was in a wheelchair." Marek also had to undergo a second surgery due to the fact that the screw that was originally inserted in her pelvis was too small.
After a long three weeks at Kessler Rehabilitation Center, Marek was finally released to go home. Tori Marek's story is extremely inspiring because she overcame so many obstacles that a normal 18 year old would never be able to overcome. The doctors told her that her hip and pelvis would take one year recovery, her nerve damage would take a minimum two year recovery, and that she would be unable to start her freshman year of school that fall.
Just two months after the accident, Marek began attending Fairfield University in Con-necticut where she is now a English Major and Education/French Minor at the College of the Arts and Sciences. Tori plans on applying to the five-year program for obtaining a dual bache-lor's/master's degree.
"My daughter is a real hero," says Tori's mother, Renata Marek. "She kept trying when other people would have given up. She kept smiling when other people would have cried. And she ultimately made it to college that September, on crutches, showing bravery and persever-ance that I don't think I would have had in that situation."
[pictured: Tori and Nick at Family Weekend at Fair-field University.]

Although Marek, who loved running and competing in half marathons, will never be able to run the way she used to, is now prone to arthritis, and still has anxiety and flashbacks when driving on highways, says she has learned that she has a purpose.
"I always wanted to be a teacher ever since I was younger, and once I was going into my freshman year, I wasn't planning on pursuing it," says Marek, with a gleaming smile on her face. But the more and more I thought about my car accident," she paused. "Everyone is here for a reason. I could've died but maybe as a teacher, I'm going to change the lives of all my stu-dents one day. The car accident really pushed me to follow my dreams."