Breast cancer is the most common cancer for women in this country, followed a close second by skin cancer. Every year in the United States, more than 231,000 women are diagnosed with breast cancer, with 40,000 dying from the disease. Two women, Mary Chaves and Abby Santiago, share their survivor stories. They retell their journey from how they found out about their breast cancer, through their treatments and reactions to the medication; while both expressing the value of support they received. Chaves and Santiago have both tried to make a difference and give back to Hair To Share and the American Cancer Society's Make a Stripe Foundation. They each look back and share their recovery process and advice.
In part one, we followed the beginning of Mary Chaves' and Abby Santiago's journey through breast cancer. Each woman found out they had cancer, went to a doctor and learn about their illness. In part two we followed each of their journeys through surgery, treatment, and symptoms. In part three we saw how both women valued support. They also spoke about fun experiences they had, and organizations they helped.
The Story of Mary Chaves
Mary Chaves a mother of two, a career woman, was diagnosed with breast cancer in 2010. She has been in remission for four years.
[pictured: Mary Chaves]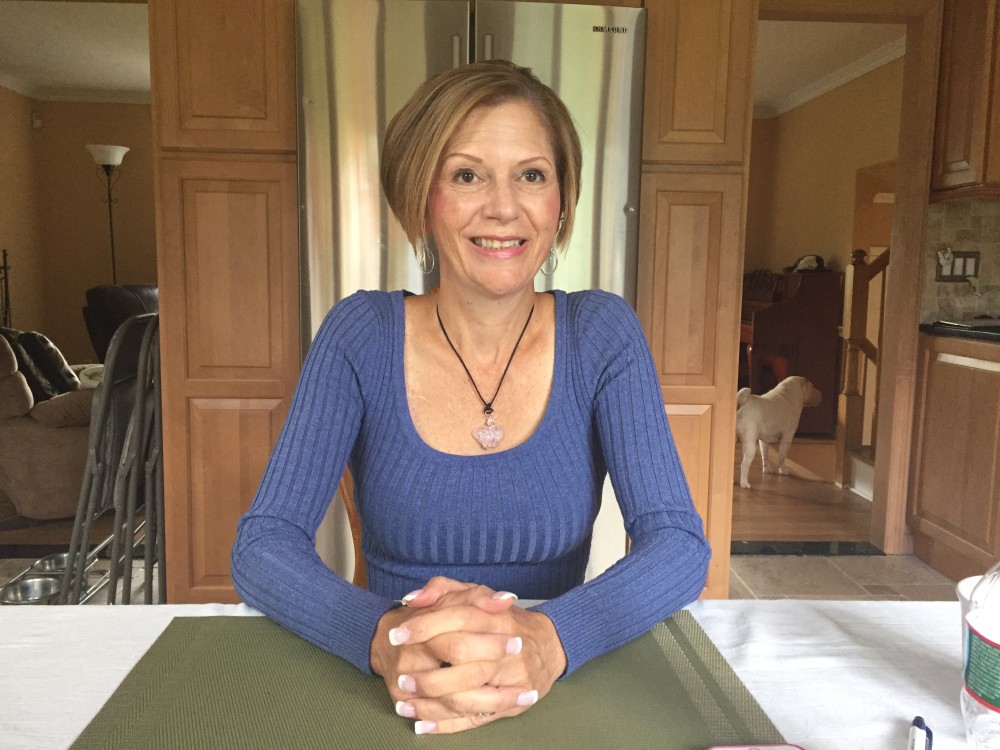 Chaves shares some helpful information, "Do as much research as you can, but you still have to make your own choices. Force yourself to be with people who have cancer. Keep your appointments follow up with your doctor. Look for the support, some people withdrawal. You're not alone no one's alone." Chaves explains how the nurses were wonderful, "The people who take care of you will become your best friends."
Surprisingly one of the most stressful parts Chaves went through was finance. "What was really stressful was the finical part. We went to someone out of our network." Chaves explains that for the breast reconstruction, "You can use your own skin, for the mastectomy, implants or implants" Chaves lists the procedure, "the surgeon took all the cancer out, and the next person does reconstruction which is cosmetic. Which most insurance doesn't cover." Five years later, and "I'm still paying them. You feel guilty the financial world makes you feel guilty for being sick. Like I'm punished for being sick." Chaves says optimistically, "in the end if you can pay 15 dollars to different doctors, that's what you do."
Chaves explains her struggle now " you're stripped of every vitamin in your body after chemo and radiation. Things you never had before, you can get now. I never had a thyroid issue but I do now." Chaves has a fighter attitude, "I went to a doctor, she told me to get over how I was always tired, but I kept on fighting, and she said she would send me for blood work, turns out I had thyroid issue." Chaves explains how some things lay dormant before but sometimes when your stripped of everything it flares up later on in life. " This past year I got diagnosed with ADHD."
Chaves pauses and thinks back to how she felt during those tough times, "I kept thinking I have to get through it I have to get through it." Chaves gets up and takes a water bottle out of the fridge, "My one cousin with environmental cancer would just say "Mary in a couple years you're going look back, and you're going think it was nothing but a bad dream, and I hung to that because it is. If you're a survivor that's what it is. It was a bad dream but I made it through it."
The Story of Abby Santiago
Meanwhile Abby Santiago a mother of three, a grandmother and an accounting assistant at Bergen Community College has been in remission for three years. Santiago had surgery and chemo and radiation as well. Santiago expresses how important having a support system is.
"It's hard, some people don't talk about it, the earlier you start checking yourself the better. I went to a genetic doctor, to try and find out because I have my daughters, and my granddaughter." Santiago recommends, "if you have someone in your family that has cancer your supposed to get checked earlier."
Santiago advises, "Breast cancer can come out as early, as early. The young generation needs to know that cancer is cancer, people need to know more about it." Santiago brings in her own advice, " being a mother, I always tell my daughters you need to check, anything un-normal go to a doctor." Santiago continues, "checking yourself in the shower, it's one two three, get it checked it's better safe than sorry." Santiago says, "Were too busy with our life, but five minutes isn't long. If its going to save your life you want to hear about it. " Santiago says, "young generations have to know, it's just as important as your phone or Ipad. It's better to start earlier so you'll know what you'll feel and what your bodies feel like.
Santiago also agreed that financial issues were really tough. "My insurance changed, all I thought was what if they don't take it because I have cancer. Turns out, they can't it's against the law." Santiago continues, "if you have issues, you can get help, you can go to the state, it should never stop a person from seeing a doctor. They help with transportation, and medication. It scared the hell out of me." Santiago offers a chuckle. "I don't have state disability at work, so coworkers gave me their sick days," Santiago says happily "I got paid through the whole thing. I had to use my sick days and people donated theirs, and I was so grateful. It's a scary thing," Santiago admits, "some people can work, I wasn't able to. Finically it scares the hell out of you. Overtime I got a bill and I was like thank you Lord I got insurance." Santiago laughs.
Santiago's final words strong, and filled with power, just like her. "It's all been a challenge. There's more to life than complaining, it's not going to help you. Take the attitude that you want to live. You have to do it, God gave me the chance, I'm going to take my life back and keep going."
Santiago says powerfully, "if you take a difference attitude your going to go into a depression, my godmother, I had to tell her yes your in pain, you're going get over it, call me, lets go to the mall. There are cures and medication, take it, and move. Life is too short."
Santiago's words can help anyone get through any situation. "I like to help young people understand that there's good and bad. Family is important, and being around family is important, it comes first. I installed that in my children, they'll always be there" The house filled with laughter, love, hugs and family agrees. [pictured: Abby Santiago and family]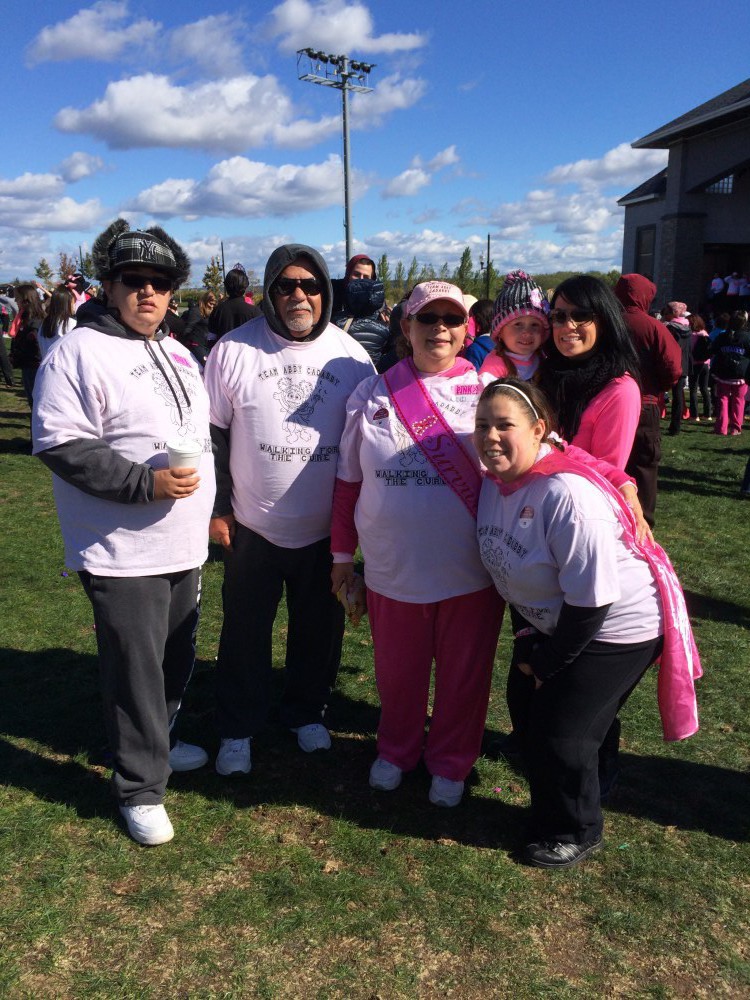 Throughout the series, Mary Chaves and Abby Santiago shared their experiences battling breast cancer. We saw the struggles each woman faced from learning about their breast cancer, financial issues, fun experiences they had and organizations they helped.
---
---
Montclair State | New Jersey
12.10.2015