Breast cancer is the most common cancer for women in this country, followed a close second by skin cancer. Every year in the United States, more than 231,000 women are diagnosed with breast cancer, with 40,000 dying from the disease. Two women, Mary Chaves and Abby Santiago, share their survivor stories. They retell their journey from how they found out about their breast cancer, through their treatments and reactions to the medication; while both expressing the value of support they received. Chaves and Santiago have both tried to make a difference and give back to Hair To Share and the American Cancer Society's Make a Stripe Foundation. They each look back and share their recovery process and advice.
In part one, we followed the beginning of Mary Chaves' and Abby Santiago's journey through breast cancer. Each woman found out they had cancer, went to a doctor and learn about their illness. In part two we followed each of their journeys through surgery, treatment, and symptoms.
The Story of Mary Chaves
Mary Chaves a mother of two was diagnosed with breast cancer in 2010. She had surgery and went through chemo and radiation. She has been in remission for four years.
Chaves expresses the value of support, "The effect on family, is hard. I had great support. You need someone to drive you from treatment, everyone coordinating, and sending over meals. You have to remain strong, remind them to fight through it."
Chaves explains how for some women, losing their hair can be a major struggle, "In society they expect us to look a certain way. People can own it, or feel identified by their hair. I wore a ski cap all the time." Chaves shows off her new hairstyle, "My hair is curly in the back but straight in the front."
[pictured:Credit, Hair to Share Foundation, Glitz Glamour & Giving 2015 photography by Alli Marino]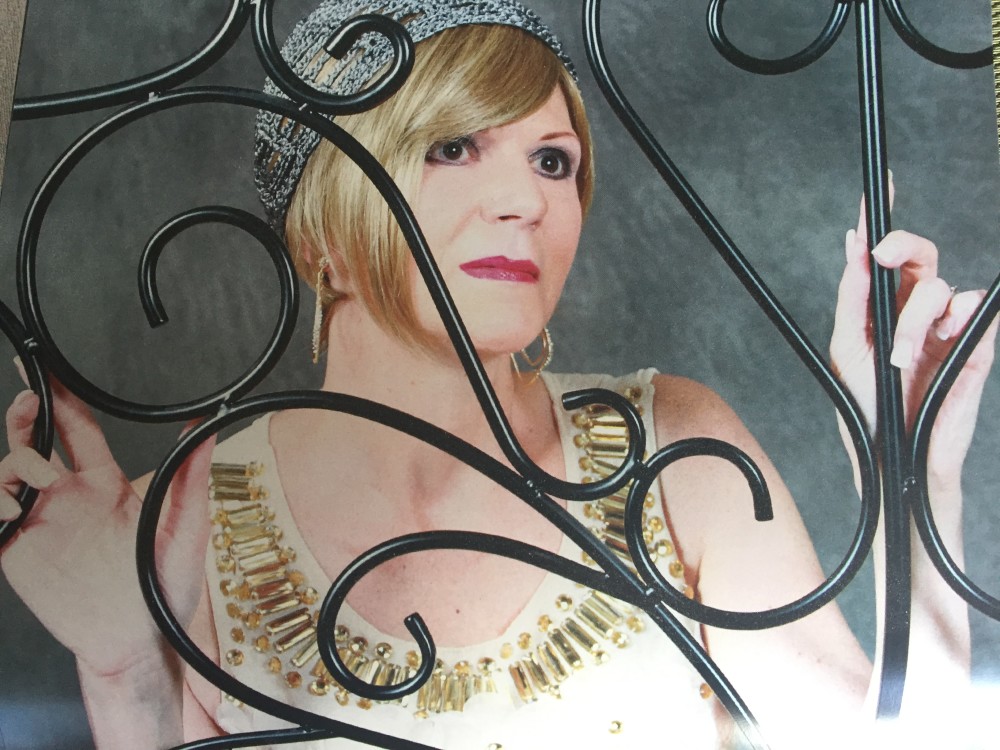 Looking back on brighter times, Chaves shares how she was in a Calendar for Hair to Share. The foundation is for anyone who doesn't have insurance to cover wig expenses.
Chaves flips through the calendar, "The founder actually runs a salon. She started the foundation to give back, she saw what her mother in law went through with cancer how she received a bad wig and wanted to give back." The foundation raises money by selling the calendars at their events. The calendar's theme was The Great Gatsby when Chaves was featured.
"They raise money by The Great Gatsby night." Chaves smiles and recalls on the fantastic night, "You walk down a red carpet, its an elegant evening, its like an auction night. They have speakers to talk about breast cancer."
Chaves lays down the calendar, "I was with 11 other people we each wore a costume to match the era. Seeing yourself in the calendar is an eye opener to see that you're a survivor. We each had to pick a survivor quote." Chaves shows off her quote. The foundation, "Its not for just women, its for men, children, anyone who has cancer and looses their hair. [pictured: Credit, Hair to Share Foundation,photography by Alli Marino Glitz Glamour & Giving 2015 ]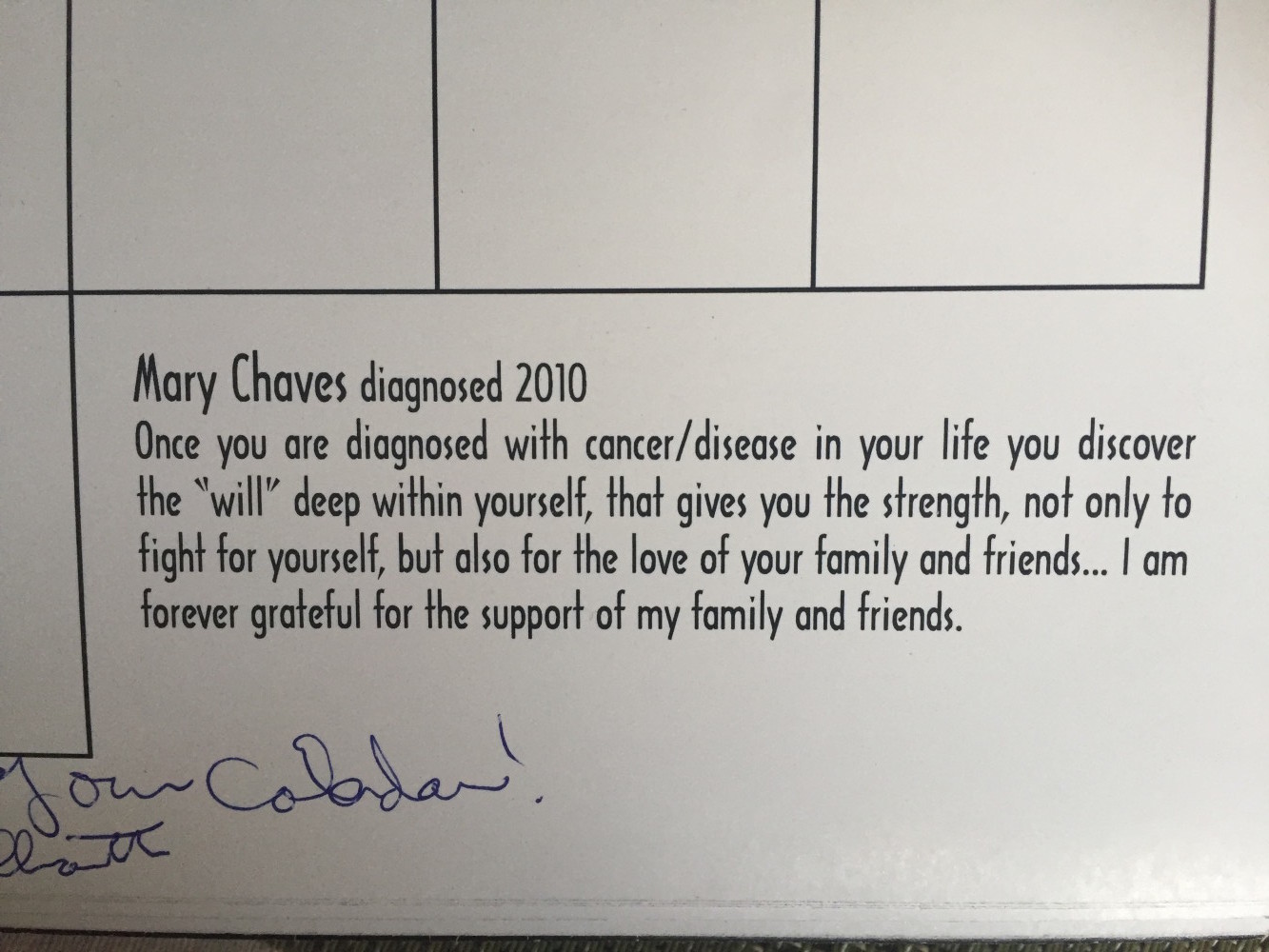 The Story of Abby Santiago
Meanwhile Abby Santiago a mother of three, a grandmother and an accounting assistant at Bergen Community College has been in remission for three years. Santiago had surgery and chemo and radiation as well. Santiago expresses how important having a support system is.
Santiago's speaks of her granddaughter with such love, "my granddaughter was there, she was my partner in time, she made it easier. After I was diagnosed I met a lot of people who got diagnosed and now I try to give my support to people going through cancer."
Santiago's family is sitting in the next room, she smiles, "I think that having the spirit that I wanted to be here for my granddaughter and my family, and not giving up." Santiago's fighter attitude shines through her words, "my battle is I will fight you." Santiago's eldest daughter is her biggest inspiration. "My daughter has M.S. (Multiple Sclerosis) if she can deal with it I can do the same."
Santiago guides the conversation back to the important topic of support. "My husband was there with me though everything, every doctor appointment, he still goes with me. I have worlds best husband, I hit the lottery, but don't let him know that." Santiago says with a laugh. [pictured: Abby and her husband]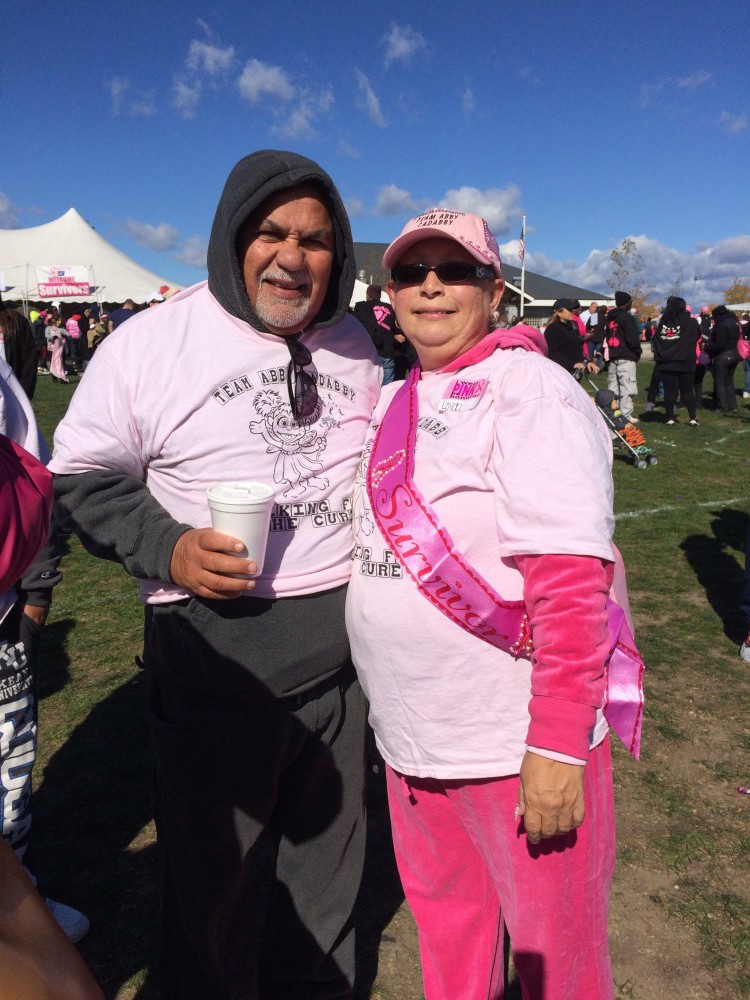 "My kids would fight with me to go lay down and sleep, but I wanted to spend time with them. My family was always here, before I opened my mouth they were here helping me." Santiago continues, "I would tell them to go out!" Santiago chuckles, "I would have to throw them out, they didn't want to leave me."
Santiago talks about her big purchase, "My family drove me when went back to work. Recently this month I got my new car, I said I was going to spoil myself, I started driving myself again." Santiago says with a smile.
"My stepsister had gone through breast cancer," Santiago says "and I went to her for information it was hard for her to lose her hair. I knew it was going to happen, I knew it would grow back. It was hard, I took my daughter with me to look at wigs. I was prepaid for it. " Santiago recalls, "I cried, like any normal person would. They prepared me for it."
Santiago confesses, "I took a shower, washed my hair, and a clump came out, I called for my husband we cried, and told my family. My dad took it hard, but I had to explain to him, to be his moral support. I told him my hair would grow back." Santiago expresses her strength, "it's hard, some people don't know how to handle it, their hair is their gold, to me I knew it would grow back." Santiago advises, "I started cutting my hair shorter and shorter, it would help me get used to it. Once I had it cut off I put oil on my head." Santiago pats her hair.
"Three years later I want it short again I want it bald. Losing hair with some people is harder than actual cancer." Santiago chuckles, " My eye brow and eyelashes, I didn't get back, but I got good at drawing on my eye brows."
Santiago did take a fun class, "I did go to a makeover group. It was on how to do makeup and make your wig fit the right way. It helped me learn to put my wig on. I barley used it, if I wore it three or four times that was a lot I liked the bald." Santiago combs her fingers through her hair.
Talking about earlier today Santiago, decked out in all pink for the breast cancer awareness walk, says "today we had the walk everyone came out, my one daughter took off of work to come, my other daughter she put it together. My son he's always there. I'm blessed with family to friends. What scares me if people don't have the friends and family, they don't have the support." Santiago happily says," I'm amazed with myself that I made it today we were talking and active, we were dancing, it was really nice. We did three miles."
Santiago now does a lot of work to help with fundraising for breast cancer. She works with the American Cancer Society Make a Stripe Foundation. " I did a walk for 3 years, a fundraiser pink night out at Iron-bar. We have a good night and raise money. We did bowling last year."
In part four we'll hear some advice both Chaves' and Santiago have. Both women will also share the fears they have, which they both agreed can be scarier than the cancer itself. They each take a look back on their journey.
---
---
Montclair State | New Jersey
12.09.2015