Meet Bradley Cooper, a very photogenic and friendly member of Montclair State University's community. Bradley is just like your average college student, he sits patiently through homework time, goes to work, enjoys sitting in the Student Center Quad, and looks forward to retreating back his dorm at the end of a long day.
He has a very important duty here at MSU, as he is an Emotional Support Animal, commonly referred to as an ESA. Dogs are the most common, however, any animal providing therapeutic assistance for a mental illness can be an ESA. Bradley's accompaniment is formally recognized by both medical professionals and university administrators as a necessity to his handler, Chiara LaFazia's daily activities.
"My life has done a 180, Bradley showed me that I can be grounded and safe. He helps my brain not to perceive the whole world as a threat like it used to."
– Chiara LaFazia
Since April 2013, public universities are required to abide by the Fair Housing Amendments Act, which states that ESA's are allowed to live in resident dorming halls. This factor, along with doctors' and patients' desires to address mental illness without medication is leading to more success stories than ever before.
MSU sophomore and ESA handler, Chiara LaFazia shares important insight on mental illness. She and Bradley live on campus and spend the majority of their time at LaFazia's campus job in Webster Hall, where she works as a Peer Advisor. Bradley is well liked by her coworkers and peers. Here is what she has to say:
[pictured: Bradley Cooper modeling his certified ESA vest. He even stopped to smile for a picture.]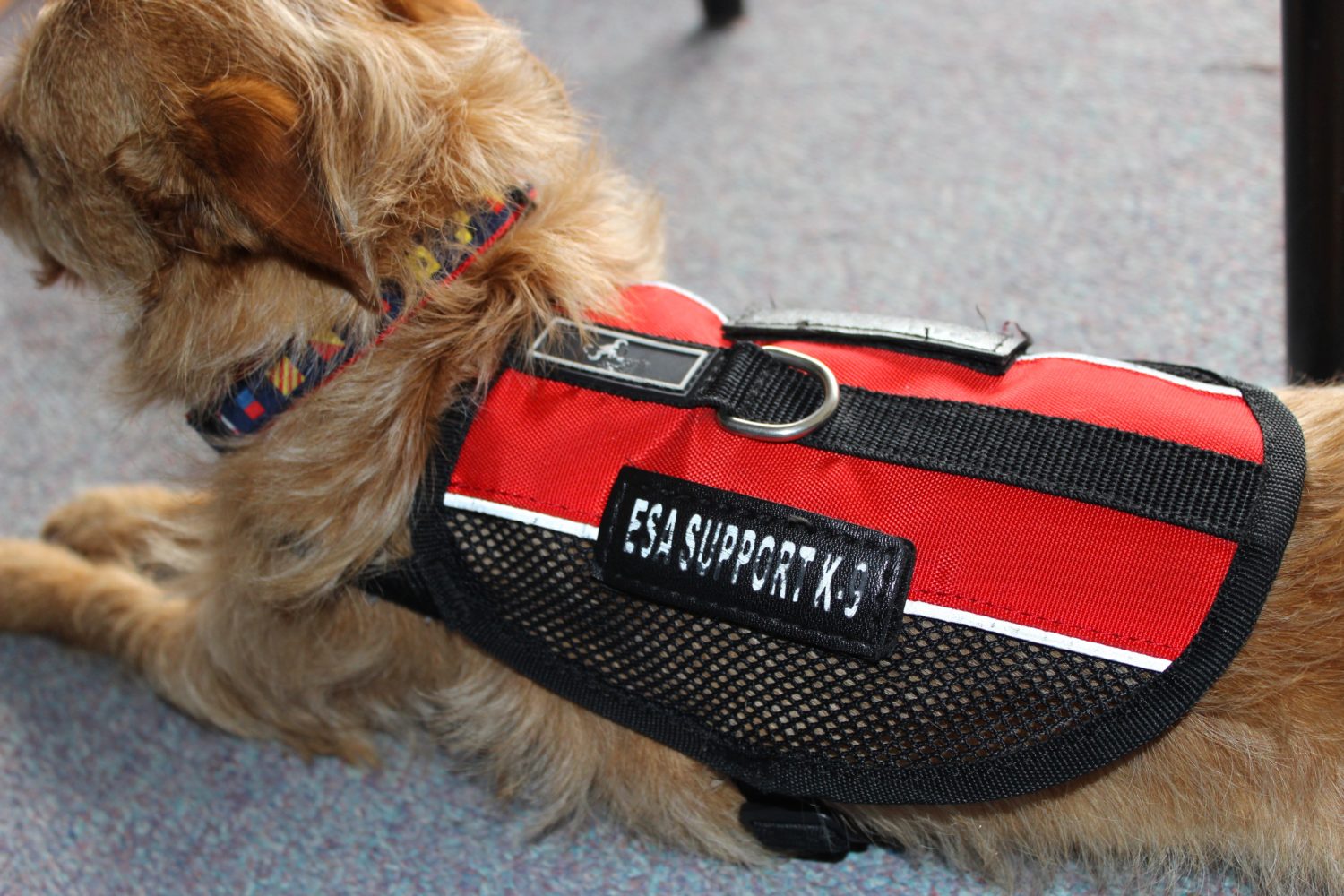 There is no specific training required for ESA's, other than basic obedience skills and maintenance of an up to date shot record. Most owners choose to have their ESA wear a certified red vest or leash to avoid questioning in public places, however the only mandatory piece of identification is the animal's registration card. It is recommended that the handler keep a copy of the doctor note on their person at all times as well.
In order to register an animal as an ESA, one must have a letter from a mental health care provider, such as a therapist or psychologist. Not everyone receives qualification, as the decision of what is best for the patient remains up to the doctor. In LaFazia's case, she shares that after many failed attempts to address her mental illness, getting an ESA was the only option left for her.
[pictured: ESA, Bailee playing with her handler, Lauren Zembko and her two friends in the Student Center Quad.
Photo Credit Stephanie Schieder.]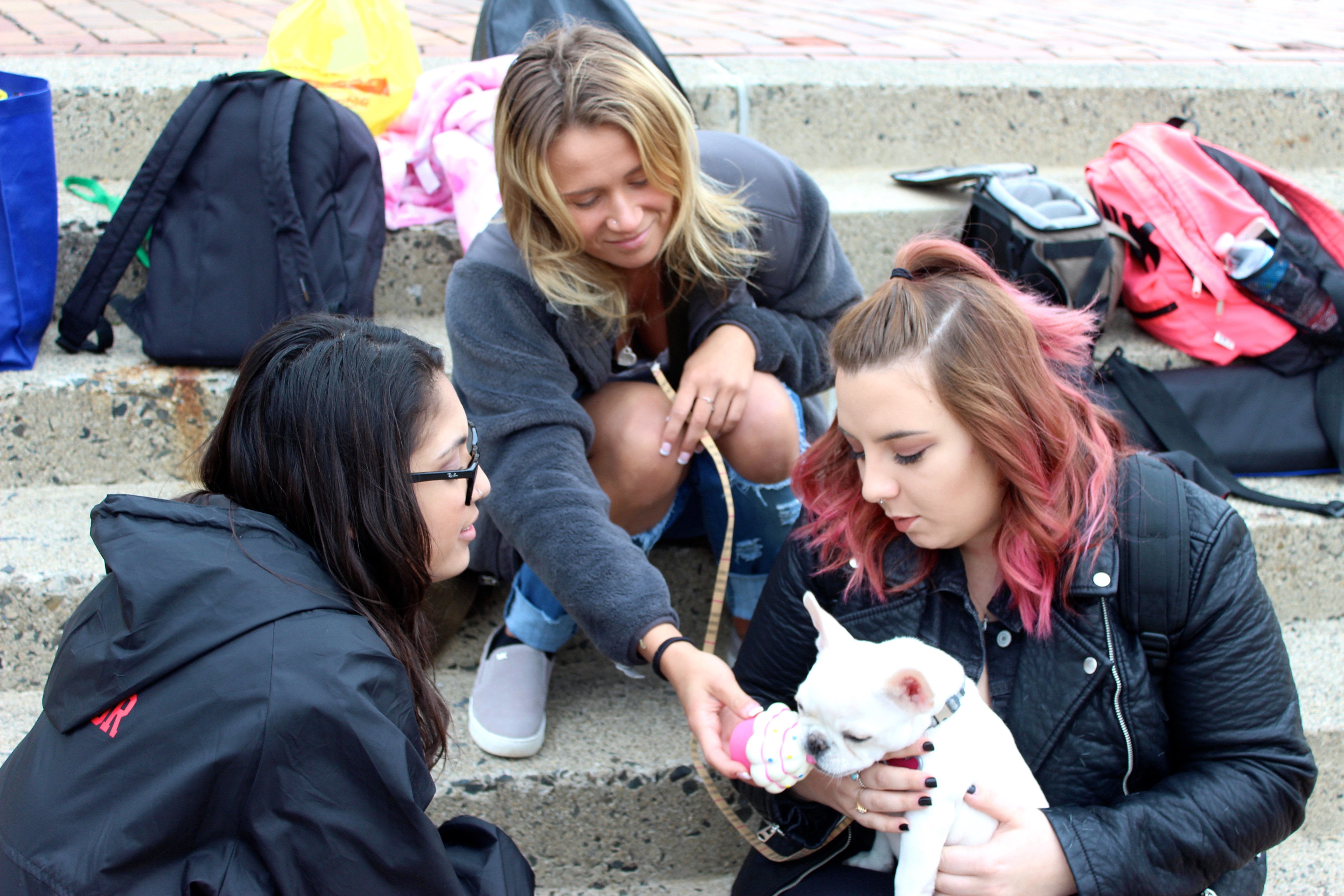 ESA's help with a variety of mental illnesses, such as anxiety, depression, PTSD, bipolar disorder and panic attacks. They become lifelong companions for their handlers by providing them with something positive to focus their energy on. An ESA can sense changes in their handler's demeanor and know when it is time to pay them special attention.
MSU student, Lauren Zembko also lives with her ESA dog, Bailee on campus. They are a rather new pair, as Bailee has only been an ESA for the past three months. For Zembko, the months following the passing of her mother have been extremely difficult. Bailee provides comfort and friendship when she is feeling alone, with the support she now has, Zembko is able to confidently open up about her story.
[pictured: Bradley pictured in Webster Hall with two of LaFazia's coworkers. He has the ability to put a smile on everyone's face.]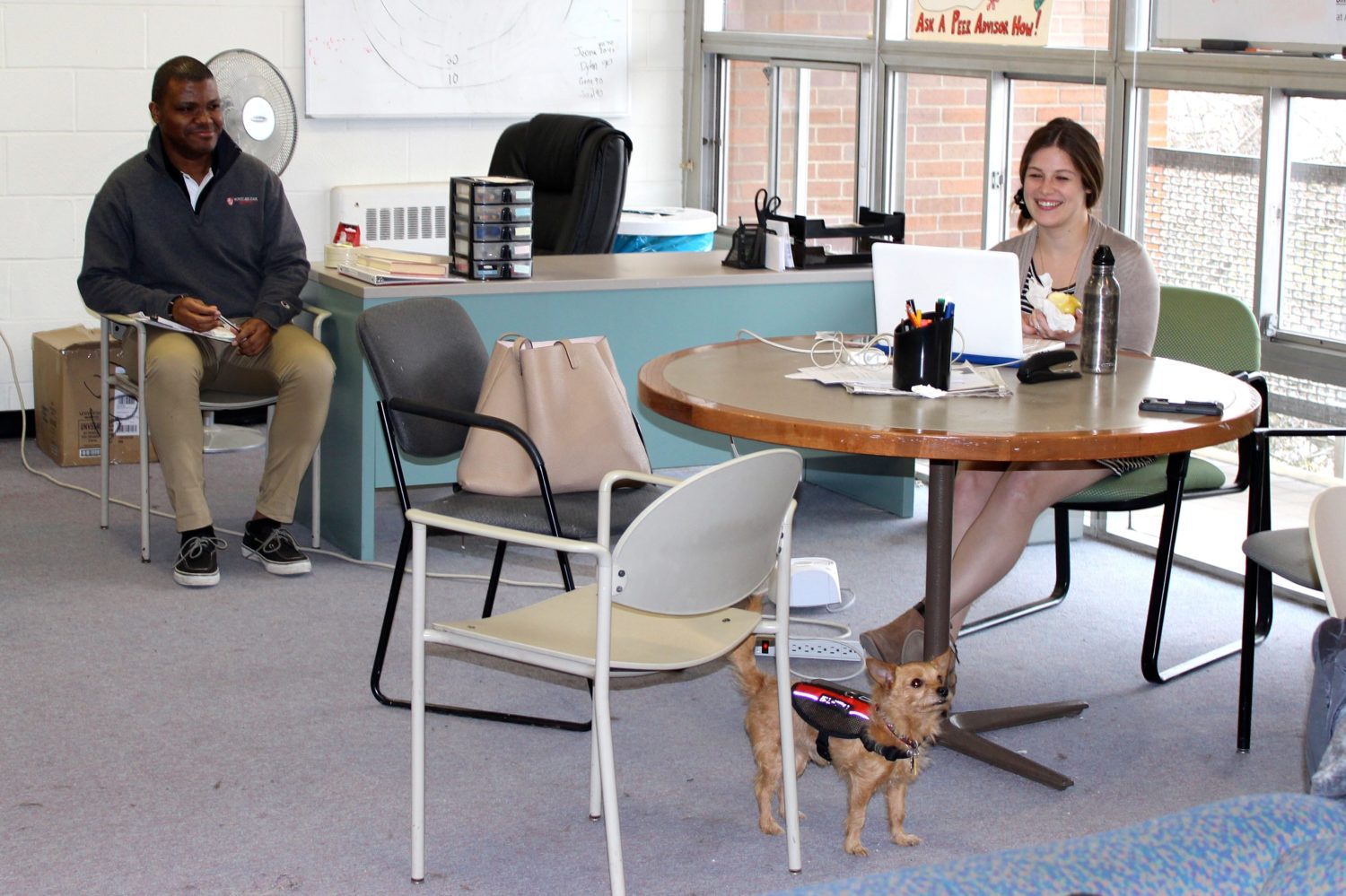 ESA's are not pets, but they are not service animals either. Service animals, such as Seeing Eye dogs, are legally allowed everywhere with their handlers, while ESA's are only protected by housing and travel laws. The Air Carriers Access Act allows them to accompany their handler in the cabin on all aircraft lines, free of charge. The Fair Housing Amendments Act, states that special accommodations must be made in pet-free living environments for anyone with proper documentation. Accompaniment in any other public places, such a work, restaurants and shopping center is up to the discretion of that location's management.
Zembko shares that after receiving recommendation about getting an ESA dog, she knew Bailee was the perfect match. At about four months old, she is still learning basic obedience. As Bailee gets older, Zembko plans to get her additional training, but for now, she explains that simply having a companion is enough to make a huge difference in daily life.
Registering an ESA on campus is done through the Disability Resource Center, located in Webster Hall. The process includes providing proper identification for the animal, as well as its medical record. The student also must present a letter from their doctor with a diagnosis that describes their symptoms and why having an ESA is necessary. Written consent from their roommates is needed as well.
After hearing the positive feedback from students with similar situations, MSU senior, Cori Mastropolo is now in the process of registering her dog as an ESA. Mastropolo describes her relationship with dogs from childhood until now, as reassuring and comforting. She says her depression and anxiety is positively impacted when she surrounds herself with animals.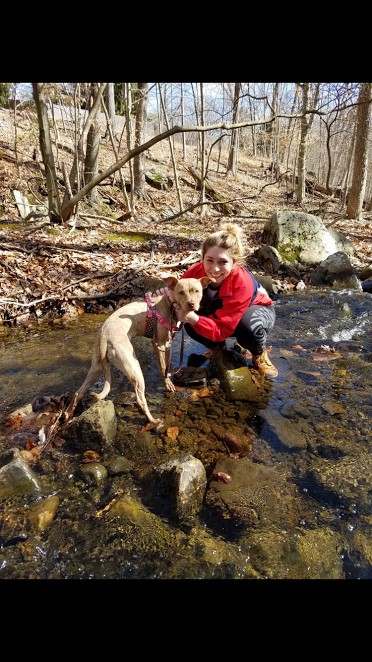 Mastropolo and Dokota, the Pitbull are always going on adventures together.
Photo courtesy of Cori Mastropolo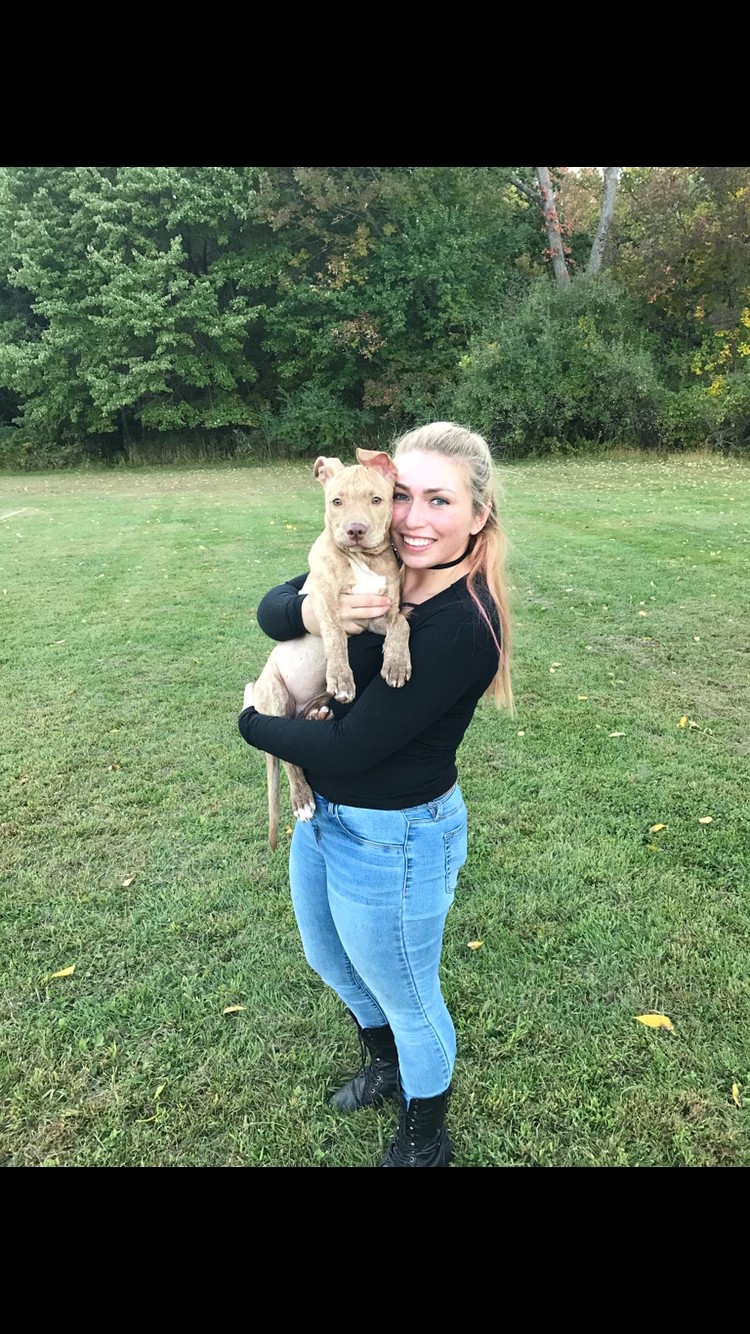 Mastropolo shares that her dogs can change even her worst days for the better.
Photo courtesy of Cori Mastropolo
"Bradley gives me confidence. I feel safe when I see how calm and happy he is."
– LaFazia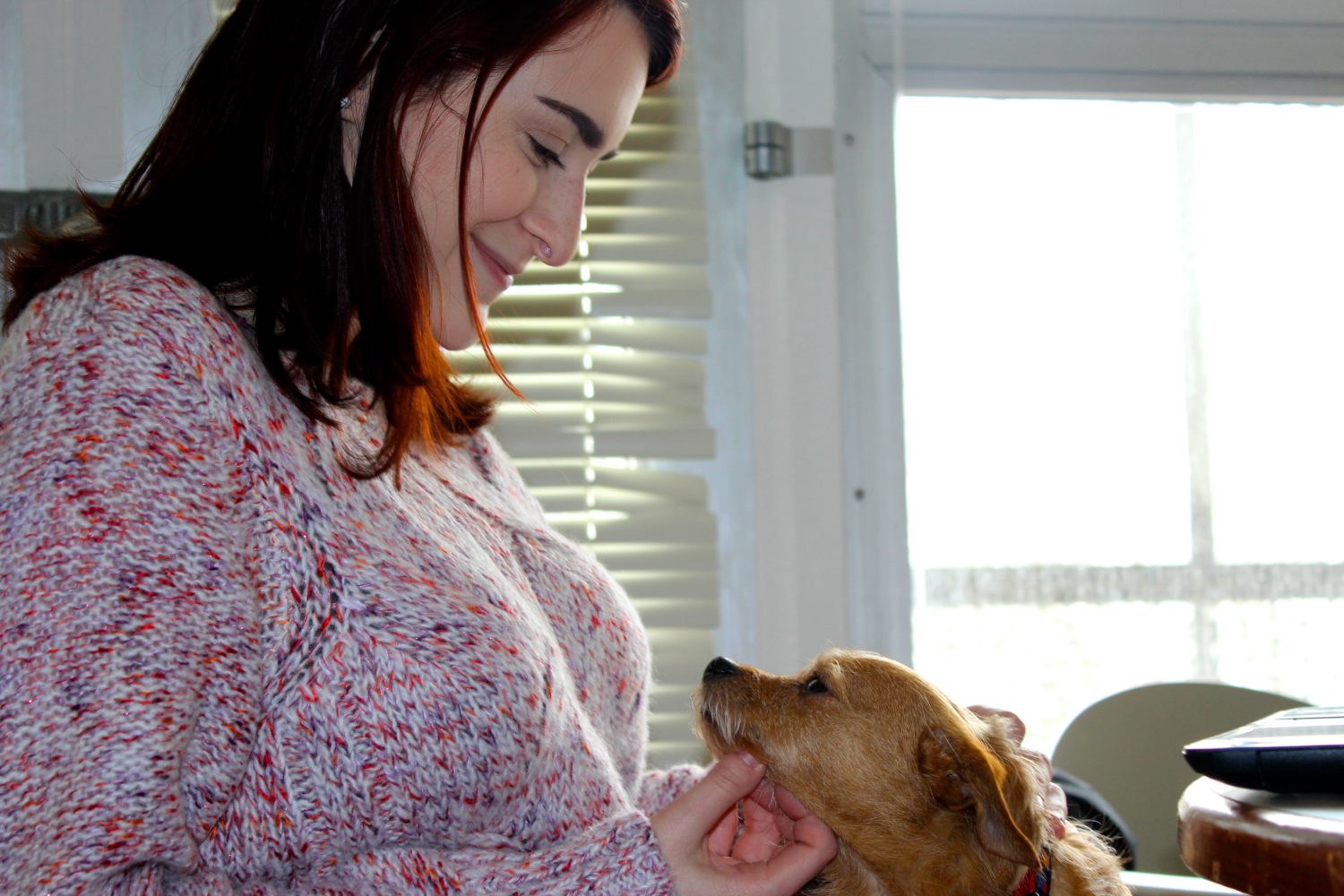 LaFazia shares some of Bradley's personality traits that make him the perfect match for her.
There is not much that separates an ESA from a beloved pet that may not be registered. It is proven that animals bring happiness to people by simply being themselves. ESA's are just like any other animals, they need walks and playtime, just like any house pet would. According to Zembko, Bailee's favorite place on campus is the Student Center Quad. The two spend the majority of their afternoons there.
Not only are ESA handlers benefiting, but their peers are as well. Friends and families note a difference in personality and overall persona because of the animals. They truly have the ability to turn lives around. Jessie Amato has feedback on a friend who's received life-changing care from her dog.
---
---
Montclair State | New Jersey
05.08.2017