As the spring semester draws to a close, so too does Marc Rosenweig's tenure as an associate professor of Television and Digital Media at Montclair State University. While he's only been a part of the Red Hawk community for ten years, he brought with him 30 years of experience in professional journalism. From reporting in Miami, to producing in Detroit and New York and managing large journalistic enterprises, Rosenweig has had a distinguished career.
The six New York Emmy Awards that he won from his work at the YES Network sit on top of a cabinet in his office. Hanging on the wall is The George Polk Award from his time at "Inside Edition" and next to it is a photograph with the 2016 Dumont Broadcast Award recipient, Lester Holt. With one leg crossed over the other, Marc Rosenweig calmly and humbly sat at his desk and recalled five years ago when the School of Communication and Media was established at Montclair State.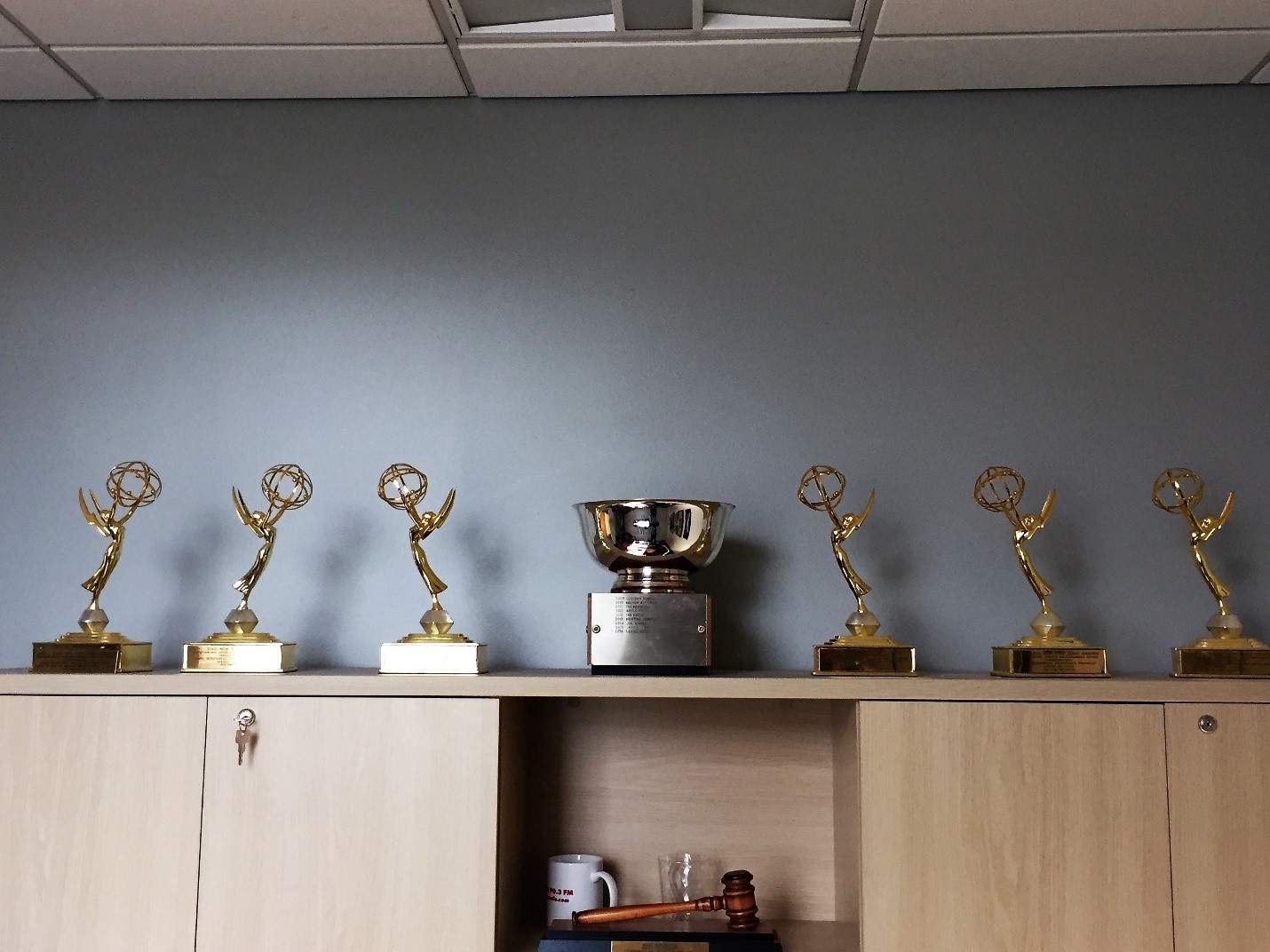 Marc Rosenweig's Emmy's that he won from his work at the YES Network. Photo by Teanna Owens
"When I first got here we were the Department of Broadcasting working out of the Dumont Television Center," said Rosenweig. "[We had] a very solid program, but over the last five years we had the opportunity to expand it further, to make it into Television and Digital Media, and to make our students as versatile as possible."
Rosenweig, grew up in New Rochelle, New York during a time when newspapers, television and radio news programs were the predominant way for people to know what was happening in the world.
While he believes that the internet has democratized the flow of information and has made journalism more accessible, he seems disappointed that not everyone takes advantage of this.
"What I don't understand today is students who are journalism majors who don't know what's going on every day," said Rosenweig. "It's a lot easier than when I started to keep track of what's going on," he added pointing to news apps that alert people of key headlines.
When asked about the changes he's seen at Montclair State, Rosenweig talked about how there's more of an effort to teach students the importance of versatility. He said there's a need now more than ever for talented people who can not only report, shoot, and edit, but those who can also accurately communicate important news of the day.
"It's like what Lester Holt from NBC News said when he was here in December," recalled Rosenweig. "He said to students: 'you want to be the Swiss army knife for the news room', meaning you want to be as versatile as you can and you'll be in demand.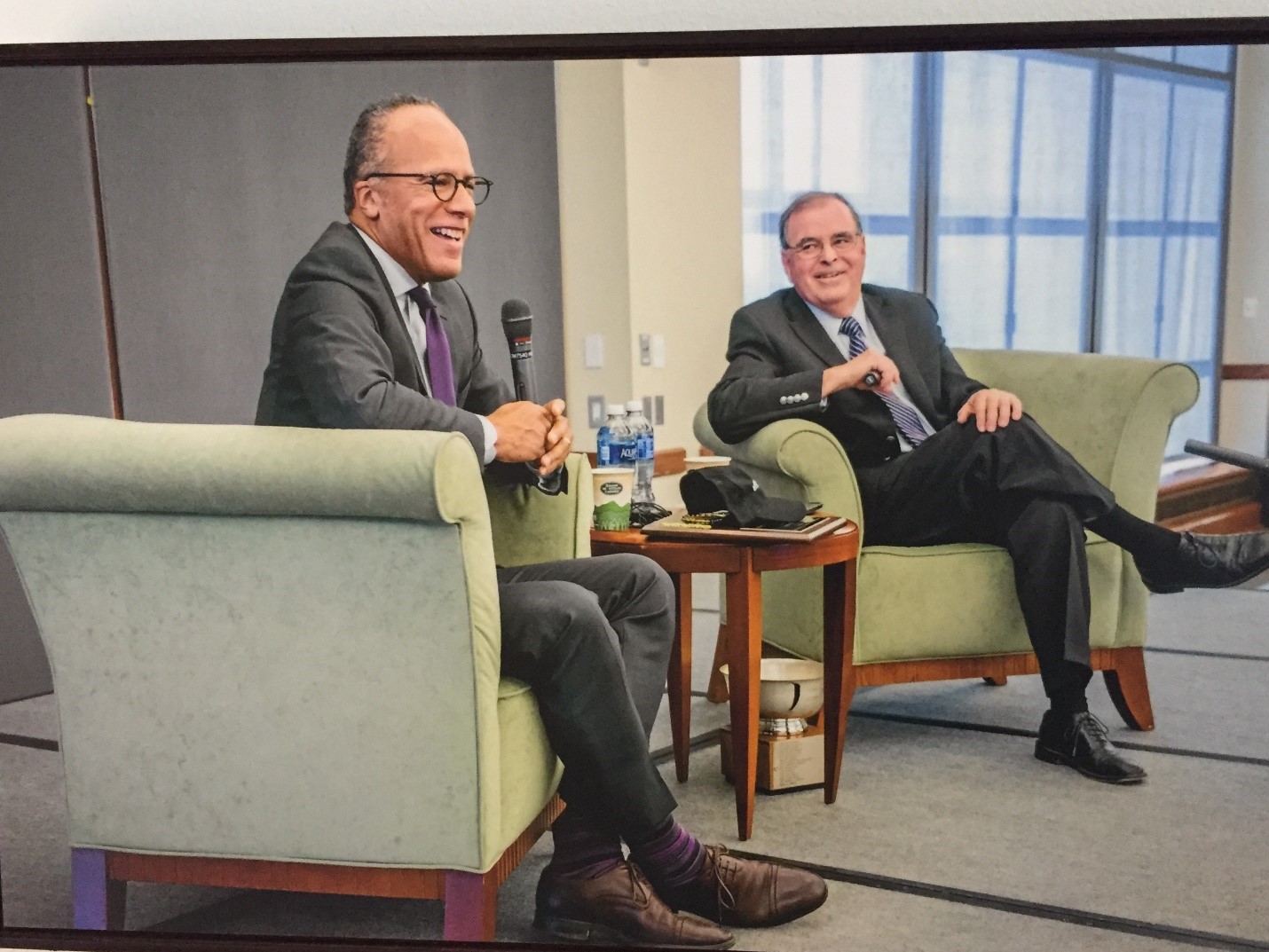 A photograph of Marc Rosenweig and NBC's Lester Holt. Mike Peters Photo
"And that's the way we approach teaching our students [is by] getting them as much background in as many areas as possible, and also encouraging them to take meaningful internships where they learn about the media industry in the real world."
In addition to his teaching responsibilities, Rosenweig managed the Allen D. Dumont broadcaster of the year award, and for a period of time was the faculty advisor for the student newspaper, The Montclarion.
Former News Editor for The Montclarion and alumni Tanja Rehki is currently an on -air reporter for WLOS in North Carolina. Not only was Rosenweig her advisor at the newspaper, but he also became her academic advisor when she decided to add Broadcasting as her second major.
"[Professor Rosenweig] helped me when I was in school and once I graduated he put me in touch with alumni," said Rehki. "He would always reach out to me to see how the job search was going."
Rehki remembered Rosenweig as being a fantastic professor and credits him for helping her land internships at WABC TV and New York1. Rehki appreciates the help received from her former professor along the way.
Kristen Bunk is also an alumni and former student of Rosenweig's. She graduated in 2015 with a bachelors in Communication Studies and said that the Media Management course, which she took with Professor Rosenweig was "probably [her] favorite class."
"[Professor Rosenweig] was real," recalled Bunk. "He treated all of his students as adults and he offered so much to us without us even knowing it."
Bunk, who is now Trevor Noah's assistant on The Daily Show, said that her biggest takeaway from taking Media Management is learning how to problem -solve and strategize. After finding these skills useful in her current position, Bunk was eager to share with her former professor how much he's taught her, and reached out to Rosenweig a few weeks ago.
"I wanted him to come see what I am doing and he was like 'you need to come talk to my students," said Bunk. "He was putting his students first, instead of himself."
Bunk recalled having guest speakers from across the industry visit the class and said that speaking to students who are now in the seats that she once sat in "was quite possibly the highlight of the past couple of months."
Not only does Rosenweig occasionally invite former students back to guest lecture his classes, but he brought friends in to speak as well.
Mark Effron, a clinical specialist in the School of Communication and Media said he's known Rosenweig since the 70s when they were classmates in the Graduate School of Journalism at Columbia University.
"Marc brought me in [as a guest speaker] over the years to various classes that he taught, and I've watched his connection with his students," said Effron. "Marc really understands on a critical core level that while his experiences give him insight and wisdom it's really about the students, it's really about the learning."
Over the years the two have gone from classmates, to friends, to colleagues and recently, they've grown even closer when Effron joined Montclair State full time one year ago.
"Marc really has been my mentor. Even though we're t the same age and we're colleagues and have had very similar careers, when it comes to teaching, I'm the student and Marc is the teacher."
According to Effron, Rosenweig was instrumental in building the program in the School of Communication and Media. The school, says Effron will be weaker without him.
In terms of what stayed the same in the field of journalism, Rosenweig said that basic journalism hasn't changed.
"Writing, reporting, and interviewing….we have more tools to do it but the basics are still the same," said Rosenweig who also added that ethical standards also remained the same.
"The need for ethics and integrity, more so now than ever, but it's always been an important thing," said Rosenweig. "To be able to be a reliable source of news as a reporter and producer, to not have conflicts of interest that affect what stories you do and how you deliver them and so on. These are constants since I started but they're more critical than ever today because of getting so much false information through the internet."
Although he will no longer be a full time professor, he said that he intends on remaining a friend of the school and plans to come back occasionally to possibly guest lecture and support some of the events. After retiring Rosenweig also plans to do some writing for television, visit his alma maters Ohio and Columbia Universities, and travel with his wife Lila, who is an adjunct professor in the School of Communication and Media at Montclair State.
They hope to visit their sons who live in the Boston area: Jeremy, an aerospace engineer and Aaron, who works in accounts payable. When asked why his sons didn't go into journalism, Rosenweig shared a joke that he often says when faced with the same question: "I guess they heard too many stories about the newsroom at the dinner table and decided to go in a different direction."
Anthony Gabbianelli, a sophomore journalism student currently taking Writing/Reporting for TV/Radio with Rosenweig said that the soon-to-be former professor is enthusiastic about everyone doing better. He recalled the beginning of the semester when he had trouble writing television style scripts.
"I was like 'this isn't really for me' and [Rosenweig] kind of pulled me aside and was like 'look you're not really doing well in your work, but you have potential to do better,'" said Gabbianelli who said that his writing in the class has improved ever since.
Needless to say, Rosenweig knows it'll be the students that he will miss the most.
"I think it's definitely working with students, sharing information with them and seeing them use it in the communication industry and become successful," said Rosenweig. "But they're the ones that do it. We provide the information to them and it's up to each individual student to use it and many of them have and that gives me great satisfaction as a professor."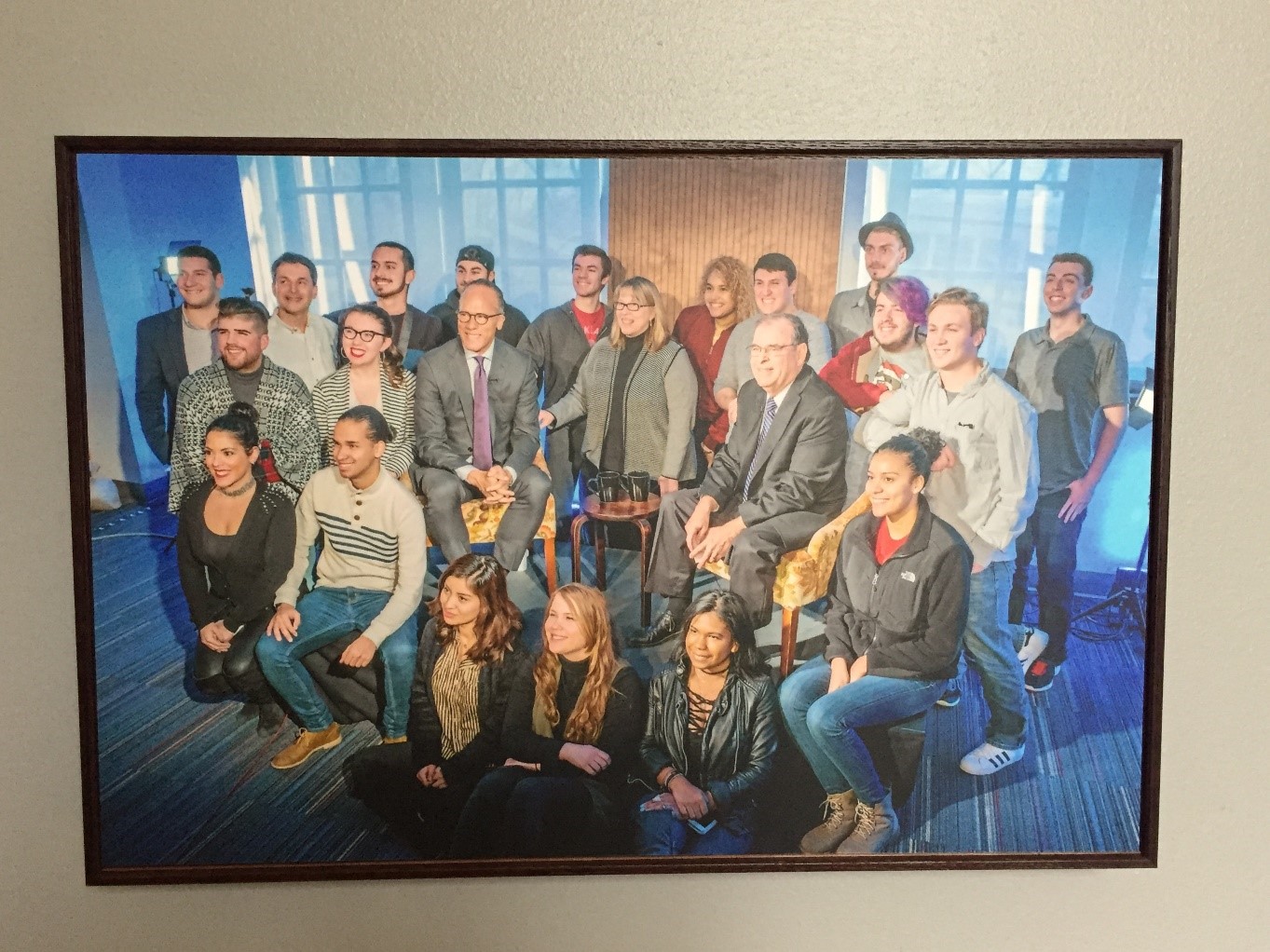 A photograph of Marc Rosenweig, NBC's Lester Holt and Montclair State students.
---
---
Montclair State | New Jersey
04.27.2017