The Montclarion is Montclair State University's newspaper, both in print and online. Founded in 1928, the newspaper "has been a news source dedicated to reporting and publishing stories integral to the interests of the [MSU] campus community and the surrounding area," according to its website. The staff is composed of several editors and assistants, a social media team, a cartoonist, and many different staff and contributing writers, all students. Along with them are a few faculty staff members, including faculty advisor, Tara George, and the student Editor-in-Chief, Kristen Bryfogle. We spoke to Tara George and Kristen Bryfogle about their organizations' staffs, responsibilities, and goals.
"Our slogan under the headline is 'The Student Voice of Montclair State University since 1928'," pointed out Bryfogle. "We still want to live up to that reputation and act as the student voice, not just because we are students reporting the news, but also because we want to represent the students at Montclair State and their interests."
Not only does the paper cover general news on campus and in the area, but it also contains features and opinion pieces on entertainment, sports, politics, fashion, food, and anything else that may be interesting or important to students. Some of the features and opinion pieces are also about more serious issues that students may face.
"We want to produce clean, responsible reporting of issues affecting students and also provide an outlet to discuss what's affecting students," said Bryfogle.
As Editor-in-Chief, Bryfogle is the leader for the staff of The Montclarion.
"It's truly an all-encompassing job and there's no easy way to describe the job qualities because anything can, and usually will, happen," said Bryfogle. Her responsibilities as Editor-in-Chief include managing and assisting the editorial staff, fielding questions from reporters and editors about articles, editing for spelling, grammar, and layout, handling business with the operations manager and ad sales representative, and many other tasks.
"I'll be calling Karen Pennington [Vice President for Student Development and Campus Life] or [Lieutenant Kieran] Barrett [of Campus Police] for a quote for an article, taking pictures or making graphics, copyediting, running a meeting, writing a last-minute article, and ordering pizza all within an hour or two," said Bryfogle.
Bryfogle has been Editor-in-Chief since the end of 2014, but has been involved at The Montclarion since her first year at Montclair, four years ago. Since then, she's been in several different roles, including Assistant Opinion Editor and Opinion Editor.
"It was natural for me to move into [the] Editor-in-Chief [position]," she said. Not only was Bryfogle the editor who had been involved with The Montclarion the longest at the time, but she had also written for it for years; she was invested. This type of long-term involvement leading to an editor position isn't uncommon for the paper.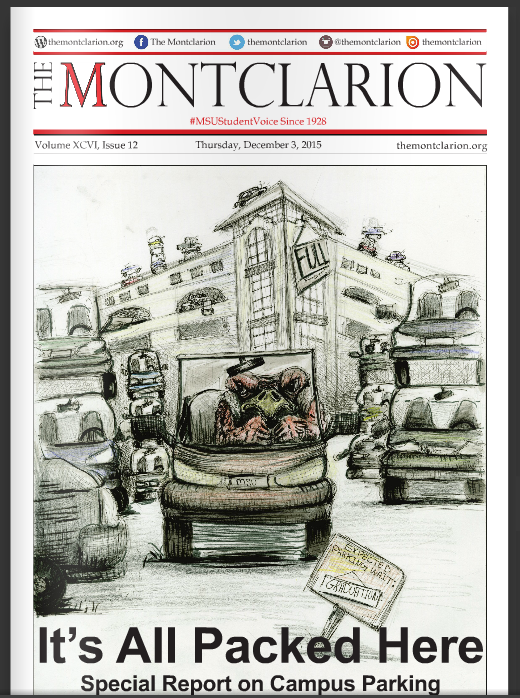 "I often set up meetings with writers, reporters, and photographers who are interested in writing but don't know where to start," said Bryfogle. "I also reach out to writers who I think will be good in higher positions and encourage them to come in for training to be an assistant." New contributing writers and staff members also come through the faculty advisor, Tara George.
"If there are people in my journalism classes who are promising, then I will encourage them to get involved with The Montclarion, in whatever capacity," said George. "Sometimes they're photographers, writers, videographers…"
As faculty advisor, George's responsibilities are very different from Bryfogle's. George helps with any issues that arise, guides the students in moving toward a digital-first approach to news, reviews stories, advises how to cover something, and sends general suggestions on what to cover or do. An important moment for George's help is when news is breaking and the staff is figuring out how to cover it. Since it is 2015, communication is usually through texting.
"We're all in a group text communicating with each other about who's going to do what and the stories come in through various, different means," said George. "Sometimes it's a tip that I've picked up or sometimes the students have heard it."
Before a story is even published, the staff is posting something on social media about whatever news is breaking.
"We usually tweet or made a Facebook post with just the vital information of the case and post that the full report will come later," said Bryfogle. "This lets our readers and followers know that we're on it and they can look back to us for our full report soon."
But with classes, homework, jobs, and everything else going on, it can be difficult to cover breaking news as soon as possible each time, which is one of the toughest aspects of running a school newspaper.
"News happens when it happens," said George. "That's the biggest struggle. Finding the time to cover everything that needs to be covered."
But still, George sees her students at The Montclarion working hard for the paper on top of everything else.
"[They're] hardworking, smart students who are juggling a lot of different things," said George. "They still manage to put out a paper every week." George is happy to see her students set high bars for themselves and rise to them each week, despite the high-stress, time-sensitive situations.
"Our production days are usually 12 or more hours long," said Bryfogle. "We like to keep it light and laugh a lot to break up all the work and keep people motivated." Some of the ways the staff keeps energy up and relieves stress is by dancing, singing, and even jumping on tables.
"Having those moments to take away with me are the best part of the job," said Bryfogle. "Taking those along with me when I graduate are just as valuable to me as the practical skills and experience that this position offers."
---
---
Montclair State | New Jersey
12.18.2015